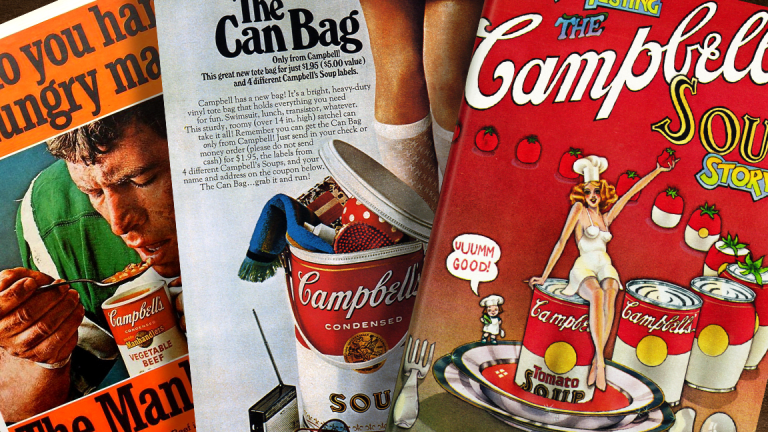 Publish date:
Campbell Soup Hasn't Done Enough to Keep Activist Dan Loeb From Attacking
Don't expect investors to sour on Salesforce for too long after second-quarter results. Meanwhile, Amazon is nearing a $1 trillion valuation and market volume is anemic ahead of Labor Day.
Don't expect investors to sour on Salesforce for too long after second-quarter results. Meanwhile, Amazon is nearing a $1 trillion valuation and market volume is anemic ahead of Labor Day.
Sleepy old food company vs. a wolf of Wall Street -- these stories never get old.
And in the case of struggling Campbell Soup (CPB) - Get Campbell Soup Company Report , its saga against activist Dan Loeb is likely just beginning. The storied soup maker released its long-awaited restructuring plan on Thursday and it falls short on several fronts. First, the company isn't selling itself as Loeb has been agitating for. Typical sleepy food company decision if there ever was one. Having covered these foodmakers for years, I can tell you that even during periods of immense operating pressure (as is currently the case) executives feel like there is never anything going wrong and the next quarter will be phenomenal. They are often wrong on both accounts.
Campbell has instead opted to put its two struggling businesses -- international and fresh food -- up for sale. The amount these businesses will fetch are likely low given their weak operating performances. As a result of this action, Campbell has unearthed $150 million in additional cost savings.
Not enough and disappointing seeing as the company has been working on this overhaul plan for months. Look for Loeb to launch a proxy contest and significant unknown to stay hanging over the stock. 
Data Dump
Yes, you should be paying attention to the fresh slide in the Turkish lira and the record low in the Argentine peso. These things could blow back into U.S. markets once trading volumes pick up in early September.
To that end, the STOXX Europe 600 Banks Index is down more than 20% from its January highs and hasn't bounced during the latest market rally, pointed out Miller Tabak strategist Matt Maley. He said issues such as Turkey's currency crisis and Italy's growing credit problems remain risks to Europe, and perhaps soon to the broader market. Further, Europe's economy hasn't been anything to write home about and the direction is a worry. Growth in the 19-country eurozone tallied 0.3% in the second quarter, below most Wall Street estimates. First-quarter GDP growth clocked in at a meager 0.4% for the EU.
"It's funny, a lot of pundits frequently point out (correctly) that it's the issue that nobody sees coming that's the one that finally knocks a bull market off its kilter. However, sometimes it's the issue that was staring everybody in the face ... but was ignored ... that does the carnage," Maley cautioned.
Enjoy hitting the buy button today on that tech stock valued at 150 times forward earnings.
Around TheStreet
Put me in the column as one surprised by the market reaction to Salesforce's  (CRM) - Get salesforce.com, inc. Report earnings. Sure the stock has surged 47% year to date and Wall Street is infatuated with the company's story, but wow what a blowout.
The company blew away estimates for earnings and its closely watched backlog number. No glaring red flags on the earnings call, giving investors a sense Salesforce could sustain its momentum as it laps difficult financial comparisons from last year. "This was a good quarter from Salesforce and they are still the leaders in customer relationship management, the largest and fastest growing category (that CRM is growing twice the rate of) in enterprise software according to co-CEO Keith Block," said the Action Alerts PLUS team about its key holding's quarter.
All in all, expect buyers to jump in on weakness ahead of the company's big "Dreamforce" festival in September.
The market is watch for Amazon (AMZN) - Get Amazon.com, Inc. Report to hit $1 trillion market cap. Amazon will start Thursday's session only $36 billion away from joining fellow tech giant Apple (AAPL) - Get Apple Inc. (AAPL) Report in the $1 trillion valuation club. Remarkable stuff, which apparently has captivated Bernie Sanders who is ripping Jeff Bezos apart on Twitter for low warehouse worker pay. TheStreet dove into Amazon's warehouse worker conditions in 2017.
Nevertheless, TheStreet's @EricJhonsaunpacked the seven markets that will power Amazon to $1 trillion and beyond.