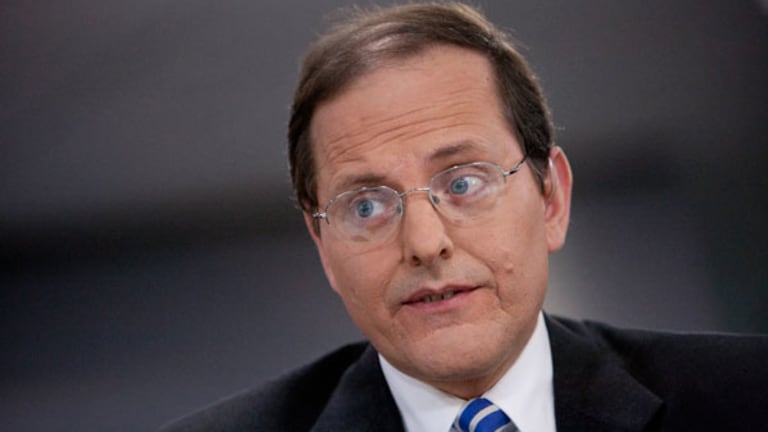 Campaign to Replace Fannie, Freddie Regulator May Fail
The Obama administration's attempts to replace FHFA Head Edward DeMarco are unlikely to get support from Senate Republicans.
NEW YORK (
) --Edward DeMarco, acting head of the regulator of
Fannie Mae
(FNMA)
and
Freddie Mac
(FMCC)
has been urging Congress to
wind down the agencies
and reduce the role of the government in the housing market.
Members of Congress, mainly Democrats, would much rather reduce DeMarco's role instead.
Calls to replace the acting director of the Federal Housing Finance Agency have been mounting over the past year amid his controversial position on principal reductions on mortgages backed by the agencies.
Earlier this week, attorneys general from nine states wrote a letter to the President and Congress demanding that DeMarco be replaced.
"The FHFA's refusal to allow for principal write-downs that would result in more loan modifications is a direct impediment to our economic recovery and stands in way of our efforts to provide much needed assistance to homeowners in New York and across the country," said New York Attorney General Eric Schneiderman.
"Under the leadership of Acting FHFA Director Edward DeMarco, Fannie Mae and Freddie Mac remain an obstacle to progress by refusing to adopt policies that will help maximize relief for struggling homeowners. The time has come for the President and Congress to work together to install a new, permanent leader at FHFA that will be a partner, not an impediment, in the national effort to comprehensively address the foreclosure crisis."
Principal reductions, advocates argue, will help lower the default rate on mortgages, because it not only reduces monthly payments but also restores equity in the home, increasing the odds that borrowers will stay current on their mortgage.
DeMarco has remained steadfastly opposed to principal reductions, however, arguing that it will increase losses to the taxpayer, encourage strategic defaults and offer a
to banks who own second liens on the mortgages.
The Treasury has tried to sweeten the deal by offering to triple the incentives to investors who reduce principal on mortgages. Still, the regulator spurned the offer, arguing that the net benefit to taxpayers would be too small after factoring in the costs of implementing the program.
But with more than 10 million, or 21.5 percent of all residential properties with a mortgage still underwater - worth less than the value of the underlying mortgage -- the argument for principal reductions continues to grow louder .
There has been chatter that the Administration is seriously looking for someone who will support principal reductions to replace DeMarco. The Wall Street Journal recently reported that longtime House Financial Services Committee member Committee Mel Watt (D., NC) is under consideration.
However, analyst Ed Mills at FBR Capital Markets believes it is unlikely that the candidate will be confirmed. "Senate Republicans (who have the votes to block a nomination) will be extremely reluctant to support a candidate who has publicly backed principal reductions, has supported bankruptcy changes allowing for "cram-down" on residential mortgages, and served on the House Financial Services Committee during the height of power of Fannie and Freddie (having accepted campaign contributions from both)," he wrote in a recent report. "We also anticipate concern that Congressman Watt may not meet statutory requirements for the director's position. Should other candidates emerge, we anticipate they would face similarly long odds in the Senate."
Besides, Republicans like DeMarco, who has shown a commitment to bringing back private capital into the housing market and shrinking the government's role.
"While FHFA is doing what it can to encourage private capital back into the marketplace, so long as there are two government-supported firms occupying this space, full private sector competition will be difficult, if not impossible, to achieve," DeMarco said in testimony before the House Financial Services Committee earlier this week.
"I have been observing a developing 'consensus' among private market participants that the conforming conventional mortgage market cannot operate without the American taxpayer providing the ultimate credit guarantee for most of the market. As I have noted, that clearly is one policy outcome, but I do not believe it is the only outcome that can give our country a strong housing finance system. I believe it is possible to rebuild a secondary mortgage market that is deep, liquid, competitive, and operates without an ongoing reliance on taxpayers or, at least, a greatly reduced reliance on taxpayers, if that is what we set our minds to accomplishing," he said.
So while the
campaign may be gaining momentum, it is unlikely to lead anywhere for now.
-- Written by Shanthi Bharatwaj in New York.
>To contact the writer of this article, click here:
Shanthi Bharatwaj
.
>To follow the writer on Twitter, go to
.
>To submit a news tip, send an email to:
.
Disclosure: TheStreet's editorial policy prohibits staff editors and reporters from holding positions in any individual stocks.