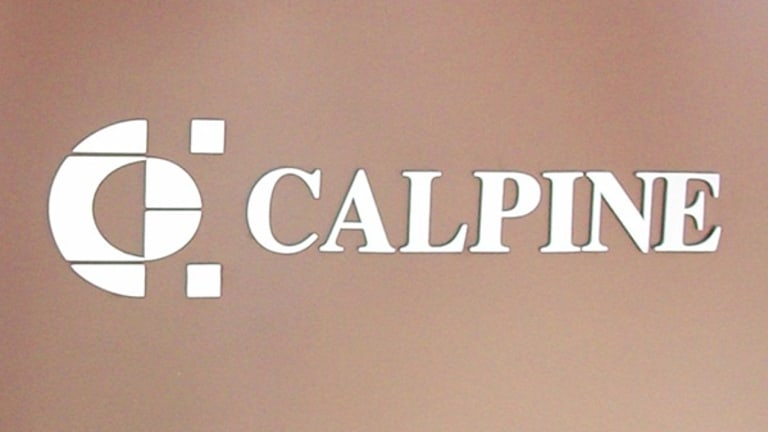 Calpine Sees Risk to Geothermal as Green Energy Grows
West Coast energy wholesaler Calpine has hundreds of millions of dollars in geothermal investment tied up in green energy that it may not be able to sell.
Updated from 11:33 a.m. ET Sunday June 22 to add video.
NEW YORK (TheStreet) -- Shrinking the options for green energy is probably not what the leaders of the State of California have in mind. But that may be what's happening.
According to energy giant Calpine (CPN) , hundreds of millions of dollars in historically profitable geothermal energy investments at its famed Geysers facilities may be at risk as California utilities marginalize geothermal power in favor of other renewables, like wind and solar.
As the state's renewable energy mandate expands, utilities are not being required to contract for geothermal power and, according to the company, are instead choosing wind and solar. Geothermal has been an established energy source for 100 years and while maintenance of its wells, plants and infrastructure carries considerable expense, it is a proven technology and a constant source of power that is already embedded in the local economy.
"We're really a large participant in the community," Calpine's vice president for the geothermal region, Michael Rogers, told TheStreet in a video interview Friday. The company provides "nearly 500 full-time, high-paying jobs" plus tens of millions of dollars in royalties, taxes and maintenance that benefits the local economy, he added.
Wind and solar are subsidized energy sources, making it more difficult to compete against them in price. Rogers said. Calpine also claims the true costs of integrating solar and wind into the existing energy grid are not being factored into utilities' decisions.
"The subsidies for the other energy sources as well as the lack of inclusion of integration costs really puts us at something of a competitive disadvantage," Rogers said.
Terri Prosper, a spokesperson for the California Public Utilties Commission, said the issue is not an attempt to quash geothermal but is more about trying to grow the state's green energy supply, an effort guided by the "renewable portfolio standards" or RPS.
"A large increase in solar and wind resources is necessary to meet the 33 percent RPS mandate as the undeveloped potential for both resources in California is far greater than the untapped potential for geothermal," Prosper said in an email. "Consequently, while the total megawatts of geothermal may not decline over time the growth in wind and solar mean geothermal' s percentage of total load will."
However Danielle Matthews Seperas, a spokesperson for Calpine, said that even existing contracts are at risk of non-renewal.
"The Geysers provides numerous environmental and economic benefits but despite those benefits and the state of California's continued support of strong environmental policies, the utilities are not being required to contract for more geothermal," Seperas said. "Without changes to existing policies, 55% or, 400 megawatts of the 725 megawatts of Calpine's Geysers power will be without a contract by the end of 2017."
In addition, the company has permits in hand to build two new plants -- the first since 1989 -- each capable of producing up to 49 MW of clean energy, enough to power more than 70,000 homes, according to company documents. Without power purchase agreements, those projects will not be built, Rogers said.
Small but Important 
Only a small percentage of Calpine's power output is geothermal, but it is the largest of only a few players in the U.S. energy sector invested in the technology. Most of the company's 94 power plants burn natural gas, with only 15 geothermal turbine-based plants. The geothermal capacity of 725 MW is roughly 2.5% of the company's total capacity. Even so, the loss of contracts for that power would be significant to investors and to the community.
According to the company, the geothermal operations currently supply 18% of California's renewable energy. The Geysers plants are fed by 390 wells with supporting infrastructure of various types. The complete geothermal operation employs 300 people.
In addition to being a nonpolluting energy resource, the Geysers helps neighboring counties by recycling gray wastewater. The company employs what are termed "enhanced geothermal systems" techniques, basically creating or refilling water reservoirs beneath the earth's surface to create steam energy from hot spots that have limited natural water. Rather than deplete the area's precious freshwater, the company brings in 20 million gallons of gray wastewater a day from Sonoma and Lake counties.
Paying for Stability
Where other green-energy sources like wind and solar are intermittent, geothermal operations provide constant power. But as with fossil fuels, that stability comes at a price.
"We routinely invest $50 million a year to sustain the output of the facility," Rogers said.
From the perspective of RBC Capital analyst Shelby Tucker, costs like that are the crux of the problem. Well-intentioned government policy promotes wind or solar, Tucker said in an interview, but those renewables have down time when the sun doesn't shine or the wind doesn't blow. Any renewable portfolio needs to simultaneously ensure stable energy sources to serve as a backup, and "you're going to have to pay for that," he said.
"That's been the struggle with California," Tucker said. "it's one thing if your reliance on renewables is 10% . . . But as your mandate is pushing you to 30% [and higher], then suddenly your grid has a much more difficult time to keep your reliability in place."
While the goal of favoring wind and solar has been to reduce utilities' dependence on oil and natural gas, "the side victim has been geothermal," Tucker said. "It's one of those unusual events where favoring one form of renewable and not adjusting pricing accordingly, you're hurting another."
Cost Calculations
Legislation has been proposed that would rebalance the state's renewable energy portfolio. Assemblyman Brian Dahle is a sponsor of the bill, AB 2363 or the Renewable Energy Diversity Act. In a letter circulated by his office, Dahle describes the proposed law as "a narrowly crafted bill that requires the CPUC to ensure public utilities consider 'integration costs' in their renewable procurement decisions by a date certain."
Integration costs involve the entire complex of costs associated with any power source, including regulatory costs, added infrastructure, added demands to the existing infrastructure and others. The system stresses created by the intermittent nature of wind and solar energy are just one complicated variable in this equation. Such costs are ultimately passed on to the consumer or taxpayer. The assumption is that a more detailed consideration of such costs, including the need for a constant, or "baseload," source of power to back up the intermittent renewables, should help create a level playing field on price for Calpine's geothermal power.
The correctness of that assumption remains to be seen. A recent study by the National Renewable Energy Laboratory finds that ramping of baseload operations caused by intermittent renewables increases operating costs 2% to 5% for the average fossil fuel plant. That cost is more than offset by fuel savings from the renewables.
But Rogers said he has confidence that the Geysers will be competitive under the new legislation.
"I believe geothermal will fare very well when it comes to integration costs," he said.
Prosper, the state spokesperson, agreed that current assumptions used to calculate cost and benefit of renewables needed work and "may put some geothermal resources at a disadvantage."
"Most geothermal resources are far more expensive to ratepayers than wind or solar," Prosper said, "but the geothermal resources offer some value as a base load resource and a potential flexible resource that could be better accounted for in a cost benefit analysis. The CPUC is working on developing the tools to better assess that value. Assembly Bill 2363 requires the CPUC to continue the work we have already started."
Why Alliance Resource, Cloud Peak Soar as Coal Sector Crashes
Coal Mulls Threat From EPA Emissions Reductions
-- Written by Carlton Wilkinson in New York