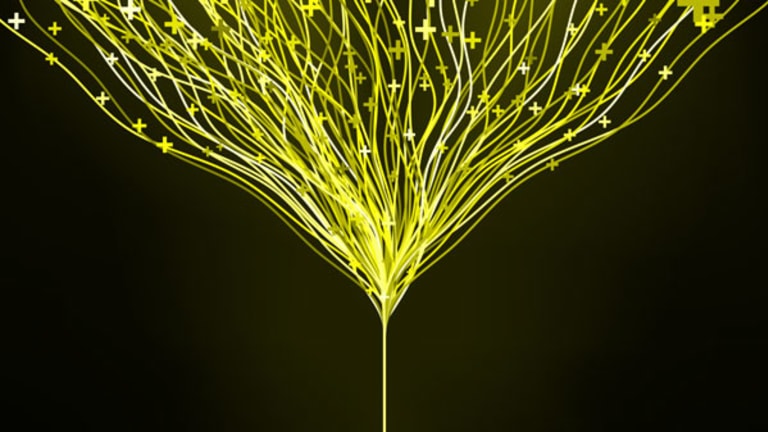 Publish date:
Calling a Bottom in Natural Gas Prices? Good Luck With That
Natural gas finally dips below the $2 mark, but the worst is far from over.
Natural gas finally dips below the $2 mark, but the worst is far from over.
NEW YORK (
) -- I can't call T. Boone Pickens a fool, but I will say that he's foolish for saying on
CNBC
Wednesday afternoon -- when natural gas finally broke below $2 -- that a bottom had to be "near" in the historic slide in the price of the most abundant fossil fuel in the U.S.
Calling a bottom in natural gas is a fool's errand.
Why does a bottom have to be "near"? I see no reason just because the $2 mark was breached, or because Pickens -- who has a history of making confident, yet wrong, predictions about the natural gas market (see his series of annual public proclamations about the "inevitable" passage of the NatGas Act, still languishing in legislative la la land for three years running).
In fact, there's reason to suspect there's considerable downside left in natural gas from here.
"It's never a good idea to pick a bottom," said Adam Bedard, senior director of energy analysis at consultant Bentek Energy. "To me, $2 is a psychological barrier so there is some support there, but people say that's as low as it goes, I think there is room to go lower."
Matt Smith, commodities analyst at Summit Energy, said the $2 mark was definitely a huge psychological level, but like breaking above $100 on oil in 2008, it was a case of not if, but when. Talk of the "one handle" (natural gas trading in the $1s) has been as predetermined as Calvinist faith and as fated as a Greek hero's tragic end.
At best, Smith said he think prices will drift sideways. "Prices will likely continue to drift sideways to lower as supply remains staunch and production refuses to come offline."
It's pretty simple to explain why there is reason to cover your ears when any market pundit talks of the $2 natural gas price as the "bottom" signal.
While there is some price support in the psychological threshold, on the ground actual supply and demand fundamentals suggests that natural gas is going lower yet.
Storage ability in the U.S. is near its max while supply is up year over year by 5.2 billion cubic feet (bcf), according to Bentek data.
What about those gas production shut-ins led by
Chesapeake Energy
(CHK) - Get Report
as a way to bring supply and demand back into balance? How about the fact that the Haynesville rig count has declined by more than 50% year over year, making it the poster-child for the natural gas drilling bust?
Neither matters much.
Remember how confident Chesapeake Energy CEO Aubrey McClendon was about being a "leader" in shutting in production to rationalize the market? McClendon also sounded pretty confident during Chesapeake's final conference call of 2011 when analysts questioned his decision to take off all of the company's natural gas hedges. He said a bottom was near in pricing, and he pointed to his company's track record in calling when a bottom was near. So much for bottom calling track records.
The drop in the Haynesville rig count has been offset by the increase in Marcellus shale drilling, while the production shut-ins
mask the fact that the drillers keep on drilling, led by the biggest of all,
Exxon Mobil
(XOM) - Get Report
, which would probably still drill for natural gas even if the price is 75 cents. Exxon Mobil's natural gas portfolio in the U.S. isn't hedged, but it is hedged globally by its worldwide exposure to much stronger natural gas pricing in every market but the U.S.
There are some speculative reasons to be a little more optimistic.
The U.S. is coming off the warmest winter on record, which exacerbated the natural gas demand problems.
Further pressure on prices could ratchet up demand as part of a price response dynamic.
Industrial demand, in particular, could pick up in response to lower prices.
Nevertheless, domestic production is still showing no sign of falling off , while storage levels are over 50% higher than at this point last year (and over 60% above the five-year average).
In fact, the formula for why the worst is not over for natural gas is simple and doesn't take a secretive energy market trading cabal to understand: As there is more production and less room to store it, and in an environment of lower demand, the pressure on pricing intensifies.
"Unless we either see a material amount of production come off-line or experience an extremely hot start to summer, the likelihood is that reaching full
storage capacity later in the year becomes a distinct possibility," Smith said.
Bedard explained that even though power plant use of natural gas is up, residential and commercial demand is down, and to see year-to-date natural gas supply increase by 5 bcf (8% of the market) amid lower demand can lead to only one conclusion: "This market is very long natural gas and that could continue to pressure prices."
One unexamined factor that could add to the natural gas production build is the role of Exxon Mobil and the other big balance sheet multi-nationals that don't feel the pain of the smaller independent exploration and production companies. This week, Exxon Mobil made
a surprise purchase of shale acreage from Chesapeake Energy.
In its last quarterly conference call,
Chevron
(CVX) - Get Report
said it was considering opportunistic purchases of acreage in the shale. The bargain sale within shale basins may be
just getting started and the Exxon Mobils of the world will not be shutting in production.
"This can make things worse in a tangible way," Bedard said. "Exxon and
BHP Billiton
which has bought into shale assets across the U.S. will continue to produce, and Exxon will push the price lower. Chesapeake did some shut-ins, but the multi-nationals don't care and frankly, if gas goes lower they can pick up acquisitions at distressed prices."
Goldman Sachs advised clients on Thursday to buy summer natural gas. Summer 2013, that is.
Ready to call a bottom in natural gas?
-- Written by Eric Rosenbaum from New York.
>To contact the writer of this article, click here:
Eric Rosenbaum
.
>To follow the writer on Twitter, go to
.