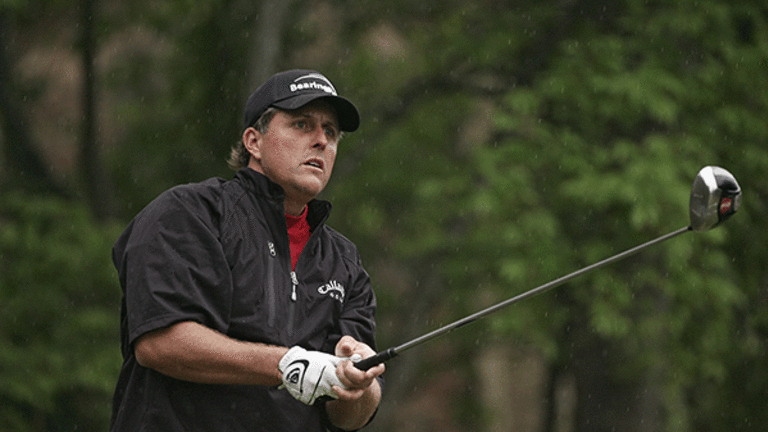 Callaway Golf Has Created Its Most Epic Driver Yet
One can drop bombs with this new club.
Nowadays, you almost need a degree in mechanical engineering to understand the new technology baked into golf equipment. And that sort of stinks as we all simply want to know if a hot new club will make us a better player, somewhat instantly. 
Take, for instance, Callaway Golf's (ELY) - Get Callaway Golf Company Report new Great Big Bertha Epic driver that just made a splash on the market. The remarkable achievement, explains Callaway Golf, is new "Jailbreak Technology" that took almost four years of of research to develop. It basically connects the Epic's crown to the sole of the club with two titanium bars, promising to serve up big gains in distance and accuracy. The club also boasts "Speed Step" technology developed with the help of aerospace experts, which is alleged to improve aerodynamics for more speed and distance. 
Callaway Golf estimates that a normal driver takes 500 to 600 steps to create, whereas the Epic needs more than 1,000. The equipment maker boasts that the Epic is the most complicated driver it has ever made. All we know is that after taking a 9-degree Epic to the local driving range for a few whacks, the ball was traveling at least 10 yards further (not too shabby in light of ice-cold golf balls), and bad hooks and slices were greatlly reduced in number.
In the end, who are we to argue with the fancy marketing lingo: it looks as if it's working.
Despite persistent challenges in the golf industry ranging from a low number of rounds played to the bankruptcy of key retailer The Sports Authority, Callaway Golf's sales last year rose 3% year over year on the back of golf balls, irons and accessories. Earnings improved to 51 cents a share from 17 cents a share a year earlier. Callaway Golf shares have gained nearly 14% over the past year.
Meanwhile, Great Big Bertha Epic drivers were the No. 1-selling drivers at retail in January, according to Golf Datatech. In late January, popular female golfer Michelle Wie dropped her Nike (NKE) - Get NIKE, Inc. (NKE) Report sticks (as others have done in the wake of the company's exit from the golf equipment market) and joined Callaway Golf as a sponsored athlete.