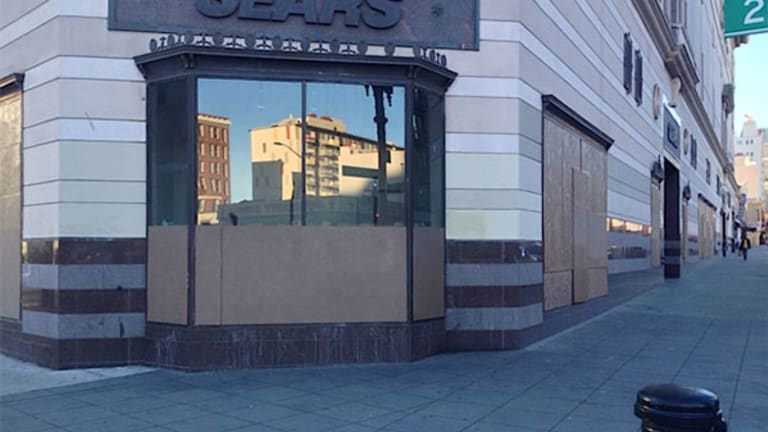 Sears Is Rapidly Disappearing From Towns Across America
Sears continues to close a massive number of stores.
To try and stay in business just a little longer, Sears Holdings Corp. (SHLD) continues to cut costs by closing stores hand over fist. 
And with its already precarious financial position only getting worse, Sears has picked up the pace of those store closures. The dying retailer said Thursday that it had 1,250 total Kmart and Sears stores open at the end of the first quarter, down sharply from 1,596 a year ago. During the first quarter, Sears closed 111 Kmart stores and 44 Sears stores. Once the quarter ended, Sears decided to shutter 22 more Kmart stores and 10 additional Sears locations. 
The problem with all the store closures is that they cause the Sears and Kmart brands to fade further from the minds of consumers. Moreover, once a Sears or Kmart store is closed in a community, it sends consumers off permanently to Walmart (WMT) , Target (TGT) , J.C Penney (JCP) , Home Depot (HD) or even a Dollar Tree (DLTR) . In effect, Sears' efforts to stay alive continue to serve as its own death elixir injected in the right arm. 
Case in point is Sears' first quarter results. 
The department store retailer reported Thursday that its adjusted net loss clocked in at $230 million, or $2.15 a share. A year ago, Sears delivered an adjusted loss of $199 million or $1.86 a share. Sales at both the Sears and Kmart banners continued to plunge amid stiff competition from several of the aforementioned healthier rivals. Same-store sales at Sears crashed 12.4%, marking the 11th straight quarterly decline. Sales declines were notched in all categories, even home appliances, a business Sears once ruled. At Kmart, sales dived 11.2%, and were down for the 10th straight quarter. Like Sears, Kmart saw sales drop in all of its departments. 
Of particular concern was that Sears' cash fell to $264 million from $286 million entering the first quarter. 
Click here for the latest business headlines.
Editor's Pick: Originally published May 25.
Trending stories on TheStreet:
Dying Sears Could Be Quickly Running Out of Cash
Sears Is Rapidly Disappearing From Towns Across America
For Sears Sake It Must Deliver on These 3 Things to Prevent More People From Predicting Its Death