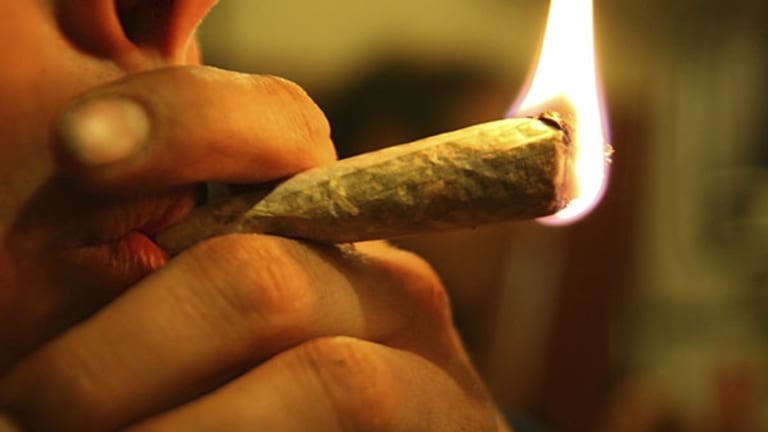 Buzzkill: Marijuana Stock Frenzy Looks Like It's Totally Crashed
Pot-related stocks have gone up in flames over the past year amid legal woes and failure to show any profits.
NEW YORK (TheStreet) -- Remember marijuana stocks? Well, the party appears to be over.
After reaching euphoric highs last year, shares in companies that sell pot and related paraphernalia have, well, crashed and burned.
One of the highest fliers was Advanced Cannabis Solutions (CANN) . Its shares hit an all-time high of $64.64 on March 5 of last year, more than tripling in eight days as its market cap approached $1 billion. On March 27, however, trading was halted by the Securities and Exchange Commission due to questions over possible illegal trades. 
On Friday its shares were around $5, according to Yahoo! Finance, though the market on which they are traded, OTCMarkets, actually offers no quote and warns investors away from the stock with a skull and crossbones. 
Advanced Cannabis CEO Robert Frichtel said the company, which leases office and growing space to marijuana businesses, became aware of unauthorized trading in its stock. He said the company has litigated and settled the matter and has taken steps to try to get the shares on a more reputable trading platform. Indeed, the $5 share price is a considerable improvement, considering the shares languished around $1 for much of December.
The song remains the same for other marijuana companies whose shares puffed up spectacularly last year around the time that Colorado and Washington became the first states to legalize marijuana for recreational use.
On April 10, the day Advance Cannabis came out of its suspension, the SEC suspended shares of GrowLife (PHOT) , a California-based provider of lighting and other supplies for growing marijuana.  Medboxundefined , a controversial maker of marijuana vending machines, saw the resignation of its CEO and CFO late last year and disclosed its accountants had received a federal grand jury subpoena. Shares of both GrowLife and Medbox are down more than 90% over the past year.
"Investors probably had a moment to pause and reflect," says Advanced Cannabis CEO Frichtel.
Alan Brochstein, a certified financial analyst who runs a marijuana investing Web site called 420 Investor, says the sharp rise and fall of pot stocks was the inevitable result of a classic speculative bubble.
"There was no reason for the stocks to go up that much. It's a great theme and people were excited about it but the fundamentals weren't there," said Bochstein.
Interest in the marijuana business remains high. Voters in Alaska and Oregon legalized recreational pot use in November and the laws will take effect in those states on Feb. 24 and July 1, respectively.
MJ Freeway, a privately-held maker of "seed to sale tracking software" that promises to "make running a cannabis business easy," got an investment earlier this year from Tao Capital Partners, a venture capital firm whose leadership includes Hyatt Hotels (H) - Get Free Report scion Joby Pritzker.
Federal laws still criminalize pot, however. Many marijuana businesses are forced to do most of their business in cash as they struggle to find banks willing to accept their deposits. 
Without banking regulators firmly on board, it is difficult to see how marijuana companies can get the securities industry to validate their stocks. The notable exception has been GW Pharmaceuticals (GWPH) - Get Free Report , a U.K.-based drug company that has ADRs trading on the Nasdaq.
GW Pharmaceuticals has withstood the selloff in pot stocks. Its shares are up 30% over the past year. But even that company has failed to show a profit so far.
GW Pharma is the one pot stock Brochstein can bring himself to recommend, though even that one is risky, he warns.
Brochstein founded 420 Investor in September 2013, and roughly a year ago he had nearly 2,000 subscribers to the site at $42 per month. He is now at about half that number. In order to avoid conflicts he says he doesn't invest in marijuana stocks himself. While he remains excited about their potential, he readily acknowledges that the 250 or so publicly traded marijuana companies are fertile territory for con artists.
"Most of them are either outright scams or just destined to fail, so you have to understand that right from the onset." Brochstein commented. "With that said, there's a handful of companies that I think at least might have a shot. They seem to be moving in the right direction, but they're very speculative."