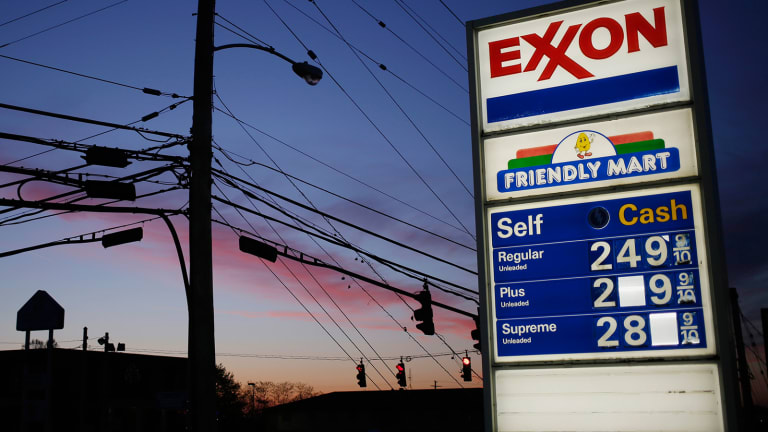 Buy These 5 Energy Sector Breakouts: Exxon, Phillips 66 Partners, More
The energy sector is crushing the rest of the market in 2016 -- and this trend has further to run. Here's a look at five energy breakouts to buy.
No doubt about it: the energy sector has been looking pretty energized in 2016.
Year to date, energy stocks have been standout performers, with the Energy Select Sector SPDR ETF (XLE) - Get Energy Select Sector SPDR Fund Report besting all of the other sector ETFs in the SPDR family with a more than 16% gain. That market-beating return hasn't exactly been free, of course. It follows a prolonged selloff in energy stocks that pushed many investors away from the sector altogether.
But there's reason to believe that the rebound in the energy sector could be just as long-lived as the decline that preceded it in 2014 and 2015. That would mean that there's a whole lot more life left in the rally this fall.
To make the most of that about-face, we're turning to the charts for a look at five energy trades that are breaking out this week.
In case you're unfamiliar with technical analysis, here's the executive summary: technical analysis is a way for investors to quantify qualitative factors, such as investor psychology, based on a stock's price action and trends. Once the domain of cloistered trading teams on Wall Street, technicals can help top traders make consistently profitable trades and can aid fundamental investors in better planning their stock execution.
Without further ado, here's a rundown of five technical setups that are showing solid upside potential right now...
NuStar GP Holdings
We're starting small -- with shares of $1 billion midstream energy stock NuStar GP Holdings (NSH) . NuStar has been a strong performer in 2016, rallying about 25% on a price basis alone since the calendar flipped to January. Don't worry if you've missed out on that upside so far -- NuStar is testing a breakout this week that could send shares off on a second leg up.
NuStar GP Holdings is currently forming a pretty textbook example of an ascending triangle pattern, a bullish continuation setup that's formed by a horizontal resistance level up above shares at $26, and uptrending support to the downside. Basically, as NuStar bounces in between those two technically significant price levels, it's been getting squeezed closer and closer to a breakout above $26 -- and shares finally closed above that level in yesterday's session.
It's a little early to call the breakout in NuStar confirmed at this point; shares only ended things 40 cents above resistance, making it not quite material just yet. Shares need to follow that performance up with another day above that $26 level today in order to signal a buy.
Relative strength, the indicator down at the bottom of NuStar GP Holdings' price chart, is the additional piece of evidence for the breakout that investors should be paying attention to here. Our relative strength line, with measures the stock's outperformance vs. the rest of the broad market, has been in a well-defined uptrend all year long.
As long as that uptrend in relative strength remains intact, this stock is predisposed to keep on outperforming.
Matador Resources

We're seeing the exact same setup right now in shares of $2 billion independent oil and gas company Matador Resources  (MTDR) - Get Matador Resources Company Report. Like NuStar, Matador is currently showing off a textbook example of an ascending triangle pattern. The big difference here is that Matador's price pattern isn't quite as far along yet.
The breakout level to watch in Matador is resistance up at $25.
It's not magic that makes $25 a critical price level for Matador. Instead, it all boils down to buyers and sellers. Price patterns, like this ascending triangle setup in Matador Resources, are a good quick way to identify what's going on in the price action, but they're not the actual reason a stock is tradable. Instead, the "why" comes down to basic supply and demand for Matador's shares themselves.
The $25 resistance level is a price where there has been an excess of supply of shares; in other words, it's a spot where sellers have previously been more eager to step in and take gains than buyers have been to buy. That's what makes a breakout above $25 so significant -- the move means that buyers are finally strong enough to absorb all of the excess supply above that price level.
Once Matador can catch a bid above $25, it's time to buy.
Phillips 66 Partners

It's been a fairly ugly year for shareholders of $5 billion midstream stock Phillips 66 Partners (PSXP) - Get Phillips 66 Partners LP Report. Since the start of 2016, this master limited partnership has shed more than 22% of its market value on a price basis, trailing the rest of the rebounding energy sector in a big way. That's the bad news.
The good news is that this MLP is finally looking "bottomy" this fall.
Phillips 66 Partners is currently forming a double bottom, a bullish reversal pattern that looks just like it sounds. The double bottom is formed by a pair of swing lows that bottom out at approximately the same price level -- they're separated by a peak that marks the breakout level for the pattern. In PSXP's case, that breakout price tag comes in at the $49 resistance level.
Momentum, measured by the 14-day Relative Strength Index up at the top of Phillips 66 Partners' chart, adds some extra evidence to a bullish reversal here. Our momentum gauge made a pair of higher lows as this stock's price was bottoming, a bullish divergence that indicates buying pressure is actually building behind the scenes.
Once Phillips 66 Partners trades above $49, it becomes a buy.
Enbridge Energy Partners
$9 billion MLP Enbridge Energy Partners (EEP) may share the same structure as Phillips 66 Partners, but the two stocks couldn't have behaved and more differently in 2016. Since bottoming back in February, Enbridge has been in rally mode, climbing more than 60% higher in the intervening months.
The good news for investors is that Enbridge is still a "buy the dips stock" this fall.
Enbridge's rally has been orderly. More specifically, it's been contained within an uptrending channel that's plotted out the high-probability range in which shares will likely stay. In a nutshell, every single test of the bottom of that price channel so far has provided investors with a low-risk, high-reward buying opportunity for shares of Enbridge. So, as shares touch trendline support for the ninth time since May, it makes sense to buy the next bounce higher.
Actually waiting for that bounce is important for two key reasons: it's the spot where shares have the most room to move up before they hit resistance, and it's the spot where the risk is the least (because shares have the least room to move lower before the channel breaks, invalidating the upside trade).
Remember, all trend lines do eventually break, but by actually waiting for the bounce to happen first, you're ensuring Enbridge Energy Partners can actually still catch a bid along that line before you put your money on shares.
Exxon Mobil
Last up on our list of energy sector breakout trades is supermajor Exxon Mobil (XOM) - Get Exxon Mobil Corporation Report. Exxon doesn't need much in the way of an introduction -- this $360 billion integrated energy giant is enormous, and it's also widely held. That's been a good thing for investors, given the 11% upside move shares have undertaken this year.
The good news could be about to get even better.
That's because, after spending the last several months correcting, Exxon is showing off a classic breakout trade that could springboard this stock to a test of new highs.
Since August, Exxon has been forming an inverse head and shoulders pattern, a bullish reversal setup that signals exhaustion among sellers. The pattern is formed by two swing lows that bottom out at approximately the same level (the shoulders), separated by a lower low (the head). The buy signal comes on a move through Exxon's neckline up at $89.
Exxon is another trade where price momentum (measured by 14-day RSI up at the top of the chart) adds some extra confidence that buyers are coming back into shares. That's because our momentum gauge has been making higher lows during each of the price swings in Exxon's inverse head and shoulders pattern, signaling accumulation is taking place. Once Exxon breaks the $89 level, look for a retest of prior highs at $95.55.
This article is commentary by an independent contributor. At the time of publication, the author held no positions in the stocks mentioned.