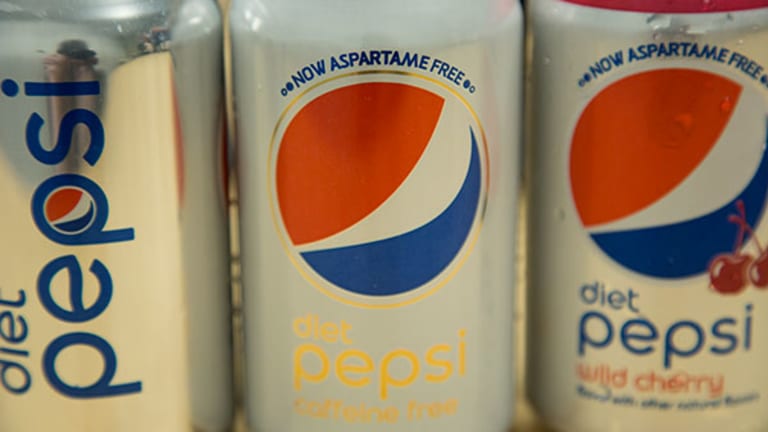 Buy These 5 Blue-Chip Breakouts to Profit From the S&P's 'Shadow Rally'
Little do most investors know 40% of the S&P is up double digits this year. These 5 big-cap breakouts could help you play catch up.
Just 4.34%. That's how much of a gain the big S&P 500 has managed to eke out since the calendar flipped to January. No, it's to write home about by any stretch of the imagination -- but that market stat doesn't tell the whole story for stocks right now.
That's because if you've only been looking at the headline numbers in the S&P 500, you've been missing out on a massive "shadow rally" that's been taking place behind the scenes of the broad market. As I write, more than 40% of S&P components are actually up 10% or more since the start of the year -- that's a big chunk of the market that's "working" in this environment.
Better still, it's not too late to take advantage of that stock market strength for your portfolio. Even now, some of Wall Street's biggest blue chips are teetering on the edge of breakout territory in October.
To take advantage of that strength in specific individual stocks, we're turning to the charts for a technical look at what the price action is saying about them -- and when you should hit "buy"...
First, a quick note on the technical toolbox we're using here: Technical analysis is a study of the market itself. Since the market is ultimately the only mechanism that determines a stock's price, technical analysis is a valuable tool even in the roughest of trading conditions. Technical charts are used every day by proprietary trading floors, Wall Street's biggest financial firms, and individual investors to get an edge on the market. And research shows that skilled technical traders can bank gains as much as 90% of the time.
Every week, I take an in-depth look at big names that are telling important technical stories. Here's this week's look at five big stocks to trade.
HDFC Bank 
At the same time Wells Fargo (WFC)  has been making the headlines here at home for all the wrong reasons, $48 billion Indian banking giant HDFC Bank (HDB)  has quietly been moving higher for all the right ones. Year to date, this overseas financial stock has rallied more than 16% outperforming its U.S. peers by a huge margin. But don't worry if you've missed out on that recent upside in HDFC Bank. Shares look ready to kick off a second leg higher this fall.
That's because HDFC Bank is currently forming an ascending triangle pattern, a bullish continuation setup that's formed by horizontal resistance up above shares at $74, coupled with uptrending support to the downside. Basically, as HDFC Bank has ricocheted in between those two technically important price levels, this stock has been getting squeezed closer and closer to a breakout through that $74 price ceiling. When that line in the sand gets crossed, we've got a fresh buy signal in this big banking stock.
HDFC Bank's price action is part of the story here -- its relative strength line, down at the bottom of its chart, is another. Relative strength measures a stock's performance versus the rest of the broad market. And in HDFC Bank's case, an uptrend indicates that shares are continuing to beat the S&P 500, even now. As long as that relative strength uptrend remains intact, HDB is predisposed to outperform.
The 50-day moving average has started acting like a proxy for support since this summer - that makes it a logical place to park a protective stop once shares move above $74.
PepsiCo
We're seeing the exact same price setup in shares of food and beverage powerhouse PepsiCo (PEP)  right now. Like HDB, Pepsi is currently forming a textbook example of an ascending triangle setup following a market-beating start to 2016. For PepsiCo, the breakout level to watch next is resistance up at $109.
Make no mistake, there's nothing mysterious or magical about what makes that $109 price ceiling in PepsiCo significant here. Instead, it all comes down to buyers and sellers. While the ascending triangle pattern on Pepsi's chart is a useful way to identify where to buy, drawing lines on a chart isn't what makes it tradable. The "why" for Pepsi comes down to basic supply and demand for this stock's shares themselves.
The $109 resistance level is a price where there has been an excess of supply of shares; in other words, it's a spot where sellers have been more eager to step in and take gains than buyers have been to buy. That's what makes a breakout above $109 so significant - the move means that buyers are finally strong enough to absorb all of the excess supply above that price level. Once Pepsi manages to definitively move above $109, it's time to join the buyers.
Wells Fargo and Pepsico are holdings in Jim Cramer'sAction Alerts PLUS Charitable Trust Portfolio. Want to be alerted before Cramer buys or sells WFC or PEP? Learn more now.
Infosys
It's been a rough couple of quarters for shareholders in $38 billion IT consultancy Infosys (INFY) . Just since June, this stock has lost about 15% of its market value, tumbling at the exact same time the S&P 500 was actually managing to move slightly higher. But while Infosys hasn't been a stock you'd want to own lately, that could be about to change. Infosys is looking "bottomy" this fall and shares are breaking out this week.
Infosys is currently forming a double bottom, a bullish reversal setup that looks just like it sounds. The double bottom is formed by a pair of swing lows that bottom out at approximately the same price level. The peak that separates those lows is the breakout level for the price pattern - for Infosys, that buy signal comes on a push through $16.50.
Infosys rallied 4.5% Thursday, boosted as investors positioned themselves ahead of the firm's second-quarter earnings numbers. More important, shares ended the session slightly above their $16.50 level, leaving the door open for an earnings-induced followup today. If shares can show some continuation this morning, it makes sense to buy INFY here.
Raytheon
You don't need to be a charting expert to figure out what's happening in shares of defense contractor Raytheon (RTN)  -- the price pattern in play here is about as simple as it gets. All year long, Raytheon has been muscling its way higher, bouncing up and to the right in a well-defined uptrend. And Raytheon is still a "buy the dips stock" this fall.
Raytheon's uptrend is a straightforward price channel that's formed by a pair of parallel, upward-sloping trendlines. Shares have stayed corralled in between those dual price trend levels all year long. So far, every test of trendline support over that long-term time horizon has also provided a low-risk, high-reward buying opportunity in Raytheon. So, as shares touch that same support level for a seventh time here, it makes sense to buy the next bounce higher.
Waiting for that bounce is important for two key reasons: It's the spot where shares have the most room to move up before they hit resistance, and it's the spot where the risk is the least (because shares have the least room to move lower before the channel breaks, invalidating the upside trade). Remember, all trend lines do eventually break, but by actually waiting for a bounce to happen first, you're ensuring Raytheon can actually still catch a bid along that line before you put your money on shares.
Honda Motor 
Japanese industrial Honda Motor (HMC)  has been in rally mode since the summer, climbing almost 20% higher since the start of July, and stomping the rest of the S&P 500 in the process. Now, after correcting slightly since the start of September, Honda looks ready to kick off another up-leg - and it's all thanks to a classic turnaround pattern that's suddenly showing up in shares...
Honda is currently forming an inverse head and shoulders pattern, a bullish reversal setup that signals exhaustion among sellers. The pattern is formed by two swing lows that bottom out at approximately the same level (the shoulders), separated by a lower low (the head). The buy signal comes on a move through Honda's neckline up at $30. Shares are within grabbing distance of that breakout level this week.
Price momentum, measured by 14-day RSI at the top of Honda's chart, adds some extra confidence to the bullish price setup that's suddenly coming together on the chart. That's because our momentum gauge has been making a series of higher lows over the course of the inverse head and shoulders pattern, a bullish divergence that indicates buying pressure has been ramping up, even as HMC's price action corrected this fall. Once Honda cracks $30, it's time to buy.
This article is commentary by an independent contributor. At the time of publication, the author held no positions in the stocks mentioned.