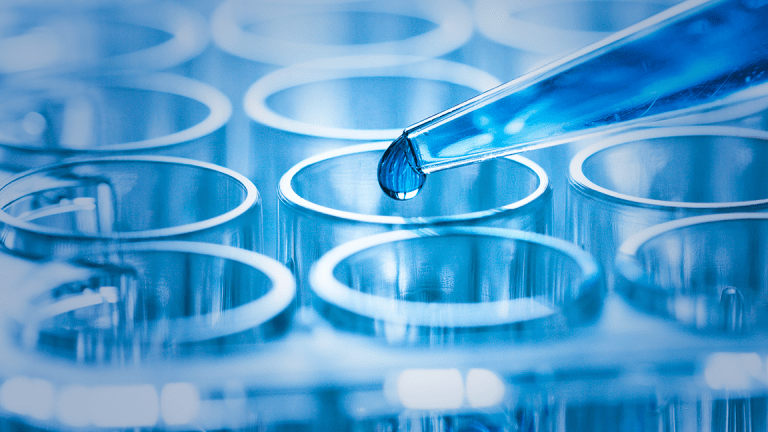 Buy These 3 Risky Biotech Stocks
Is the pharma sector fever heating up in 2H18? Drug investors, get ready as there could be some good trades to be made.
Stay with biotech.
There's been a lot of talk on the Street about the biotech sector and how drug makers haven't been bringing the heat in 2018. At least not in the first half of the year. That said, could we be just in time for a comeback in the second half?
Leerink's analyst team admits the opening half of the year has been lackluster and "disappointing for large-cap biopharma companies." However, there is a silver lining in these pharma clouds: "The second half of the year promises to be more exciting for small-/mid-cap biopharma stocks..."
Biotech IPOs are starting to pop up left and right. Just six biotech company IPO launches hit this last week. One of these new healthcare players is Tilray (TLRY) - Get Tilray Brands Inc. Report , the first pot company that has gone public on a major stock exchange in the U.S. The stock has vaulted 75% in value since its $17 listing price. Two new biotech companies are poised to go public this week.
Watch TheStreet's Executive Editor talk with Tilray's CEO Brendan Kennedy below. 
We sought the perspective of investment banking giant Barclays on biotech stocks. We then turned to TipRanks' market data to find out the latest stats on (1) the track record for Barclays analysts betting successfully on biotech stocks; and (2) drug makers that exhibit a 'Buy' consensus rating.
Here's why Barclays likes the upside odds on these three biotech stocks.
Gilead Sciences
Big-name biotech giant Gilead Sciences (GILD) - Get Gilead Sciences Inc. Report  has its hooks in two franchises: HCV and HIV. While May's first quarter print was less than impressive, could this Wednesday's second quarter earnings show unleash improvement?
Gilead CFO Robin Washington indicated in the last earnings call expectations for "market share to stabilize by mid-year," just in the nick of time. Washington also set expectations for HCV prices to be "largely stabilized." It's a "trough year" in 2018 for Gilead.
That said, consensus opinion is still quite positive on this 'Moderate Buy' giant: Gilead has received eight buy ratings in three months. Running the numbers across the Street, the 12-month average price target lands at $85.33 (10% upside potential). Even in a "trough" 2018, Gilead doesn't have a bear in sight. 
Barclays four-star analyst Geoff Meacham, senior analyst of biotech and pharma for Barclays and former senior biotech analyst at J.P. Morgan has been a long-time Gilead bull. Even in 2012 when Meacham still covered biotech for J.P. Morgan, the analyst was betting on the company's market prospects. Meacham's upbeat recommendations on Gilead have translated to a solid average of 11% in profits.
Last year, Meacham wrote an open letter to Gilead management pleading for change. The analyst's intent wasn't to "single out" the company's management team, but rather offer five recommendations to dial up market valuation.
Clearly, the analyst is much more content in 2018. Not only did Meacham recently reiterate a Buy on Gilead's stock, but he also wrote: "We view the Gilead story as fundamentally much stronger today from a product and pipeline perspective and importantly at a time when HCV is becoming much less relevant to the stock as the business troughs in mid 2018."
Bottom line: wait out the "troughs."
Clovis Oncology
Mid-cap oncology firm Clovis Oncology (CLVS) - Get Clovis Oncology Inc. Report  has stirred up bullish attention on the Street. The 'Strong Buy' stock has scored three buy ratings in three months. Consensus expectations also exhibit confidence among Wall Street analysts, who call for 51% in upside potential ahead. All eyes will be on Clovis come August 1 as it's set to post its second quarter print after the bell. 
Five-star Barclays analyst Gena Wang sounds off from the top 200 analysts on the Street. Just last month, Wang assumed coverage on Clovis from the bullish camp. Even before Wang took over coverage here, Barclays had rated the drug maker Overweight.
Wang took the price target down to $58, which means she still anticipates a confident 21% in return potential for Clovis. When eyeing the PARP inhibitor space, Wang believes the worldwide market prospects at play here are sufficiently substantial to invite room for more than one biotech rival. 
"Lead product Rubraca has been commercialized in ovarian cancer with recent approval in a broader maintenance setting... Specifically, we see a good chance for Rubraca monotherapy to show positive data in 3Q18 in prostate cancer for potential accelerated approval," contends the analyst.
Quest Diagnostics
New Jersey-based diagnostics maker Quest Diagnostics (DGX) - Get Quest Diagnostics Incorporated Report  just won a bullish upgrade from Barclays last month. The 'Moderate Buy' stock has additionally drawn four other buy ratings in the last three months from analysts across the Street. Barclays' Jack Meehan joined the Quest bulls on the back of "very favorable risk-reward." See DGX Price Target and Analyst Ratings Detail.
Quest's new long-term key alliance with Action Alerts PLUS holding UnitedHealth Group (UNH) - Get UnitedHealth Group Incorporated (DE) Report "could be a big deal," and here's why: (1) shared savings with preferred, low-cost labs; (2) both Quest and LabCorp are set to capture market share with the new payor paradigm.
The analyst upgrades Quest from Equal Weight to Overweight while boosting the price target from $120 to $130 (14% upside potential). When surveying Quest's story, Meehan believes the "pieces are in place" for this healthcare player to substantially leverage its diagnostic data asset with customers.
In a nutshell, Meehan says buy this healthcare stock. "We recommend owning shares as the new payor paradigm accelerates opportunities for lab consolidation and new data service opportunities." 
TipRanks.com offers exclusive insights for investors by focusing on the moves of experts: Analysts, Insiders, Bloggers, Hedge Fund Managers and more. See what the experts are saying about your stocks now at TipRanks.com. Author: Julie Lamb.