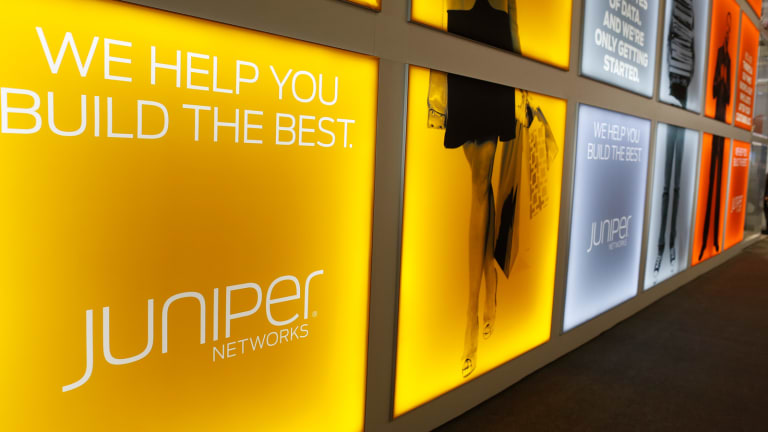 Buy Juniper Networks While Everyone Is Selling
It's time to buy on weakness.
Juniper Networks (JNPR) - Get Free Report  stock, at close to $27, are up 13% over the past 52 weeks but down 6% since the year began. Is time to buy on weakness? Yes, and here's why.
Juniper shares have been falling after the company gave mixed first-quarter guidance. On Thursday, Juniper reported fourth-quarter earnings of 66 per share, 3 cents better than the consensus estimate. Revenue rose 5% to $1.39 billion, exactly in line with estimates. Non-GAAP operating margin was 26.5%, up 50 basis points year over year and a sequential increase of 110 basis points.
Juniper's fourt- quarter results benefited from strong service provider spending. The company saw strength in switching and routing, which offset some weakness in security products. Juniper's PTX routers are seeing strong sales in the cloud and service provider marketplace as customers scramble to build out their cloud infrastructure. In fact, sales to the cloud were up 50%.
Of Juniper's top 10 customers, five were cloud providers, three were telecoms and two were enterprises.
But investors were disappointed by the weaker-than-expected first-quarter guidance. The first quarter is a seasonally weak quarter, so it should be expected the company would see lower sales volumes and weaker margins.
Management guided first-quarter sales between $1.17 billion to $1.23 billion. The company sees gross margins of 62%-63% and an operating margin of 19.5%, which works out to $0.46 per share. Analysts were looking for sales of $1.24 billion and earnings of $0.49.
The stock was hammered on the poor operating margin outlook (19.5% versus 26.5%), but as the new products roll out, margins should bounce back. Last year, for example, Juniper had a first quarter operating margin of 19.3% and margins ramped sequentially all year. The same pattern should repeat this year. The company will probably end fiscal 2017 with operating margins slightly higher than 2016, since it the uptake of its new products have been so strong.
I think the recent weakness in the stock is an excellent opportunity to initiate a position in the shares. JNPR only trades at 12 times fiscal 2017 estimates of $2.17. The low valuation will provide plenty of downside protection. Juniper should be able to reach the mid $30s as the company's new products ramp and margins come back later in the year. I think its time to connect with Juniper while the stock is experiencing a temporary setback.
This article is commentary by an independent contributor. At the time of publication, the author held no positions in the stocks mentioned.