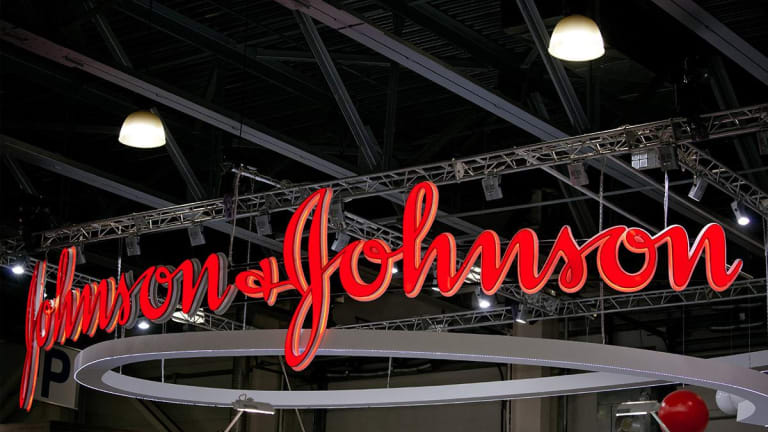 Buy Johnson & Johnson Amid $8 Billion Verdict
Johnson & Johnson stock could come into major support after an $8 billion ruling sends shares lower. Here's how to trade JNJ stock from here.
Shares of Johnson & Johnson (JNJ) - Get Johnson & Johnson Report are getting hit Wednesday, after what many investors consider an absurd court ruling.
J&J has been ordered to pay punitive damages of $8 billion to a man who took Risperdal and grew breasts as a side effect. Of course, Johnson & Johnson has already appealed the ruling and will seek to significantly lower the damages.
The man was originally awarded $680,000 for his claim that the company failed to properly warn of such side effects, but a jury ruled with a far harsher result.
J&J has been caught up in lawsuit after lawsuit, ranging from the opioid epidemic to the latest headline-dominating ruling. It's taken away from the company's strong financials and decent growth profile.
Beyond punitive damages, the chart for Johnson & Johnson has been suffering damage, too. Not in the way that makes it look outright bearish, but in the way that may cause bulls some hesitancy.
Let's take a closer look at the price action.
Trading Johnson & Johnson Stock
When I look at the charts of Johnson & Johnson stock, all I can think is: Yuck, what a chaotic mess.
Shares have spent the last few months frustratingly chopping between $126 and $132. Investors either need a clean breakout to buy into some bullish momentum or they need cheaper prices to entice them to up their stake in JNJ stock.
The silver lining is that Johnson & Johnson stock has found support despite headlines continuously sapping its momentum.
Also on the plus side, the setup is pretty straightforward.
While J&J stock is breaking below the 20-day and 50-day moving averages on Wednesday, they are not the key technical points to monitor. Instead, let's see if we can get a test down into the $126 to $127 area. At $126.99 is the 78.6% retracement, a level that's also been acting as support.
If this area holds, JNJ stock is a buy. If it breaks, Johnson & Johnson shares could trade lower.
On a rebound, see if J&J can clear $132 and the 200-day moving average. While bulls still wouldn't have a "clean breakout" yet, it could be enough to send shares to the October highs at $134.70 and the 50% retracement at $135. Over $135 puts momentum in bulls' favor and puts $138 to $140+ on the table.
This article is commentary by an independent contributor. At the time of publication, the author had no positions in the stocks mentioned.