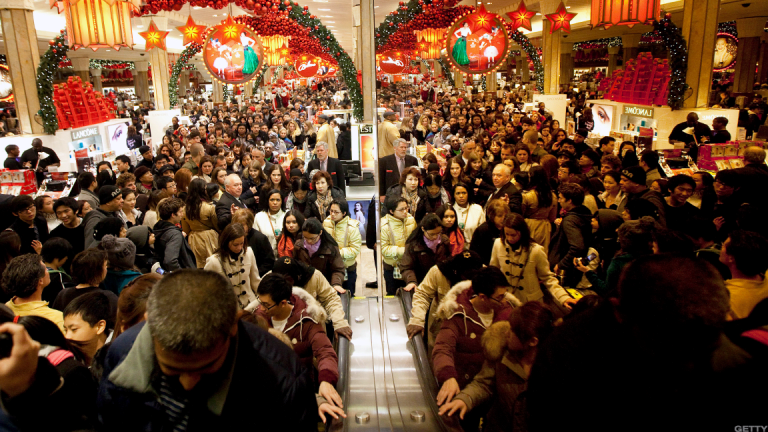 It's Time to Buy Into the Retail Comeback, Cramer Says
The three biggest headwinds working against the retail sector are dissipating, according to Jim Cramer.
Action Alerts PLUS charitable trust portfolio manager Jim Cramer identified five themes investors should look out for in the first quarter during his monthly conference call with AAP members this week. 
Cramer's first theme identified the retail sector as the sleeper segment investors should expect to breakout in the coming months as headwinds that have slowed growth begin to dissipate. 
That recovery has already begun, with the SPDR S&P Retail ETF (XRT) - Get SPDR S&P Retail ETF Report gaining more than 10% since the start of the year on the back of strong holiday season earnings results across the sector. 
The reason for the outperformance is due to a change in sentiment in four areas, according to Cramer: Worries about higher interest rates, exposure to Chinese goods, Macy's (M) - Get Macy's Inc Report struggles and, of course, Amazon Inc. (AMZN) - Get Amazon.com, Inc. Report .
"What's happened? 1. Rates have had a dramatic decline while stocks have gone higher reversing a wealth effect that had gone negative. 2. By pushing off the trade deadlines - something that will most likely happen again - the president has given business more time to shift supply chains out of China," Cramer told AAP members. 
Cramer sees even wider, seemingly more potent headwinds as not being a hindrance to a retail renaissance in the first quarter. 
"Amazon turned out to be less potent than we thought, given that it has chosen not to use Whole Foods to ignite price wars all over the place as those who owned, say, CVS (CVS) - Get CVS Health Corporation Report or Kohls (KSS) - Get Kohl's Corporation (KSS) Report , or even Target or Walmart might have thought," Cramer said. 
3. Department store bellwether Macy's had an awful quarter, amid positive results from its peers, and Cramer believes that the market reaction was overblown. 
"Finally, Jan. 10 of this year will be a day that will live in retail infamy. That's the day that Macy's announced a truly horrendous finish to its quarter while other retailers reported excellent results including raised forecasts. But the ETFs and the general stupidity and thoughtlessness of many managers caused Macy's to be extrapolated incorrectly. So, look for a reversal of fortune in that group," Cramer said. 
Kohl's, CVS and Amazon are key holdings in the Action Alerts PLUS charitable Trust. 
Jim Cramer's Five Themes Investors Should Watch Out for in the First Quarter