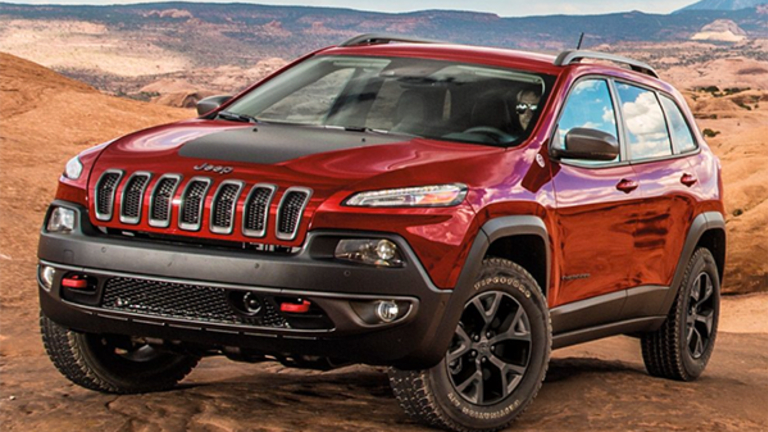 Buy Fiat Chrysler Shares Before a Splashy China Deal Hits
Where there's smoke there's fire.
Shares of global automaker Fiat Chrysler Automobiles N.V. (FCAU) - Get Fiat Chrysler Automobiles N.V. Report are spiking sharply higher Monday, after rumors hit the wires that China's Great Wall Motors is interested in bidding for either all of the company, or its most valuable brand Jeep.
China's Great Wall Motor reportedly confirmed to Reuters that it approached the company about a deal. However, Fiat Chrysler issued a statement Monday morning that it had not been approached by Great Wall Motor about Jeep or any other business matter, and the company was focused on its current five-year business plan.
In a separate story Monday morning, Automotive News reported that Great Wall Motors was primarily interested in acquiring Jeep, which is Fiat Chrysler's most coveted brand. Some of the other well-known brands the company controls are Ram, Chrysler, Dodge, Alfa Romeo and Maserati.
Did Elon Musk Just Open the Door to Hacked Tesla Model 3s?
Last month, Morgan Stanley analyst Adam Jonas said in research note, "The iconic off-road vehicle brand alone could account for nearly half of all Fiat Chrysler's sales by 2018." Jonas' analysis put Jeep's value at 120% of Fiat Chrysler's market capitalization. The company currently sports a market cap of $20.6 billion and trades at a trailing price-to-earnings of 9.12.
At last check, Fiat was ripping to the upside in early trading by 5.6% to $13.30 a share with heavy volume. Volume so far in the trading session is more than 11 million shares, which is well above its three-month average action of 5.86 million shares.
If you take a look at the chart for Fiat, you'll notice that this stock has been uptrending very strong over the last four months and change, with shares moving higher off its low of $9.60 a share to its intraday and new 52-week high on Monday of $13.57 a share. During that uptrend, this stock has been making mostly higher lows and higher highs, which is a bullish technical price action.
Shares of Fiat Chrysler are now starting to enter overbought territory, since its relative strength index reading is more than 74. However, overbought can always get more overbought in a strong momentum stock that's in well defined uptrend like Fiat is in now.
That being said, I expect this move to get faded in the short-term as the market often times loves to sell into the initial news release. The market enjoys punishing investors who chase news, so despite the early strength in Fiat shares, I would look for a fade once the hype dies down before this stock ultimately moves much higher again.
Once the chasers get shaken out, shares of Fiat should get right back into its uptrend, as the trend is clearly your friend in this equity. As the saying goes, where there's smoke there's fire, and it's not a stretch to see a bidding war start to develop for Jeep or the entire company.
With that in mind, I'm going to offer up a few key levels to look to buy the fade on Fiat and position into the stock for a deal that could be coming down the road. The first level to consider would be a dip back toward its 20-day moving average of $12.15 a share. The second key level is a dip back toward its previous breakout and major past resistance zone at $11.65 a share. Look to add this stock and build a position around those levels with a reasonable stop in mind.
The bottom line, I would initiate and add to positions in Fiat around those above-mentioned levels if you're looking to play this stock for a potential Jeep sale or acquisition of the entire company. Don't chase the news in the short-term, let it come in first.
More of What's Trending on TheStreet:
This article is commentary by an independent contributor. At the time of publication, the author held no positions in the stocks mentioned.