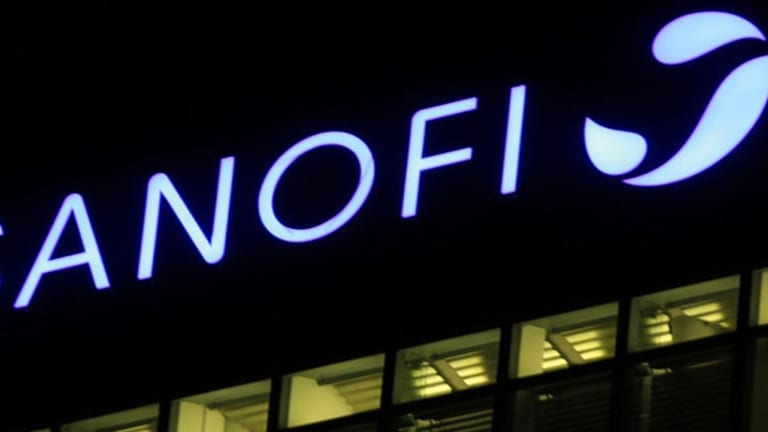 Publish date:
Buy Drug Maker Sanofi After It Surpassed Third-Quarter Estimates
The pharmaceutical company reported better-than-expected results on Friday morning. Grab its ADRs now.
The pharmaceutical company reported better-than-expected results on Friday morning. Grab its ADRs now.
This year hadn't been good to French drug maker Sanofi (SNY) - Get Report , but the company reported third-quarter earnings that beat analysts' estimates on Friday morning.
Third-quarter adjusted income, excluding the impact of acquisitions and divestments, increased 10% to €2.3 billion, above analysts' expectations of €1.93 billion, according to a Dow Jones Newswires poll, The Wall Street Journal reported.
Meanwhile, Sanofi's total sales increased 2% to €9.03 billion.
In addition, Sanofi lifted its profit outlook for the full year.
But this year, biotechnology indices and funds have been under pressure. The Nasdaq Biotech Exchange Traded Fund, for instance, is down more than 33% since July 2015, and the SPDR S&P Biotech Index is down more than 37%.
Yes, this is the year when biotech almost died. 
Buy low, and sell high is a simple strategy in theory that demands courage. Sanofi and the indices are looking pretty beat up.
The relative strength index is low across the board, and price-earnings ratios, equally dismal, signal that it is time to look for deals.
Sanofi is a great deal, regardless of its earnings results.
First, Sanofi is the kid who always trips and falls, but it has happened so often that the company knows how to get back up and fast. Over the past five years, Sanofi has fallen more than 10% from its previous 52-week high.
Each time, in less than 25 trading days since its bottom, it has returned on average more than 15% if bought at the low. Imagine nailing that even 50% of the time, and that is just since 2011.
Just check out its American depositary receipt price against the 50- and 200-day moving averages. It is well below and way overdue for a pop.
Second, Sanofi's dividend yield remains one of the highest among the larger bio-pharmaceutical producers at 4.5%. It is little changed, and Sanofi has a history of beating or meeting estimates.
At this liquidity and price level, Sanofi is a safe buy, even though TheStreet.com rated it a C+ stock.
Finally, in terms of its leadership, Chief Executive Olivier Brandicourt served as chairman for Bayer and led executives at Pfizer. He also cut his teeth in the Democratic Republic of Congo for two years treating Malaria.
Bayer's share price under Brandicourt rose more than 100%. Factoring in a consistent dividend of 2.76%, most investors were over the moon with his performance.
These are only a few reasons to buy Sanofi. The worst-case scenario involves a buy-and-hold strategy.
But investors would still be collecting heavy dividends which, when reinvested into additional ADRs, is one of the best opportunities in the sector this year.
This article is commentary by an independent contributor. At the time of publication, the author held no positions in the stocks mentioned.