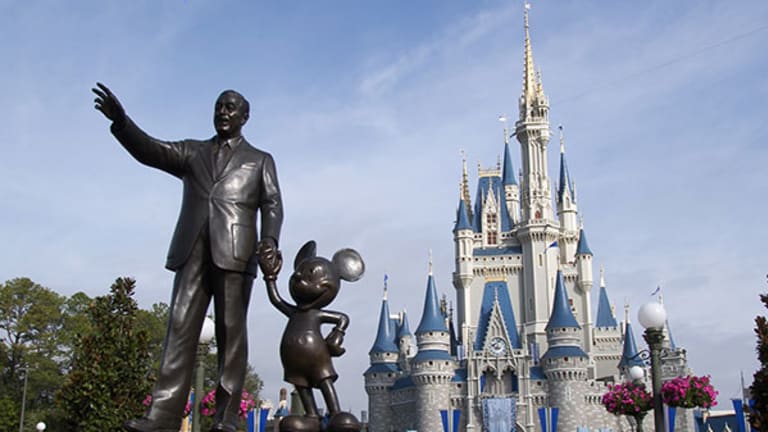 Buy Disney Shares in Spite of ESPN
Shareholders of Disney were not fazed when the company reported more losses with ESPN in the fourth quarter, which has seen more subscribers opt out.
Shareholders of Disney (DIS) - Get Walt Disney Company Report were not fazed when the company reported more losses with ESPN in the fourth quarter, which has seen more subscribers opt out.
Disney remains a good stock to own despite a decline in its revenue from its cable networks of 2% to $4.4 billion and operating income dipping by 11% to $900 million from higher programming costs and lower ad revenue from ESPN.
The Burbank, Calif.-based entertainment company's stock returns in the past have not been correlated with the growth of ESPN, said K.C. Ma, a CFA and director of the Roland George investments program at Stetson University in Deland, Fla. The company's fourth quarter earnings per share of $1.55 beat Wall Street's $1.49 consensus estimate, but Disney's revenue of $14.78 billion missed Wall Street's forecast of $15.27 billion. For 2017, it is estimated that the expected 2.5 million subscriber losses may turn into a 0.5% revenue loss and 0.16% earnings loss.
During the past three years, over 9 million or 10% of ESPN's subscribers have left and opted for streaming options.
"Even for the most die-hard fans of ESPN who insist that sports are too popular to defect from have to conceded that ESPN is no more the golden growth boy," he said.
Disney's shareholders did not react in the aftermath of the company reporting its earnings on February 7, beause subscription growth or revenues from ESPN have not impacted stock returns in the past.
"If you really want to make a case that 0.5% revenue loss or 0.16% earnings loss will amount to a more significant loss in share values, you would have to assume the highly anticipated Lucas and Marvel big box office releases and the soon-to-be-profit from Mickey Mao of Shanghai Disney do not materialize," Ma said. "It looks like the trajectory of ESPN's future outlook may have been reduced to, at best, a news-worthy talking point. It is not a signal to sell."
Disney's stock is still a good buy because its management team has a positive history of making deals which are lucrative, said Jason Spatafora, co-founder of Marijuanastocks.com and a Miami-based trader and investor known as @WolfofWeedST on Twitter. The company's movie division remains one of the most profitable in the industry due to the acquisitions made in the past few years such as Lucas Films, Marvel and Pixar.
"On their own they are already juggernauts, but the franchises they've created are grossing billions at the box office, without including merchandising," he said. "The Star Wars franchise will generate a billion dollars plus per film and with an expanded universe of standalone films such as Rogue One: A Star Wars Story and a Hans Solo original story which is already filming."
The strategy of expanding into the Chinese markets and including well-known Chinese actors has emerged into a "stroke of genius," Spatafora said. "Betting against Disney is like betting against Luke Skywalker and we all know how that ended for the Emperor in Return of The Jedi," he added.
Disney's stock has potential, but the company needs to ramp up revenue, said Winnie Sun, managing director of Sun Group Wealth Partners, an Irvine, Calif.-based financial planning services firm.
"Wall Street was looking for adjusted EPS of $1.50 on revenue of $15.26 billion," she said. "Disney did beat expectations on earnings, but they also fell short on revenue."
In China, the new amusement park in Shanghai which opened in June reported 7 million visitors and should help it "break even this fiscal year," Sun said.
While attendance in the U.S. amusement parks has fallen, consumers are spending more money for merchandise and food.
"Clearly, Disney is focused on the higher-end clientele and this has proven to be successful even during times of recession for other high-end brands," she said.
The parks and resorts division of the only one of its core four business segments to increase in revenue or operating profit, but President Trump's immigration stance could affect the number of tourists coming to the U.S., said Sun.
"Disney is well-diversified with three its other core businesses, which could help them diversify their risk as well," she said. "I wouldn't count out Disney yet. There is a tremendous amount of brand value."