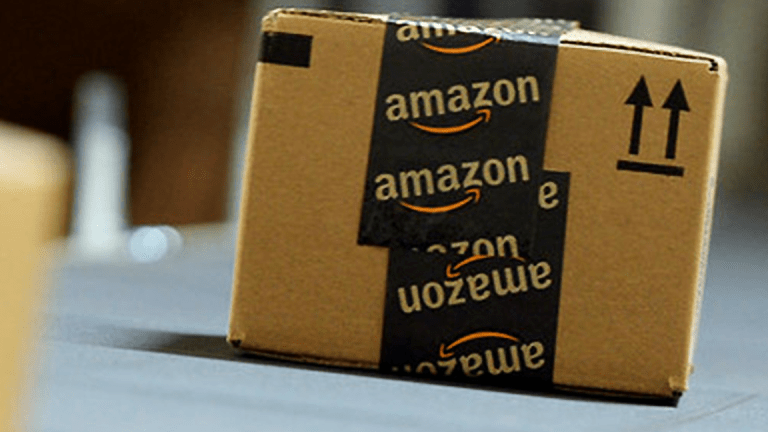 Why Amazon Is One of Jim Cramer's 10 Best Stocks for a Market Pullback
The e-tailing giant is 'a real long-term winner,' Cramer says.
Jim Cramer has chosen Amazon (AMZN) - Get Free Report as one of his 10 Best Stocks for a Market Pullback, saying that AMZN's numerous business lines make it "a real long-term winner."
"While we acknowledge that shares sport one of the highest price-to-earnings multiples in the market, we believe that's justified given the company's revenue diversity, its track record of operational execution and increasingly deep competitive moats," Cramer said in unveiling the list during an exclusive videoconference call with members of his Action Alerts PLUS club for investors.
Cramer told club members that he compiled his list of 10 Best Stocks for a Market Pullback to highlight names that offer "solid entry points right now -- with upside in the near-term, as well as the power to continue growing into the future.
"We have chosen the stocks of companies from different sectors to provide you with the opportunity to diversify not only in terms of industry exposure, but also when it comes to short-term vs. long-term catalysts," he said. "All in, this is my blessing to you to purchase these 10 favorite names in the portfolio right now."
The expert sad Amazon made the list because of the company's multiple strong business lines, including:
Amazon Web Services. "AWS [is] benefitting from a seven-year head start in the space and remains the dominant public cloud player -- a space we believe will only grow over time," Cramer said. "Digitization has only just begun for most areas of the economy, and your first move after you digitize is usually to on-board to the Amazon Cloud."
Amazon Prime. The stockpicker said that while Amazon's Amazon Prime consumer business is well known to the public, it "still only accounts for a fraction of total U.S. shopping activity. We believe that as consumer trends increasingly shift to online consumption, [Amazon Prime] will be an outsized winner."
Advertising. "Amazon is successfully leveraging its position in the cloud and in e-commerce to the benefit of advertisers right at that crucial moment of purchase," Cramer said. "We expect continued strong topline growth there."
The Bottom Line
Throw in other businesses like organic retailer Whole Foods -- which Amazon bought for $13.7 billion last year but which Cramer said the company "really hasn't explored yet" -- and the expert likes AMZN shares a lot here.
He said the name looks good "even after the $15-an-hour minimum-wage boost that [Amazon CEO] Jeff Bezos has put through the company - something, by the way, that will be very difficult for his off-line competitors to compete with."
Check Out All 10 of Jim Cramer's 10 Best Stocks for a Market Pullback
Want to see all 10 of Cramer's top stock picks for a market pullback? Click here for a free 14-day trial of Action Alerts PLUS and watch his whole VIP video conference. AAP members automatically get free access to all of Jim's monthly VIP video calls, along with:
A rundown of all stocks that Jim's AAP charitable trust currently holds;
Custom research throughout every trading day from Jim and his team of stock-market analysts;
E-mail alerts that give you a chance to buy or sell a stock before Jim and the team make any trade for the charitable trust.
You can watch a full rewind of Jim's latest video call here.
Employees of TheStreet are restricted from trading individual securities.