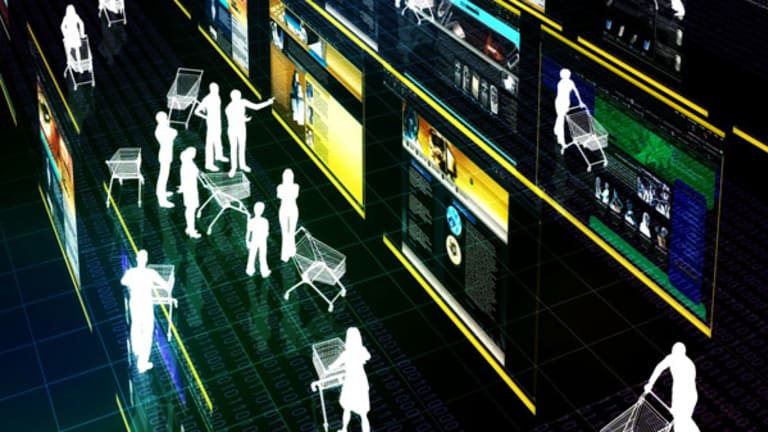 Business Media Lack Perspective
To put near-term trends in perspective, keep past earnings estimates in mind.
You remember July, don't you? Flags and hot dogs and fireworks -- and
Costco
(COST) - Get Report
saying its fourth-quarter earnings would be "well below" the then-expectations of a buck.
Costco reported those fourth-quarter earnings yesterday, and guess what we've seen since? Little mention of July.
Here's a
Reuters
headline, quite positive: "
."
And a
Reuter's
lead, equally positive: "Costco Wholesale Corp reported a higher quarterly profit on Wednesday as price-conscious shoppers headed to the discount retailer's warehouse locations for bargains on food and gasoline."
In its original version, the article made no mention of July. It's been updated since, with a couple of paragraphs about July near the end, but the damage has already been done. The July mention is necessary to put near-terms trends in Costco's business into perspective -- and is there anything more needed in today's consumer environment than perspective?
Does anyone remember perspective?
CNBC
, for its part, ran the same
Reuters
story, with no mention of July in its first version and an update to include the information.
CNBC
, however, topped its story with a negative headline: "
Costco Profit, Comparable Sales Fall Short
."
By favorable contrast, look at what
Dow Jones Newswires
managed to get July's central events into the
top half of its article
, hours before
Reuters
did its update: "Costco warned in July that its profits would be 'well below' analysts' then- estimates of $1 a share, hurt by the company's decision to delay price increases to entice shoppers as energy and commodities costs grew. Analysts' latest estimate was 92 cents."
Companies are forever toying with expectations -- and even savvy investors are fooled because the business media so rarely remember what happened only a few months before. The Remembrance of Estimates Past is particularly important, however, in this case. Savvy investors are trying to get a bead on consumer behavior in this increasingly difficult economy. If you forget that Costco made the "well below" comment recently, ratcheting down numbers accordingly, you'll be operating with a false sense of security at the discounter's power to attract customers in droves.
As a side note, we've reviewed before the issue of Costco and its relatively ignored
fuel sales
, which can be volatile.
While others forgot fuel as if it were July,
Dow Jones Newswires
properly took note: "As for September, same-store sales rose 8% domestically and 2% internationally. Excluding fuel sales and currency fluctuations, respectively, the increases would have been 6% and 8%."
On a separate but equally dim note, The Business Press Maven has pointed out many times before how the business media have never met a sharp price movement they were not willing to extrapolate to the ridiculous extreme. Think
Dow
35,000. Or oil $200. Now that rank fear is the inescapable emotion of the moment, let's start a collection together of predications of where the Dow might bottom out.
The first we have, from this morning's
New York Post
, is prominently displayed (as you'll see in the headline and lead) but not purely ridiculous: "
: Investors suffering from five-straight days of global economic turmoil are searching for relief at the bottom of the black hole of Wall Street stocks -- possibly at a floor of 8,750 on the Dow Jones industrial average."
This isn't that ridiculous of an example. We might reach 8,500, possibly today. But I think you get the point. Once the business media start to extrapolate in the extreme, we are ready for a market shift the opposite way.
As the market reels, let's keep an eye out for too many Dow-5,000-type headlines. They're as reliable a sign as any of a bottom.
At the time of publication, Fuchs had no positions in any of the stocks mentioned in this column.
Marek Fuchs was a stockbroker for Shearson Lehman Brothers and a money manager before becoming a journalist who wrote The New York Times' "County Lines" column for six years. He also did back-up beat coverage of The New York Knicks for the paper's Sports section for two seasons and covered other professional and collegiate sports. He has contributed frequently to many of the Times' other sections, including National, Metro, Escapes, Style, Real Estate, Arts & Leisure, Travel, Money & Business, Circuits and the Op-Ed Page. For his "Business Press Maven? column on how business and finance are covered by the media, Fuchs was named best business journalist critic in the nation by the Talking Biz website at The University of North Carolina School of Journalism and Mass Communication. Fuchs is a frequent speaker on the business media, in venues ranging from National Public Radio to the annual conference of the Society of American Business Editors and Writers. Fuchs appreciates your feedback;
to send him an email.