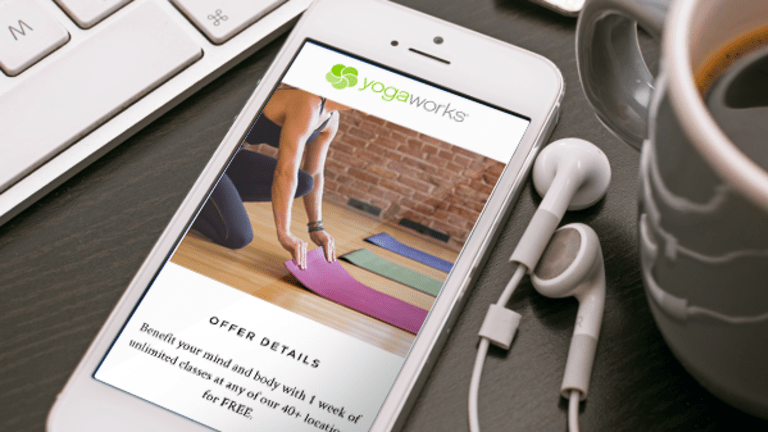 As Blue Apron Gets Torn to Shreds, Here Are Upcoming IPOs to Potentially Salvage Your Portfolio
If you failed to get in on the Snap and Blue Apron offerings and aren't interested now, here are some other opportunities.
If you failed to get in on the Snap and Blue Apron offerings and aren't interested now, here are some other opportunities.
It's been a mixed bag for initial public offerings in 2017.
From Snap Inc.'s  (SNAP) - Get Reportprecipitous decline to Blue Apron Holdings Inc.'s  (APRN) - Get Report  disappointing public debut that has now been further sullied by Amazon.com Inc. (AMZN) - Get Report  , to successful fundraising for lesser-known companies such as Mulesoft Inc. (MULE)  and Carvana Co. (CVNA) - Get Report , 2017 has seen its fair share of good, bad and ugly IPOs.
With eight companies pricing in the last week of June (raising $761.9 million in total proceeds, according to IPreO research) and a host of IPOs on the horizon (everything from yoga studios to genetically engineered food), there should be plenty of choices going forward for those looking to wade into freshly public companies. And now with rumors now rumbling that over-the-top television company Roku Inc. could be prepping for an IPO, as well, it got us thinking: What are the IPOs that will actually make it to market?
"The current six-month IPO backlog at the close of 2017's second quarter stands at a total of 29 deals for anticipated total proceeds of $5.6B," iPreO noted in its July 7 recap of the second quarter. "Comparably, the backlog at the close of 2017's first quarter stood at 33 deals ... but for $4.5B, representing a quarterly proceeds increase of 25.0%."
But before you wade into the IPO waters in the second half, lets take a look at some of the candidates for your future portfolio in 2017:
YogaWorks Inc. operates 50 yoga studios in major U.S. metropolitan markets and brought in $55.1 million in revenue in 2016, compared with $48.5 million in the same period of 2015. The Culver City, Calif., company is set to offer 5 million shares at a range of $12 to $14 apiece.
Boston private equity firm Great Hill Partners LP controls 99.9% of shares through its $1.1 billion Great Hill Equity Partners V LP fund, which would be cut to 64% after the offering. The amended Form S-1 filed with the Securities and Exchange Commission, however, said Great Hill had expressed interest at purchasing up to $10 million in shares through the IPO, which would boost its stake to a potential 70.3%. Great Hill also has invested in online retailer WayFair.com and as well as gaming news website IGN, which was sold to News Corp. (NWSA) - Get Report in 2005 for $650 million.
YogaWorks plans to list its shares on Nasdaq as YOGA. Cowen and Co. LLC, Stephens Inc. and Guggenheim Securities LLC are the lead underwriters.
Government IT contractor Vencore Holding Corp. plans to list on the New York Stock Exchange under the symbol VNCR, according to an S-1 filed on June 21. Vencore is the former enterprise integration group of Lockheed Martin Corp. (LMT) - Get Report ; New York PE firm Veritas Capital Management acquired the company in 2010, and it's subsequently grown through acquisitions.
For the year ended Jan. 30, 2010, the Chantilly, Va., company had $626 million in revenue; in contrast, in 2016, Vencore recorded about $1.1 billion in revenue.
Vencore provides services and solutions to U.S. government customers in systems engineering and integration, cybersecurity, big-data analytics and applied research.
The seeds of Vencor were established in 1972 by General Electric Co. (GE) - Get Report as The SI to create a comprehensive, space-based national intelligence system. In the early 1990s the business was acquired by Lockheed Martin's predecessor, Martin Marietta Corp., before being sold to Veritas for $815 million.
Goldman, Sachs & Co. and Well Fargo Securities LLC are underwriting the offering, which carries a $250 million placeholder figure for now.
Late-stage biotechnology company Kala Pharmaceuticals Inc. will look to list shares on Nasdaq the week of July 17 under the symbol KALA. The Waltham, Mass., company, which is developing nanoparticle therapies for ocular inflammation, on July 10 set a price range for its proposed IPO, saying it would look to to sell 6 million shares for between $14 and $16 apiece.
The offering would raise $80.7 million at the midpoint and $90.7 million if underwriters fully exercised their options. JPMorgan Chase & Co.; Merrill Lynch, Pierce, Fenner & Smith Inc.; Wells Fargo Securities; and Wedbush Securities Inc. are the lead underwriters.
The company plans to use the proceeds to aid in the commercialization of its KPI-121 treatment in various applications. Among them are the treatment of post-operative inflammation and pain following ocular surgery and the temporary relief of the signs and symptoms of dry eye disease.
Kala is backed by some big-name investors including Longitude Venture Partners, OrbiMed Private Investments (an affiliate of OrbiMed Advisors LLC), Third Rock Ventures LLC and Wellington Management Co. 
Since its inception the company has raised an aggregate of $131.4 million to fund operations.
Calyxt Inc. is a gene modification company focused on the consumer and food industries. The company looks to use its technology to create modified food products such as healthier oils and high-fiber wheat, as well as food crops with desirable traits, such as herbicide tolerance. The New Brighton, Minn., company plans to list on Nasdaq under the symbol CLXT.
Calyxt is owned by French biopharmaceutical company Cellectis SA (CLLS) - Get Report , which following the offering would retain about 76.4% of the company. Calyxt plans to offer about 6.1 million million shares within a range of $15 to $18. At the midpoint, the company would raise approximately $104.8 million if the underwriters exercised in full their option to purchase additional shares of common stock.
Calyxt had $399,000 in revenue in 2016, down from $1.27 million in 2015. It plans to use proceeds from the offering for working capital, to build out commercial capabilities and to fund research and development costs for its existing products and to add additional product candidates to its portfolio, according to its S-1. 
Citigroup Global Markets Inc., Jefferies LLC, Wells Fargo, BMO Capital Markets Corp. and Ladenburg Thalmann & Co. are underwriting the offering.
The retail space has been tough to navigate, especially for public companies such as Macy's Inc. (M) - Get Report and Sears Holdings Corp. (SHLD) , which continue to close stores. 
But as some, including Nordstrom Inc. (JWN) - Get Report , are looking to get out of the public limelight, others such as Torrid Inc., a retailer for young plus-size women, are looking to enter the stage.
The City of Industry, Calif., company, a product of a 2015 spinoff from Hot Topic Inc., filed paperwork on Monday to list shares on the New York Stock Exchange under the symbol CURV. The company hasn't said how much it would look to raise, though it listed a $100 million placeholder in its S-1.
Torrid is backed by Sycamore Partners LLC -- the private equity firm that recently agreed to pay $6.9 billion for Staples Inc. (SPLS) -- acquired during its 2013 acquisition of Hot Topic for $600 million. In May 2015 the retailer agreed to spin out Torrid into its own company. For the fiscal year ended Jan. 28, the company had revenue of $640.2 million, compared with $440.7 million in the same period of 2015. The company shrunk its net loss to $29.1 million from $163.8 million in 2015.
Sycamore specializes in retail and consumer investments, with Belk Inc., Coldwater Creek, Nine West Holdings Inc. and Talbots Inc. among its other holdings.
Merrill Lynch; Morgan Stanley; Goldman Sachs; JPMorgan; Robert W. Baird & Co.; Telsey Advisory Group LLC; and William Blair & Co. LLC are underwriting the IPO.
Read More Trending Articles from TheStreet:
This Is Facebook's Next Major Catalyst
Bitcoin Has Crashed Into a Bear Market -- What You Need to Know
Why Further Bruising Downside in General Electric Looks Highly Unlikely
Editor's pick: This article was originally published on July 12 and has been updated.