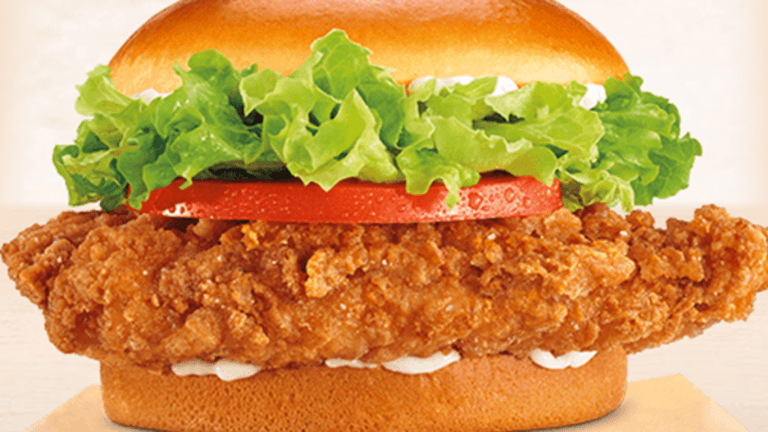 Burger King Wanted Everyone to Stop Hating Its Chicken Sandwich, So This Is What It Did
The old sandwich wasn't very good, BK says.
Editors' pick: Originally published March 2.
Burger King is looking to fried chicken to help plump up its U.S. slowing sales.
The Restaurant Brands (QSR) - Get Restaurant Brands International Inc Report owned fast-food chain known for the Whopper hamburger will launch a new fried-chicken sandwich, it said Thursday. Executives at Burger King pulled no punches as to why the revamp was needed. 
"The chicken [on the old sandwich] was dry. I think we overcooked it, and we didn't have a good marinade," conceded Alex Macedo, executive vice president and president-North America region at Burger King ,to TheStreet, adding that the sandwich "really didn't sell well at all." So, the company for the past year tested several changes, and settled on a smaller 4-ounce chicken breast that helps keep it juicy (less surface area to cook), a better grade of bird and a revised marinade. 
The company then reached out to "haters" of its old chicken sandwich across social media, invited them into a Burger King restaurant, blindfolded them and let them try to the new sandwich. Feedback was much different after that, says Macedo. 
Jim Cramer sat down with four market experts to talk about how to play the Trump tax plan, the administration's impact on the dollar, commodities and more. Click here to check out their recommendations.
Revamping fried chicken comes as the chain's fourth-quarter same-store sales in the U.S. rose 1.8%, cooling from a 2.8% increase a year ago. For 2016, Burger King's same-store sales in the U.S. rose a meager 1.1%. 
Meanwhile, BK isn't the only fast-food chain to overhaul its chicken of late. 
Wendy's (WEN) - Get Wendy's Company Report is working with its chicken suppliers to harvest chickens that are 20% smaller, which executives hope will result in tastier sandwiches and salads. The company is spending a whopping $30 million on the effort as it seeks to respond to customer complaints of rubbery chicken fillets.