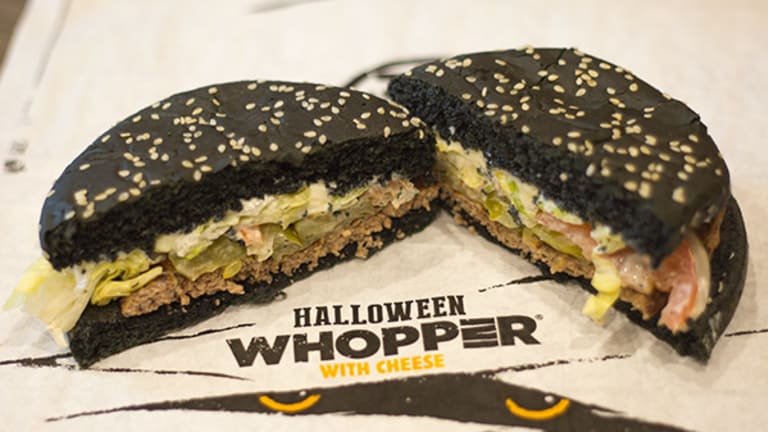 Burger King Now Also Wants to Be Your Local Donation Box
With respect to zany marketing, Burger King does it again.
Burger King is the king of weird when it comes to marketing its brand and creating fast-food, but at least its latest publicity stunt has a feel good story about it. 
The Restaurant Brands International (QSR) - Get Report owned chain said Monday that starting Dec. 26, select locations in Miami, London and Brazil will let customers bring in unwanted gifts of any value to exchange for a free hamburger. All presents -- which must be unused -- will be donated to a local charity. So if you get that ugly sweater or a $25 McDonald's (MCD) - Get Report  gift card on Christmas Day, be sure to head to the home of the Whopper. 
If don't live in those areas, no need to fret over being shut out of exchanging a free gift for a free hamburger and a piece of mind that someone in need will be helped.
On Dec. 26, the first 100 people to post a picture on social media of themselves with an unwanted gift, plus the hashtag #WhopperExchange, will receive "a surprise from the Burger King brand's social media accounts," according to the company. Hopefully that surprise is for a free Burger King hot dog, which have gotten rave reviews by people since their launch in February. 
Nevertheless, it makes sense that Burger King is basically begging people to come for a visit ahead of the new year. 
Burger King's same-store sales in the third quarter in North America fell 0.5% due to a mixed response to the new Whopperito. A year ago, Burger King North America saw sales rise 5.2%. Company CEO Daniel Schwartz acknowledged that industry conditions in the U.S. continue to be "soft." Restaurant Brands shares, at around $48, have tracked the S&P 500 over the past three months.
In addition to turning its restaurants into the local Good Sam for a day to foster up some traffic, Burger King also recently tapped into the popularity of an old favorite in tater tots to light a flame under slowing U.S. sales.