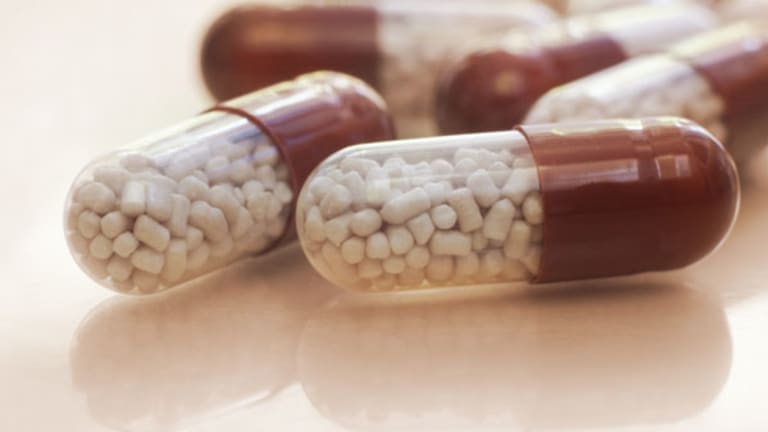 Bulls, Bears Gird for Fight Over Peregrine's Controversial Lung Cancer Drug
Peregrine will present updated results from a mid-stage lung cancer study of bavituximab on Friday.
CHICAGO (
) --
Peregrine Pharmaceuticals
(PPHM)
claims that an experimental antibody drug bavituximab improves the survival of advanced lung cancer patients. On Friday, the company will present updated results from a mid-stage study, seeking to further demonstrate the drug's benefit.
Bavituximab fans will be watching Friday's data presentation closely and hope more positive data will help Peregrine attract a partner to help advance the drug into a late-stage clinical trial and approval. Peregrine first reported results from the bavituximab second-line lung cancer study in May. Since then, the company's stock price has jumped five-fold to close Wednesday at $3.05 per share. Bulls would like to see Peregrine shares rise even higher.
Bavituximab skeptics will be paying close attention on Friday, too, seeking further evidence to bolster their view that the drug's purported benefit in lung cancer is a mirage. A previous study of
bavituximab in first-line lung cancer failed
, which Peregrine bears say casts serious doubt over the credibility of the current second-line lung cancer study. The rocket-like rise in Peregrine's stock price has been fueled by hype and speculation, bears say, and like all stock bubbles, the one Peregrine's been riding since spring will pop eventually.
A sliver of new data from the bavituximab phase II lung cancer study was released Thursday morning ahead of Friday's presentation. The median overall survival for lung cancer patients in the study's control arm (patients treated with the chemotherapy drug docetaxel alone) was 5.4 months. In May, Peregrine reported control arm patients had a median overall survival of less than six months.
There was no new information on the median overall survival for patients treated with bavituximab plus docetaxel released in the study abstract Thursday. As was previously reported by Peregrine in May, median overall survival for bavituximab patients had not yet been reached.
Updated data, including survival data, from both arms of the bavituximab study will likely be presented on Friday at the 2012 Chicago Multidisciplinary Symposium on Thoracic Oncology. The meeting is co-sponsored by the American Society of Clinical Oncology and the American Society for Radiation Oncology.
The phase II study enrolled 121 patients with non-small cell lung cancer that no longer responded following chemotherapy treatment. These second-line lung cancer patients were randomized to receive bavituximab (at two doses) plus docetaxel or docetaxel plus a placebo. The study was conducted at 24 centers in the U.S and 29 centers in Russia, Ukraine, the Republic of Georgia and India.
Peregrine reported initial results from the study last May. The overall response rate for the 1 mg bavituximab arm was 15% and 17.9% for the 3 mg bavituximab arm, approximately double the control arm response rate of 7.9%. Response rate was the study's primary endpoint but Peregrine has not said whether the benefit favoring bavituximab reached statistical significance.
Median progression-free survival (PFS) in the bavituximab arms were 4.2 months and 4.5 months, respectively, compared to 3 months for the control arm. Again, Peregrine has not said whether the PFS benefit reached statistical significance.
Randomized, controlled studies produce the strongest, most objective data, which is why Peregrine and its investors are so excited and confident in the bavituximab results. Furthermore, Peregrine says an independent review board conducted the analysis of the trial, which further eliminates the potential for bias.
"This rigorous phase II trial demonstrates that not only is bavituximab well tolerated when given with docetaxel but it improves response rates, progression-free survival and overall survival of second-line chemotherapy in patients with advanced non-small cell lung cancer," said oncologist Dr. David Gerber of University of Texas Southwest Medical Center and the lead investigator of the study, in a statement. "If a phase III trial confirms these findings, bavituximab could become a major component of standard treatment for patients with this challenging disease."
Not so fast, say Peregrine bears, immediately seizing on the lack of statistical significance across any of the study's endpoints to raise doubts about bavituximab's benefit. More than half of the patients enrolled in the study were recruited from Eastern Europe and India -- geographies with a reputation for producing overly positive results that cannot be reproduced in later, larger confirmatory trials.
It will be important for Peregrine to show that data gleaned from patients treated in the U.S. compares equally to data from the patients in Eastern Europe and India. Similarly, baseline disease characteristics should be similar for all patients across the arms of the study. Drugs used to treat patients in the first-line setting --- prior to entering the study -- will also be scrutinized for potential imbalances.
To support its claim that the bavituximab data are credible, Peregrine points to previously conducted lung cancer studies in which similar patients treated with docetaxel alone have reported response rates and median survival times equivalent to the 8% response rate and 6-month survival observed in the control arm of the bavituximab study. In this way, Peregrine, says the positive results gleaned from the bavituximab study are consistent with lung cancer trials conducted in the past.
Peregrine and its supporters will likely be pleased if the median overall survival in the bavituximab-treated patients reaches 7-8 months, or 2-3 months longer than the patients in the control arm. Statistically significant or not, a result like that will be viewed by the drug's proponents as a win and will bolster confidence in plans for a confirmatory phase III lung cancer study expected to start next year.
Peregrine said Wednesday that potential partners are interested in bavituximab and the company's goal is to sign a development and marketing deal before the phase III study begins.
Skeptics take a different view, offering up their own list of past lung cancer studies in which docetaxel-treated patients responded more robustly and lived longer than the patients in the control arm of the bavituximab study. This suggests that Peregrine's study is a fluke, reporting positive results, in part, only because control arm patients are performing worse than expected.
Even if bavituximab patients in the study live 7-8 months, the bears will point to lung cancer studies in which patients treated with docetaxel alone had similar or greater survival times. When Peregrine conducts a larger phase III study, particularly one conducted primarily in the U.S. and Western Europe, bavituximab will be hard-pressed to produce any survival benefit over docetaxel. Finding a quality partner for this drug, with these data, will be a difficult task.
Friday's presentation is a key moment for Peregrine and the development of bavituximab, but don't be surprised if controversy over the lung cancer drug remains, regardless of the data presented. Just like most U.S. voters today, the bavituximab bulls and bears are dug in and resistant to change.
--Written by Adam Feuerstein in Boston.
>To contact the writer of this article, click here:
Adam Feuerstein
.
>To follow the writer on Twitter, go to
http://twitter.com/adamfeuerstein
.
>To submit a news tip, send an email to:
.
Follow
TheStreet
on
and become a fan on
Adam Feuerstein writes regularly for TheStreet. In keeping with company editorial policy, he doesn't own or short individual stocks, although he owns stock in TheStreet. He also doesn't invest in hedge funds or other private investment partnerships. Feuerstein appreciates your feedback;
to send him an email.