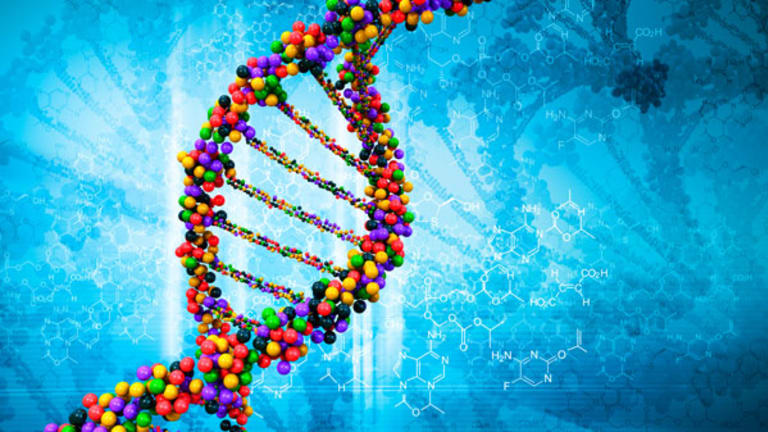 Bull Thesis on Foundation Medicine: Using Big Data to Improve Treatment Decisions for Cancer Patients
Foundation Medicine has a comparative advantage over other diagnostic companies which investors are failing to recognize.
NEW YORK (TheStreet) -- Foundation Medicine (FMI) is a good company in what many believe is an almost-impossible sector -- diagnostics. Bears believe diagnostic tests become commoditized with vanishing profit margins and no real winners. Diagnostic companies are simply providers of hardware (or a simple operator of hardware) vulnerable to relatively low barriers to entry. Even if a company roils out a successful diagnostic test, fast followers introduce similar tests and profit margins disappear. There is certainly a kernel of truth to these bearish arguments but Foundation Medicine has a comparative advantage over other diagnostic companies which investors are failing to recognize. 
The price of a particular diagnostic test may fall over time (the rapidly diminishing cost to sequence the whole genome is a great example) but more important is what happens when adoption of these tests accelerates and the Big Data assembled from them are put to use treating patients.  
Foundation Medicine's current FoundationOne cancer diagnostic examines about 236 genes and four types of alterations. While you can tout the advantage of a single test that comprehensively analyses information versus a series of more specific tests, the point is this is a lot of data. If you take the low end of the company's guidance -- 22,000 tests in 2014 -- this implies information on about 5.2 million genetic alterations generated in only one year. If you include how these patients are treated and the efficacy of these treatments, you can see how Foundation Medicine is putting Big Data to good use.
Foundation Medicine's advantage comes from taking its data and combining it with the latest research and clinical practices to provide information to a doctor about 1) the specific genetic makeup of their patients' cancers, and 2) potentially effective treatments using approved drugs or experimental drugs in clinical trials. The value Foundation Medicine provides is not the diagnostics, itself, but analyzing the data that comes out of the diagnostics.
These data are exceptionally useful for oncologists, who likely have little time to follow all of the clinical trials and changing treatment paradigms or new molecular targets. This means the real barrier of entry Foundation Medicine builds is not the testing but its ability to collect and analyze the data. These data are proprietary, so each additional test and refinement of the analysis puts the company further ahead and increases that barrier. A competitor might come along and create a similar test, but the diagnostic results themselves are not meaningful unless put into a useful context. It is that useful context Foundation Medicine constantly attempts to develop and improve, making it difficult for others to enter into the space and compete in a meaningful way.
Foundation Medicine is not without its challenges. Foremost, the company must convince insurance companies to pay for tests like FoundationOne. While one can talk in the abstract about the utility of having a single test that examines all potentially important genetic mutations and the utility it provides to oncologists and patients, it is something different to change the way payers reimburse for diagnostics. The reimbursement process will be slow and there is always the risk Foundation Medicine isn't successful. This weekend's American Society of Clinical Oncology (ASCO) annual meeting is important in this regard.
Part of the process of convincing insurance companies to cover the cost of cancer genetics tests is to demonstrate their utility in changing treatment decisions for the better. While further detail will be provided at ASCO, Foundation Medicine's decision impact study is reported to have altered treatment decisions in 28% of cases (ASCO abstract here.) That's a significant effect because these are patients who would have otherwise received a potentially sub-optimal treatment. This Foundation Medicine study and others like it are part of the packet of data and analyses that will be used to convince insurance companies of the clinical utility of the company's approach.
To invest in Foundation Medicine, you need to be comfortable with two potential risks. First, the company needs to maintain a protective moat around its services. (Note, I choose to say services and not diagnostic.) While there is nothing to indicate the company will be unsuccessful in this endeavor, it's the key fundamental driver to their long-term success. Second, Foundation Medicine needs to provide enough data to convince insurers of the utility of their tests. While the company is clearly doing well without such insurance coverage, it remains key to long-term adoption and reaching cash flow-positive state.
Neither of these challenges will happen overnight so don't expect Foundation Medicine to be a quick-hit winner. Investing in the company requires patience. Ultimately, Foundation Medicine looks like a nice risk/reward at its current valuation. 
Sobek is long Foundation Medicine.
David Sobek has been writing on biotech for a number of years through various outlets with a general focus on small cap oncology and antibiotics companies. He received his PhD in political science from Pennsylvnia State Univeristy in 2003 and a BA in international relations from The College of William and Mary in 1997.