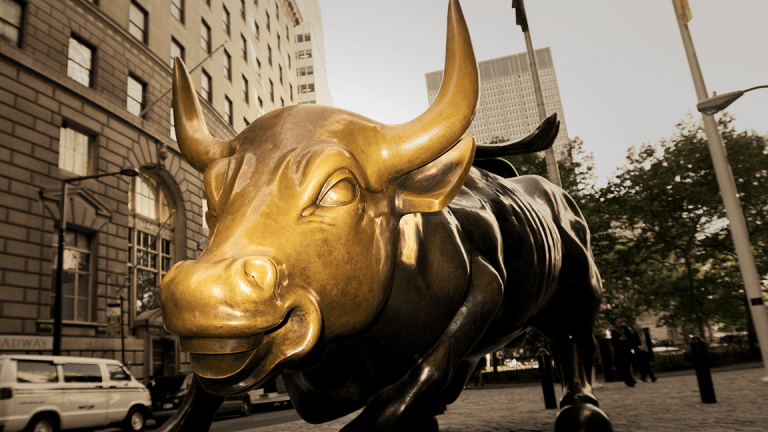 Wall Street's Bull Market Celebrates Its 10th Anniversary
The S&P 500 bottomed out 10 years ago Saturday and has risen some 300% in the decade since then.
Tin seems too cheap a metal for this anniversary, but here we are: Wall Street's bull market turns a record 10 years old this weekend.
U.S. stocks have been been rising for 10 straight years since the S&P 500 and the Dow Jones Industrial Average both bottomed out on March 9, 2009, during the 2008-09 global market meltdown.
"It is pretty incredible to think that 10 years ago we hit the low," JJ Kinahan, chief market strategist at TD Ameritrade, told TheStreet. "It's actually March of 2009 that we started this incredible journey higher."
The Dow Jones Industrial Average closed at a cycle-low 6,547.05 on Monday, March 9, 2009, while the S&P 500 finished at 676.53. The indexes actually went ever lower on an intraday basis the Friday earlier on March 6, 2009, when the Dow touched 6,469.95 and the S&P briefly hit a devilish low 666.79.
The DJIA and the S&P 500 haven't gone straight up since then, but have never fallen back to those depressed levels. The Dow closed this past Friday at 25,450.24 -- up an astounding 288.7% since March 9, 2009 -- while the S&P 500 finished at 2,743.07, gaining 305.5% over 10 years. 
But Wall Street's dark days of 2008-09 aren't easily forgotten by those who lived through them.
"The year 2009 was awful," Stephen "Sarge" Guilfoyle, a New York Stock Exchange floor trader for more than three decades, recently recalled in a column for our premium site Real Money. "Lehman Brother had collapsed a few months earlier, and now it seemed like everyone on Wall Street had lost their job," Guilfoyle wrote. "I was one of the luckier ones. I was offered a 48% pay cut [if] I wanted to remain employed. I gratefully accepted."
Still, Wall Street's future is more important than its past, Doug Kass, president of hedge fund Seabreeze Partners Management, noted in a recent column for our premium site Real Money Pro.
Kass who correctly called the market's pullback a "generational bottom in the U.S. stock market" on CNBC's The Kudlow Report back in March 2009, wrote this week that "to me, it's far more value added to look to the future rather than deal with the past and the magnitude of the recovery in the indices over the last 10 years."
Well known for often being a market "bear," Kass argued that Wall Street could soon see another major pullback. "In the last decade, we may have traveled from a generational bottom in stock prices in 2009 to, arguably, an important cyclical top in stock prices in 2019," he wrote.
But TD Ameritrade's Kinahan hopes the 2008-09 pullback taught investors who lived through it a lesson. "I think the biggest thing most people have learned is that we don't go straight up," he said.
TheStreet's Shawn Elias contributed to this report.