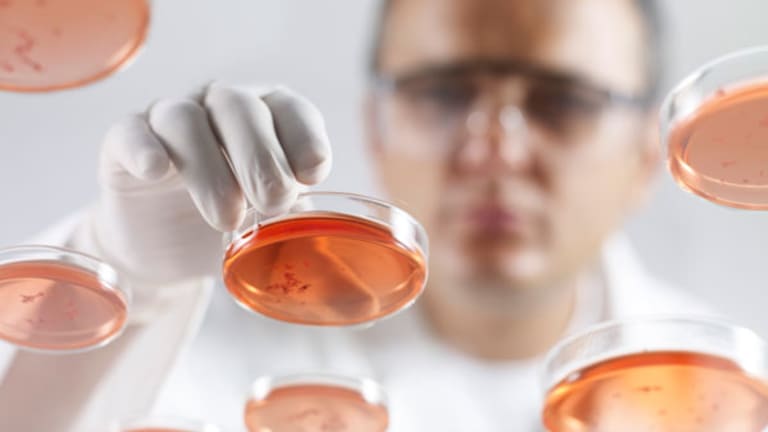 Publish date:
Bull Case on Peregrine Pharma Shouldn't Be Dismissed
Believers in Peregrine's lung cancer drug bavituximab state their case.
Believers in Peregrine's lung cancer drug bavituximab state their case.
NEW YORK (
) --School has started again on Wall Street. Last week, I chatted with scores of investors and executives about healthcare at a major industry conference. Not surprisingly,
Peregrine Pharmaceuticals
(PPHM)
and its experimental lung cancer drug bavituximab was a frequent topic of conversation given the stock's meteoric rise over the past few months.
I
wrote about Peregrine last week
, recommending investors stay away from the stock. I didn't like the short call due to pre-existing negative sentiment and the lack of a near-term catalyst. The long side was similarly unattractive because of the numerous red flags in the bavituximab data.
Nearly all of the institutional investors I spoke with last week shared my view of Peregrine or were extremely bearish. I did manage to find a few bulls. Here's why they want to own Peregrine now -- with my comments added:
1. The control group data in Peregrine's Phase II study were within expectations.
Bulls highlighted a few additional trials of docetaxel in second-line non-small cell lung cancer that showed a median overall survival in the 6-month range. One investor cited 13 studies of docetaxel-treated patients in the second-line setting, with an average overall survival of slightly more than 7 months, as support for this thesis.
I don't find this a compelling counterpoint to my concerns, since even the largest sample yields a similar average as the 7.3-month median overall survival from the four studies I cited. Bulls shouldn't expect a repeat of the 5.6-month control arm overall survival observed in Phase II trial.
One additional point: management should assume a seven-month control group survival when designing the Phase III statistical plan for bavituximab. If the company assumes six months for docetaxel-treated patients, look out.
2. The Phase II data won't change much over time.
One bull noted that his extensive scenario analyses of Peregrine's Phase II study suggested the data would improve with longer follow-up. Without actually seeing these calculations, it's hard for me to evaluate this claim. Nonetheless, I went back to take a closer look at the study, which many bears consider an illusion caused by small patient numbers and the inclusion of ex-U.S. clinical centers. My conclusion: I don't think the data will change much as the Phase II study matures.
On a recent conference call, Peregrine noted that the bavituximab survival results were "comparable" across geographic regions. Although I wish the company had provided greater detail, this suggests there isn't a vast difference between U.S. and ex-U.S. patients. (It's possible management is lying, although I have no specific reason to suspect it in this case.)
The company also clarified that greater than 70% of events (deaths) have occurred in the control group. Clinical data from trials using a survival endpoint are generally considered mature -- a fancy term for "final" -- after 80-85% of deaths. Therefore, survival results in the docetaxel arm won't change much going forward.
Meanwhile, fewer than 50% of deaths have occurred in the bavituximab arms of the study. This raises the possibility that the bavituximab results will worsen with additional follow-up.
This is where things get tricky. For those unfamiliar, "censoring" refers to the practice of removing patients from the survival curve at the end of follow-up. Censoring patients is perfectly acceptable in clinical statistics, although by shrinking the sample size the practice reduces data reliability.
Look closely at Peregrine's survival data, which can be found in the
pre-recorded webcast on the company's website
, and you will see faint "tick marks" in the Kaplan-Meier curve. Those are censored patients. The number of patients "at risk" is also listed along the bottom of the graph. In both bavituximab arms, there are lots of patients censored after ten months, which means the data on the far right hand of the survival curve are less reliable than the results on the left.
According to the company, investigators conducted a "sweep" for deaths before preparing the study for presentation to find unreported fatalities among censored patients. I don't know if this is true, but it's standard practice for a clinical trial. Since I don't have any reason to suspect a rash of deaths among censored bavituximab patients, I'm guessing the bulls are right that these data won't change much.
3. Expectations for success in other indications remain low, which skews risk to the upside.
Peregrine will report data from two Phase II studies of bavituximab in first-line non-small cell lung cancer and pancreatic cancer by year-end. Initial data in front-line non-small cell lung cancer, reported earlier this year, showed essentially identical response rates and progression free survival. Based on these results, investors appropriately concluded that this study has a very low probability of success. There are no data yet available from the pancreatic cancer trial, although consensus is that bavituximab will fail to meaningfully extend survival.
Fundamental investors can't ignore market sentiment. Although I agree that Peregrine's studies in front-line non-small cell lung cancer and pancreatic cancer will most likely fail --- even the bulls could offer me no substantive rationale for success -- investors already expect it. As such, failure will not drive Peregrine shares lower and even the slightest positive signal would send bulls rushing to buy and bears scrambling to cover.
4. Peregrine will most likely partner bavituximab within the next six months.
This is a good point, and I wouldn't be surprised if the company secured impressive deal terms. Many investors view partnerships as validation of a drug's potential. Although I don't share this view -- I could easily cite more than a dozen examples of surprisingly obvious pharma and large-cap biotech business development mistakes -- Peregrine shares will still trade up if the company inks a solid deal.
Management says it hopes to secure a partnership before an end-of-phase II meeting with the FDA, which will likely be scheduled in late 2012 or early 2013. I'm not sure why the company put forth a timeline, which seems like an unnecessary detail that could complicate investor expectations. Bulls argue that the specificity of company's partnership guidance suggests a deal is imminent. I'm not so sure, but I wouldn't bet against it.
After last week, the bull case seems far more compelling to me than it did at first. I'm still a bit hesitant, but risk-tolerant investors might reasonably consider modest long exposure. However, absent new clinical data, investors should treat Peregrine as a trading position rather than a long-term investment.
Sadeghi has no position in Peregrine
Nathan Sadeghi-Nejad has 15 years experience as a professional health-care investor, most recently as a sector head for Highside Capital. He has worked on the sell side (with independent research boutiques Sturza's Medical Research and Avalon Research) and the buyside (at Kilkenny Capital prior to Highside). Sadeghi-Nejad is a graduate of Columbia University and lives in New York. You can follow him on Twitter @natesadeghi.