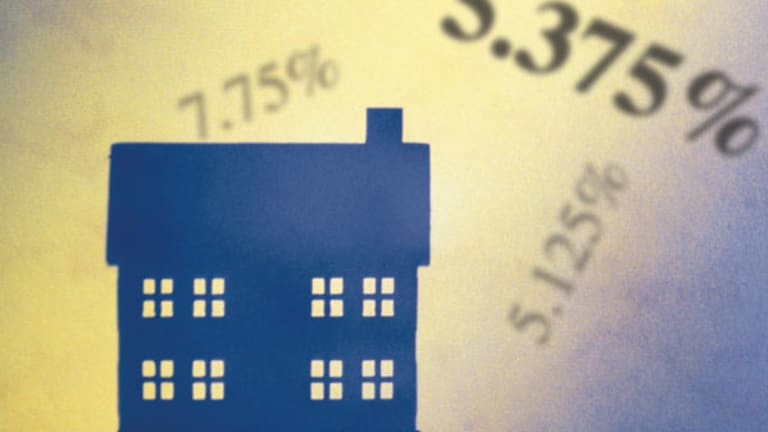 Builder Bounce Belies Weakening Results
The stocks are surging, but big losses from Lennar and Ryland highlight ongoing troubles.
Updated from 10:14 a.m. EST
The
Federal Reserve's
emergency rate cut this week has sent homebuilder stocks rallying, but large losses reported by
Lennar
(LEN) - Get Report
and
Ryland
(RYL)
point to the ongoing challenges builders face, as the housing market continues to deteriorate.
Lennar, one of the country's largest homebuilders, reported a larger-than-expected loss of $1.25 billion in the fourth quarter, as revenue was cut in half to $2.2 billion.
Cramer: Toll and Thornburg Stand to Win
var config = new Array(); config<BRACKET>"videoId"</BRACKET> = 1381147921; config<BRACKET>"playerTag"</BRACKET> = "TSCM Embedded Video Player"; config<BRACKET>"autoStart"</BRACKET> = false; config<BRACKET>"preloadBackColor"</BRACKET> = "#FFFFFF"; config<BRACKET>"useOverlayMenu"</BRACKET> = "false"; config<BRACKET>"width"</BRACKET> = 265; config<BRACKET>"height"</BRACKET> = 255; config<BRACKET>"playerId"</BRACKET> = 1243645856; createExperience(config, 8);
The loss amounted to $7.92 a share, much worse than the loss of $1.65 a share that analysts expected, according to Thomson Financial. A year earlier, the builder reported a loss of $196 million, or $1.24 a share.
In a statement, Lennar CEO Stuart Miller said, "While we are hopeful that recent interest rate moves by the Federal Reserve and recent plans proffered by the Federal government will have a stabilizing impact on the housing market, market conditions remained depressed and, in fact, continued a downward slide through the end of our fourth quarter."
Homebuilder stocks surged on Wednesday after word of an emergency bailout of bond insurers
Ambac
(ABK)
and
MBIA
(MBI) - Get Report
lifted financial and real estate stocks. The stocks were getting another boost early Thursday, with Lennar rising 2% to $15.25 and Ryland adding 2.3% to $31.95.
The SPDR S&P Homebuilder ETF
(XHB) - Get Report
has now risen 6% to start the year, while the
S&P 500
index is down 9%.
Whether this homebuilder rally can continue will depend on if investors feel the housing market is set to bottom this year. Typically, builder stocks rally about six months ahead of a rebounding housing market.
Sources who have been net short the builder stocks remain unconvinced the rally marks a buying opportunity for the stocks.
"The Lennar number is not that good," says a veteran hedge fund analyst who has been shorting the builders for over a year.
"No one knows how the business is going to go. The selling season starts after the Super Bowl," the analyst says.
He blamed the recent rally in the stocks on inexperienced investors looking to make short-term gains.
"You've got a bunch of young guys who've never been through a long recession. Everyone is trying to jump on
buying builder stocks," he says.
Also Thursday, the National Association of Realtors said December existing-home sales fell 22% from a year earlier to an annual rate of 4.89 million units, lower than the 4.95 million that economists expected, according to
Reuters
. The national median home price fell 6% from a year earlier to $208,400.
Total housing inventory dropped 7.4% at the end of December to 3.91 million existing homes available for sale. That represents a 9.6-month supply at the current sales pace, down from a 10.1-month supply in November.
Lennar's new orders in the fourth quarter fell 50%. The cancellation rate on previous orders remained historically high at 33%, as homebuyers back out of purchase contracts because of falling housing prices across the U.S.
Lennar now has a backlog of just $1.4 billion homes sold but not yet delivered. This compares to a backlog of $6.9 billion at the end of 2005, the peak of the housing boom.
The lower backlog points to much smaller revenues in future years.
Lennar's loss in the quarter was mostly due a $1.2 billion loss related to land sales. About $740 million of this loss related to the sale of a portfolio of properties to
Morgan Stanley
(MS) - Get Report
in the quarter.
Despite the deteriorating fundamentals, Lennar has been generating cash to reduce its debt load. The company also benefited from an $852 million tax benefit after the end of the quarter. Lennar's net debt to capital is now about 17%, according to an estimate from Bank of America analyst Daniel Oppenheim.
"We continue to believe management is taking the right steps (discounting home prices, selling land) to generate cash and that the resulting balance sheet flexibility is critical to navigate the current downturn," Oppenheim wrote in a note to clients Thursday.
After the market closed Wednesday, fellow builder Ryland reported a fourth-quarter loss of $202 million, or $4.80 per share, much worse than the 17-cent loss that analysts expected, according to Thomson Financial.
A year ago, the company had a profit of $87 million, or $1.98 per share.
Revenue fell 37% to $828 million in the quarter, as home closings slid 30%.