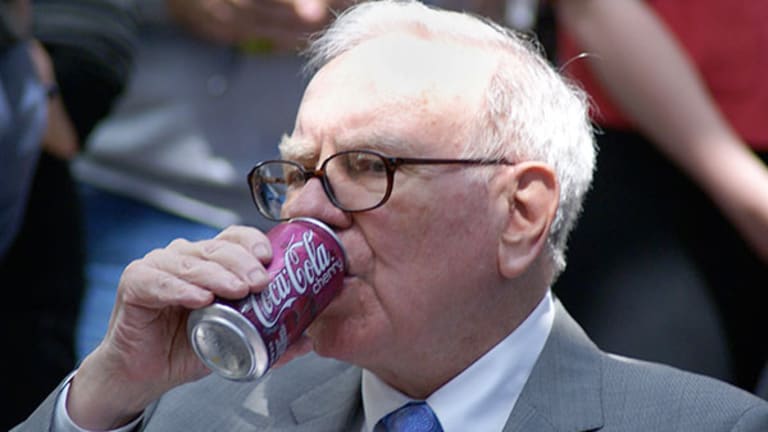 Publish date:
Buffett Loves Rock-Solid Dividend Stock Coca-Cola for Good Reason
Despite consumer trends away from sugar-laden soda, the Oracle of Omaha is betting big on this beverage maker. Should smaller investors be bullish on shares as well?
Despite consumer trends away from sugar-laden soda, the Oracle of Omaha is betting big on this beverage maker. Should smaller investors be bullish on shares as well?
The soda industry has come under pressure as Americans move away from sugar-laden beverages.
But before investors sour on soft drinks, they should remember that these stocks are among the longest-running profit generators.
And if that isn't enough, the Oracle of Omaha loves the biggest beverage stock on the market.
Investment legend Warren E. Buffett has always shown an affinity for companies that, armed with solid business moats and free cash flow reservoirs, make great long-term plays.
In the late 1980s, he bought more than $1 billion of Coca-Cola's (KO) - Get Report stock and has remained one its most vocal supporters.
With a 60%-plus gross margin, a stellar record of profitability, 53 years of growing annual dividends and 20 billion-dollar brands, Coca-Cola, the world's largest beverage company, looks like a sure bet.
Ahead of Coca-Cola's third-quarter earnings announcement on Wednesday, it is important to understand why the company, which has more than 500 brands in its portfolio, will continue to churn out profits.
As it has grown in size, Coca-Cola has developed the world's largest beverage distribution system, which helps it deliver more than 1.9 billion servings per day to consumers in more than 200 countries.
Coca-Cola's market is highly competitive. Other companies offering coffees, energy drinks, juices, non-alcoholic sparkling beverages, sports drinks, teas and water products are all vying for a piece of Coca-Cola's mammoth customer base.
The company's biggest rival is PepsiCo, but other competitors include Danone,Mondelez and Nestle, as well as numerous local and regional entities.
PepsiCo is a holding in Jim Cramer's Action Alerts PLUS Charitable Trust Portfolio. See how Cramer rates the stock here. Want to be alerted before Cramer buys or sells PEP? Learn more now.
Yet the reasons for Coca-Cola's continued success are simple.
Coca-Cola's leading brands -- Coke, Coke Zero, Diet Coke, Fanta and Sprite, among others -- have long been consumer favorites. The company has amassed a worldwide network of bottlers and distributors for its products.
In addition, Coca-Cola has a sophisticated marketing program.
Coca-Cola is also financially well managed, with a return on assets higher than the industry average and a return on equity in the high 20s. Its leverage, measured by debt to equity, is also close to the ideal value of 1.
All this isn't to say that Coca-Cola doesn't have any negatives.
For starters, the soda business is hurting as many consumers choose healthier beverages.
Second, revenue hasn't shown much growth recently, and operating margins -- currency could play a role here -- have been relatively flat, though the company still churns out more than $7 billion in annual profits.
Finally, while Coca-Cola's dividend-paying record is phenomenal and the yield, at 3.32%, is extremely attractive, its dividend growth is staid compared with peers such as Dr Pepper Snapple and even PepsiCo.
But these negatives don't outweigh the positives.
The company is making progress on shifting focus to revenue and improving pricing. It is also tweaking bottling operations and refranchising to boost organic growth.
In addition, Coca-Cola has responded to the shift in consumer preferences and trends, offering products with alternative, natural and even organic sweeteners, as well as cutting artificial ingredients for some of its lines.
In short, Coca-Cola is evolving to become a company that is guiding and shaping consumer preferences.
With Coca-Cola's long-term positive outlook, this company is employing the right mix of strategies to navigate near-term volatility.
Buffett, who once remarked that "one-quarter of him is Coke" is unperturbed by recent numbers, including the stock's performance this year, down nearly 2%.
His approach is worth emulating. Although investors may think that Wall Street is unexcited about Coca-Cola, there are numerous reasons to buy shares in the rock-solid dividend company.
---
85% Accurate Trader gives his Personal Guarantee: "Give Me 9 Minutes a Week and I Guarantee You $67,548 a Year." What if I told you I know a way you can see a $67,548 per year - or more - in profitable trades just by following this simple step-by-step process? The trader who is sharing this secret has been right more than 8 out of 10 times, turning $5,000 into more than $5 million for himself. Click here to see how easy it is to follow his lead and collect thousands of dollars in "Free Money" every month.
The author is an independent contributor who at the time of publication owned none of the stocks mentioned.