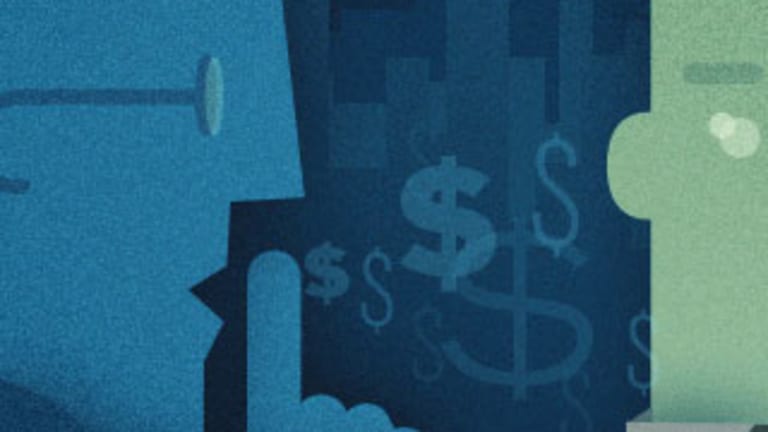 Buffett, Einhorn Fight Breaks Out as Government Charges S&P With Fraud
The next company to be ensnared may be Moody's, which has the two investors pitted against each other.
Updated with closing share prices for McGraw-Hill and Moody's
NEW YORK (
) -- The
Department of Justice
is suing
Standard & Poor's
, the bond-rating unit of
McGraw-Hill
(MHP)
, on fraud charges, claiming it knowingly misrepresented risks in complex and highly rated debt securities before the financial crisis.
Nearly every one of the S&P-rated securities failed, according to the DoJ's civil fraud suit, which calculates the agency may be exposed to repaying least $5 billion in federal government losses. S&P gained from the artificially high ratings, the government said.
While the DoJ's efforts appear to be targeted at S&P, competitors
Moody's
(MCO)
and
Fitch Ratings
may also face scrutiny. In reaction to a
New York Times
and the DoJ's charges, industry analysts said there are risks for all ratings agencies.
Beneath it all is a little-known feud between Warren Buffett's
Berkshire Hathaway
(BRK.A)
and hedge fund investor David Einhorn of
Greenlight Capital Management
.
It centers on Buffett's near 13% stake in
Moody's
, Einhorn's short position against the ratings agency, and a class-action lawsuit filed by investors from Iowa, Seattle and Abu Dhabi against it and Standard & Poor's.
The investor lawsuit against Moody's and S&P is set to unfold in courtrooms this month and may indicate whether firms will face an onslaught of private claims, or whether they will put some litigation risk behind them, as booming debt markets create a strong pipeline of business for ratings agencies.
The investor lawsuit filed in 2008 by Abu Dhabi Commercial Bank and Washington's King County argues Moody's and S&P knowingly misrated a structured investment vehicle (SIV) for
Morgan Stanley
, which the bank then sold off to unwitting investors who suffered losses shortly thereafter.
The SIV, called "Cheyne," contained notes backed by supbrime mortgages and it received the "highest credit ratings ever given to capital notes," according to the judge presiding on the case.
Those notes failed during the credit crunch, and plaintiffs argue the securities were knowingly misrated by agencies because of high fees paid by the issuer, Morgan Stanley, which is also a defendant in the case. Investors are now litigating Moody's and S&P for fraud in a last push to hold the agencies accountable.
The suit centers on whether private investors can be paid out over claims of misrepresentation on the shoddy ratings ascribed to complex securities. Moody's and S&P, meanwhile, argue that their ratings stand as an opinion protected under the First Amendment of the U.S. Constitution, not a guarantee.
The private lawsuit, which is similar to the DoJ's civil fraud complaint against S&P unveiled Tuesday, is likely to either put to bed investors' claims for pre-crisis bond ratings -- or open a Pandora's box of liability that goes beyond the government's suit.
In September, a ruling by U.S. District Judge Shira Scheindlin on the lawsuit against Moody's and S&P's casts doubt on whether ratings opinions can be protected by First Amendment free speech rights if a fraud can be proven.
After the ruling expunged all but a fraud charge against Moody's and S&P on the Cheyne SIV, Einhorn
at the Value Investing Congress in October 2012 that the suit could subject ratings agencies to legal issues that would destroy their business models and financial position this year.
"It's a matter of time before they all disappear," Einhorn said of the rating agencies in response to an audience question asking for an update on his short thesis on Moody's.
A similar suit on a SIV called "Rhinebridge" that was rated by Fitch, Moody's and S&P may also go to trial after a Jan. ruling from Judge Scheindlin
In a Jan. 22 investor letter, Einhorn noted the poor performance of Greenlight Capital
, and attributed the fund's woes to a backfiring short position in
Green Mountain Coffee Roasters
(GMCR)
and the falling shares of
Apple
(AAPL)
. Einhorn didn't mention a short position in Moody's in the letter. A voicemail left with a Greenlight spokesperson wasn't immediately returned.
In Tuesday trading, McGraw-Hill shares fell over 10% to close at $44.92 as details on the DoJ's suit were released. Moody's shares were down nearly 9% in Tuesday trading.
Einhorn, who correctly predicted the demise of
Lehman Brothers
, stuck with the short bet against Moody's despite the fact that it's lost ground since being unveiled in the wake of the crisis. Buffett, meanwhile, has slightly pared his Moody's stake since Einhorn conveyed his short bet, and he's even defended the company in front of congressional panels to stinging criticism.
Now, with only one private investor count remaining against Moody's and its competitor, S&P, the score between Einhorn and Buffett is likely to be settled once and for all.
The contest between Einhorn and Buffett pits conflicting opinions on the extent to which Moody's and S&P can be held financially responsible for mortgage bond ratings that proved to be wildly inaccurate after the housing bust.
Cutting against Einhorn's short bet on Moody's, many remain unconcerned about the lawsuit and are just one verdict away from having significant legal risk from the crisis removed. Buffett also appears highly confident.
Since 2010, The Oracle of Omaha, as Buffett is known, pared his stake in Moody's to roughly 13%, but he remains a top shareholder, according to recent filings with the
Securities and Exchange Commission
.
One-year share gains in excess of 25% and analyst optimism on Moody's long-term prospects signal that some are advising against Einhorn's bearish views.
"While the Abu Dhabi case likely moves to trial in Feb. 2013, the company views the large number of favorable precedent decisions (and lack of "smoking gun" from extensive discovery) as strong indicators of a positive outcome,"
Piper Jaffray analyst Peter Appert in a Sept. 13 note to clients upgrading Moody's 2012 and 2013 earnings estimates. Strong debt markets and bond issuance amid record-low interest rates are proving a tailwind for Moody's, he said.
On Tuesday, Appert noted an increase in near-term litigation risk given the government's civil fraud charge against S&P, but the analyst maintained optimism on the long-term prospects of both agencies.
"Although numerous embarrassing and unprofessional emails have been uncovered (with more to come), they have not served to provide evidence of fraud on the part of the rating agencies," Appert wrote Tuesday.
In October, Einhorn conceded in the near-term that his short position could continue to suffer a rebound in Moody's earnings.
Still, he pointed to the Cheyne SIV trial to vindicate what's been a slow-burning short bet. Were fraud to be proven, other investors in securities rated by Moody's during 2007 and 2008 may choose to sue ratings agencies before their rights expire, Einhorn said in October.
Both Einhorn and Buffett have sparred publicly on their differing views of Moody's.
In a June 2010 testimony to legislators, Buffett defended rating agencies, noting that Moody's shouldn't bare all of the blame for the crisis. "Look at me. I was wrong on it, too," Buffett said about the housing market, which he said was the biggest bubble he's ever seen.
Buffett was excoriated in the press for his testimony, and in a
Bloomberg TV
interview, Einhorn subsequently pressed his short, questioning both the credibility of Buffett and the agencies.
Investors should watch for a February trial on fraud charges leveled against Moody's to settle the score between Buffett and Einhorn. The suit could also be a leading indicator as to whether the DoJ's claims against S&P or any other ratings agency bear fruit.
"We allege that, by knowingly issuing inflated credit ratings for CDOs (collateralized debt obligations) -- which misrepresented their creditworthiness and understated their risks -- S&P misled investors, including many federally insured financial institutions, causing them to lose billions of dollars," U.S. Attorney General Eric Holder said in a statement Tuesday.
In addition, "we allege that S&P falsely claimed that its ratings were independent, objective, and not influenced by the company's relationship with the issuers who hired S&P to rate the securities in question -- when, in reality, the ratings were affected by significant conflicts of interest," Holder added.
The DoJ's civil fraud charges were brought under the
Financial Institutions Reform, Recovery, and Enforcement Act
of 1989, which allows the government to seek civil penalties equal to the losses suffered by federally insured financial institutions. To date, the DoJ has identified over $5 billion in federal losses resulting from CDOs that were rated by S&P between March and October 2007, according to Holder.
"A DOJ lawsuit would be entirely without factual or legal merit," S&P said in a statement Monday. "It would disregard the central facts that S&P reviewed the same subprime mortgage data as the rest of the market, including U.S. government officials who in 2007 publicly stated that problems in the subprime market appeared to be contained."
-- Written by Antoine Gara in New York