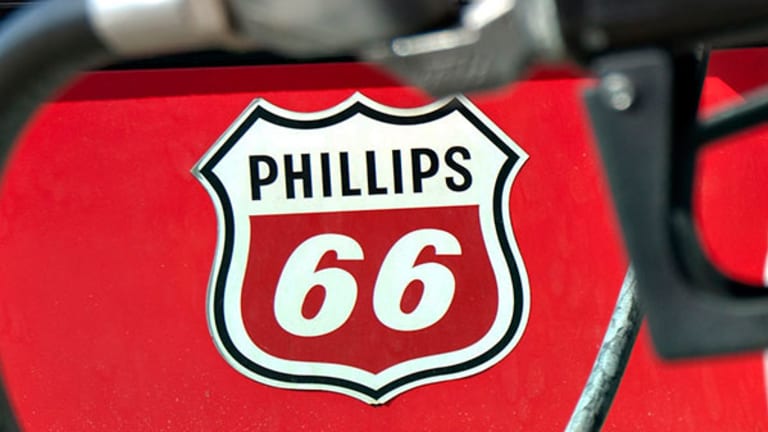 Buffett Darling Phillips 66 to Benefit From Largest MLP Dropdown Yet
If not for a market selloff caused by interest rate hike fears and lower commodity prices, the sponsor and its MLP may have done well today, but it won't last.
A move that ordinarily would have led to a bump in the stocks of independent oil refiner Phillips 66 (PSX) - Get Phillips 66 Report and master limited partnership affiliate Phillips 66 Partners (PSXP) - Get Phillips 66 Partners LP Reportwas snuffed out Tuesday in an overall market selloff.
Phillips 66 said Tuesday it intends to sell 30 crude, refined products and natural gas liquids logistics assets to Phillips 66 Partners for $1.3 billion in the largest so-called dropdown transaction in PSXP's history, the parties announced Tuesday, Oct. 11.
But while the dropdown couldn't help the companies avoid a roughly 1% decrease, billionaire investor Warren Buffett likely is still content with the 15.43% stake his investment vehicle Berkshire Hathaway Inc. (BRK.A) - Get BRK.A Reporthas amassed in Phillips 66 in the past few months. 
The dropdown transaction agreed upon Tuesday is typical of many midstream oil and gas companies, as well as some upstream and downstream players, designed to funnel cash generating assets into a pass-through entity referred to as a master limited partnership, or MLP, to realize tax breaks and bigger kickbacks to unitholders. 
MLPs, unlike their sponsors, pay no corporate-level taxes. Instead taxes are paid at the individual unit-holder level. Unitholders therefore avoid double taxation, and additionally, a portion of the cash distribution paid out by an MLP to its unitholders is typically tax deferred at between 50% and 100%.
The companies also pay out the bulk of operating cash flows as distributions to unitholders of the limited partner and general partner. The elimination of double taxation tends to lower the cost of capital for the MLP, in the process supporting a higher valuation for the assets under the MLP structure than under a typical corporate structure.
To that end, asset acquisitions by an MLP such a Phillips 66 Partners tend to be more accretive on a per unit basis to unitholders than they would be to the shareholders of a corporate peer like Phillips 66.
For the limited and general partners, the deal also is preferable as MLP asset valuations generally are more attractive relative to sponsor p valuations for the same assets.
Therefore, if investors shake off fears of interest rate hikes and take speculation over whether OPEC's recent production freeze agreement will come to fruition in November with a grain of salt, markets may improve enough to reflect Tuesday's transaction between PSX and PSXP. 
Dropdown transactions mean more cash-making assets in the MLP's portfolio and more cash in the sponsor's bank account, and therefore the deals are typically well received by both parties' investors initially. Although the impact on the MLP's shares tend to be much shorter lived, providing a consistent need for sponsors to drop down future assets for continued growth.  
Witness San Antonio oil refiner Tesoro (TSO) , which in July shipped off storage and terminal assets in Alaska to its MLP affiliateTesoro Logistics (TLLP)  for $444 million, after which both companies' share prices surged. Since then Tesoro's shares are up nearly 5%, while TLLP's shares are down about 5%.