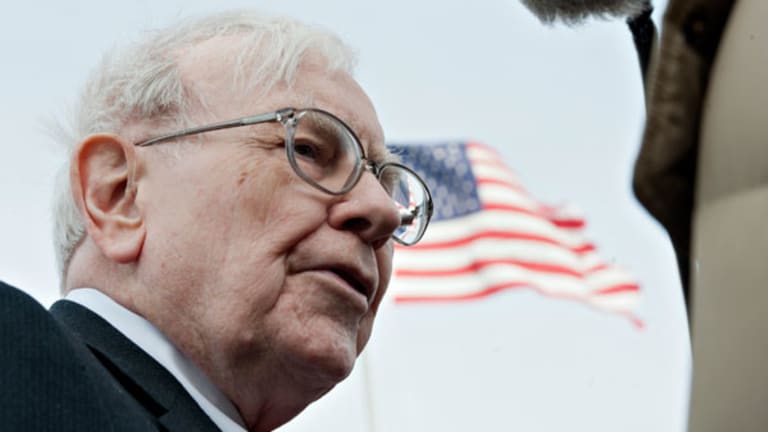 Buffett and Other Billionaires Give Their Best Investing Advice
The best investing advice from some of the world's most accomplished investors, gathered by self-help legend Tony Robbins.
NEW YORK (TheStreet) -- In the past four years, I've interviewed more than 50 self-made billionaires, Nobel Prize winners, investment titans, bestselling authors, professors, and financial legends. My goal was to find a way for individual investors to take control of their money in a system that seems rigged against them.
It was the ultimate Ph.D. in investing, where my "professors" weren't professors at all, but practitioners who move markets and shape the world economy, like Ray Dalio, Warren Buffett, Paul Tudor Jones and Mary Erdoes. I've gathered what I learned into my first book in 20 years, MONEY Master the Game: 7 Simple Steps to Financial Freedom. 
I asked each of these great investors, "If you couldn't pass any of your money to your children, but only a set of insights, strategies, or a portfolio, what would they be?"
Click through to see the answers from four of the most brilliant minds in finance. 
Ray Dalio, Founder and Co-Chief Investment Officer, Bridgewater Associates
One of the experts I was fortunate enough to interview was Ray Dalio, founder of the largest hedge fund on the planet, Bridgewater Associates, with $160 billion in assets under management.
His Pure Alpha Fund has lost money only three times in 20 years, according to Barron's. Over the life of the fund (since launching in 1991), he's produced a 21% compounded annual return (before fees). If there's anyone I wanted to ask, "Can the average investor still make money in this crazy, volatile market?" it was Ray. So when he told me, "There's no question you can still win," I was all ears.
"When looking back through history, there is one thing we can see with absolute certainty: every investment has an ideal environment in which it flourishes. In other words, there's a season for everything. I know that there are good and bad environments for all asset classes. And I know that in one's lifetime, there will be a ruinous environment for one of those asset classes. That's been true throughout history.
"I imagine four portfolios, each with an equal amount of risk in them. That means I would not have an exposure to any particular environment.
"First, we need 30% in stocks.Then you need long-term government bonds. 15% in intermediate term (7- to 10-year Treasuries) and 40% in long-term bonds [20- to 25-year Treasuries]. Rounded out the portfolio with 7.5% in gold and 7.5% in commodities.
"You need to have a piece of that portfolio that will do well with accelerated inflation so you would want a percentage in gold and commodities. These have high volatility. Because there are environments where rapid inflation can hurt both stocks and bonds."
Warren Buffett, CEO, Berkshire Hathaway (BRK.A) - Get Free Report (BRK.B) - Get Free Report
I was in the green room of the Today Show, waiting to go on the air, when in walked the man himself: Warren Buffett, one of the greatest investors of the 20th century and, with $67.6 billion to his name, the third wealthiest man in the world. We were scheduled to appear (together with Spanx founder Sara Blakely, and future secretary of Housing and Urban Development Julian Castro) in a roundtable discussion with Matt Lauer about economic success and our views on the direction of the US economy.
When I finally had him in the same room with me, I couldn't resist the opportunity to ask him how the
individual investor
 can win in this volatile economy.
"The goal of the nonprofessional should not be to pick winners but should rather be to own a cross section of businesses that in aggregate are bound to do well. A low-cost S&P 500 index fund will achieve this goal.
" Indexing is the way to go. Invest in great American business without paying all the fees of a mutual fund manager and hang on to those companies and you will win over the long term.
"Put 10% in short-term government bonds and 90% in a very low-cost S&P 500 index fund. (I suggest Vanguard's.) I believe the trust's long-term results from this policy will be superior to those attained by most investors-whether pension funds, institutions or individuals-who employ high-fee managers."
Paul Tudor Jones, Founder, Tudor Investment Corporation
Paul Tudor Jones started his own firm at the age of 26, and has since produced 28 years of positive earnings. He is legendary for predicting Black Monday, the 1987 stock market crash that saw a 22% drop in a single day (still the largest percentage stock market drop in any day in history). At a time when the rest of the world was experiencing a meltdown, Paul and his clients captured a 60% monthly return and a nearly 200% return for the year!
Paul is one of my closest friends and personal heroes. I've been privileged to be his peak performance coach since 1993-21 of his 28 full consecutive years of wins and the majority of his trading career.
I met Paul for this interview at the Greenwich, Conn. campus in of his Tudor Investment company. During the interview we dug down for the most valuable investment principles he has to share to benefit the Individual Investor.
"The most important thing for me from that is that defense is ten times more important than offense. The wealth you have can be so ephemeral; you have to be very focused on the downside at all times.
"When you have a good position in something, you don't need to look at it, it will take care of itself. Where you need to be focused is where you're losing money, and that's actually when people generally don't want to look: "My account's going down. I don't even want to open it." So I've created a process overtime whereby risk control is the number one single most important focus that I have, every day walking in. I want to know I'm not losing it.
" If you lose 50%, it takes 100% to get back to where you started-and that takes something you can never get back: time."
Mary Callahan Erdoes, CEO, J.P. Morgan Asset Management Division (JPM) - Get Free Report
Mary Callahan Erdoes casts a long shadow as CEO of one the largest asset management groups in the world, at the biggest bank in the United States. Today Erdoes oversees the management of $2.5 trillion invested by foundations, central banks, pension funds and some of the world's wealthiest individuals. She's often mentioned in the media as being on the short list to succeed JPMorgan Chase CEO Jamie Dimon.
"Invest for the long term and only take money out when you truly need it. Specific portfolio construction will be different for different people. For example, I have three daughters. They're three different ages. They have three different skill sets that will change over time. One might spend more money than another. One might be more frugal. One may want to work in an environment where she can earn a lot of money. Another may be more philanthropic in nature. One may get married, one may not; one may have children, one may not; so they'll have different dependents. Every single permutation will vary over time, which is why even if I started all of them the first day they were born and set out an asset allocation, it would have to change."
Like all experts, these money masters all have different views of what the near-term future might hold, and they have different opinions on which investment vehicles they favor most. Some are short-term traders; some like to hold long-term.
However, they have all won at the investment game. You can too, using these tips and others.
Remember that knowledge is not power, execution is. Execution trumps knowledge every day of the week. Just make a little bit of progress each day or each week and before you know it, your path to financial freedom will be realized.
For more investment advice and insights, read  MONEY Master the Game: 7 Simple Steps to Financial Freedom.