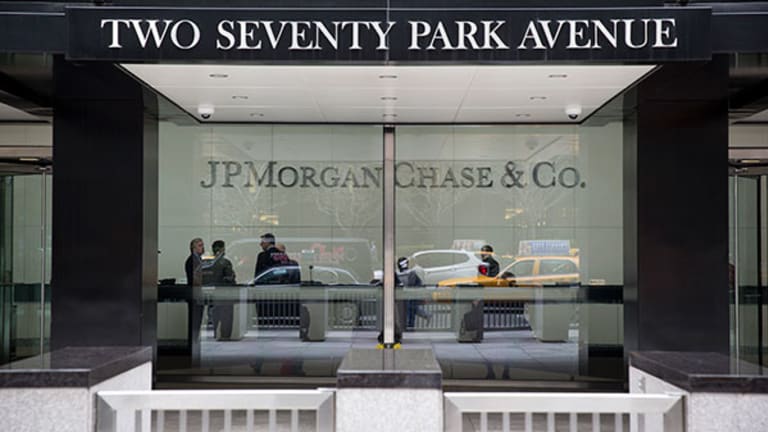 Buffett Banks Are Poised to Return Most Capital in Fed Stress Tests
How banks may fare in upcoming stress tests.
NEW YORK (TheStreet) -- Here's a shocker: Banks such as Wells Fargo (WFC) - Get Wells Fargo & Company Report, American Express (AXP) - Get American Express Company Report and U.S. Bancorp (USB) - Get U.S. Bancorp Report that are among Warren Buffett-run Berkshire Hathaway's (BRK.A) - Get Berkshire Hathaway Inc. Class A Report largest stock holdings are likely to be among the best positioned to return capital after the Federal Reserve conducts its annual Comprehensive Capital Analysis and Review (CCAR).
Credit Suisse banking analyst Moshe Orenbuch highlighted American Express, Discover Financial (DFS) - Get Discover Financial Services Report, U.S. Bancorp and Wells Fargo as best positioned to return a high level of capital after the Fed's 2014 CCAR. Citigroup (C) - Get Citigroup Inc. Report and PNC Financial (PNC) - Get PNC Financial Services Group, Inc. Report are likely to show the most improvement among large banks in their capital return, according to Orenbuch's Nov. 27 report.
The Fed's 2014 CCAR will be a slight alteration of previous stress testing exercises. Banks will be tested for their capital in the event of a share global slowdown that impacts all major economies, and not just those in the U.S. and Europe.
A more global stress test that accounts for weak economic performance in Asia will only materially affect firms such as Bank of America (BAC) - Get Bank of America Corp Report, JPMorgan and Citigroup given their expansive international operations. Citigroup is particularly exposed, according to Credit Suisse's Orenbuch.
Stress tests will also diverge slightly from currently macro-economic trends that are impacting bank earnings and balance sheets.
The Fed will assume a significant reversal in the recovering housing market and declines in commercial real estate prices. Commercial real estate exposures may be particularly harshly judged vs. previous stress tests, Orenbuch noted, impacting players like PNC, U.S. Bancorp and Wells Fargo.
Still, the rising capital positions of America's largest banks and particularly those with small investment banking operations may triumph over changes to the Fed's stress testing model.
"While loss projections could rise relative to the 2013 CCAR, we estimate capital positioning has improved 18% on average among the large banks, adjusting for new capital ratio minimums," Orenbuch wrote in his Tuesday client note.
The analyst calculated that large banks have excess capital of $355 billion above a required Basel III Tier 1 common minimum of 4%. Those Basel III Tier 1 common standards will rise to 4.5% starting in 2015.
"With respect to strong positioning and excess capital deployment in 2014, we would highlight AXP, DFS, USB and WFC as the best positioned and most likely to return a high level of capital-each estimated to return ~70%+. Among the large banks, we would highlight C and PNC which we expect to exhibit the most material improvement in capital return--an affirmative sign of improving balance sheet strength," Orenbuch wrote.
"Our current estimates for the large cap banks include capital return of 65% in 2014 vs. 48% total estimated capital return in 2013. We expect a median dividend payout ratio of 22% -- consistent with 2013."
--Written by Antoine Gara in New York