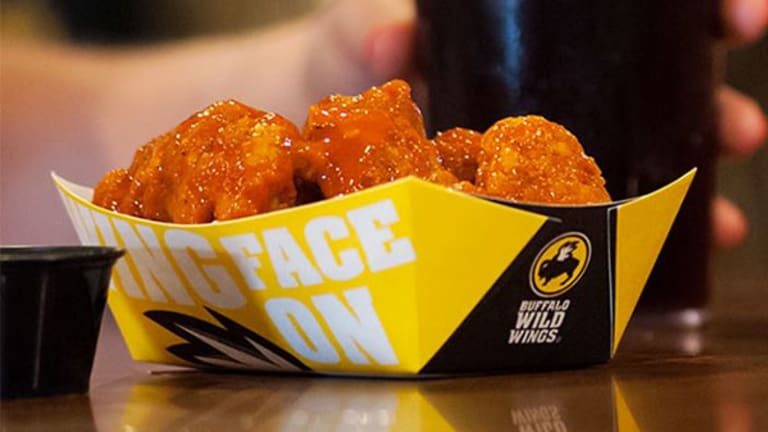 Buffalo Wild Wings Spices Up Loyalty Program With 'Blazin' Rewards'
The Blazin' Rewards program runs on an app and tracks how many times a customer dines at B-Dubs.
Buffalo Wild Wings (BWLD) announced Monday a nationwide loyalty program called Blazin' Rewards that allows customers to earn points and free food for eating at the chain.
The rewards program incentivizes dining in, ordering takeout, checking in on the Blazin' Rewards app, buying sauces and dry rubs, and frequenting the chain during lunch hours. As users earn points, they can cash them in for menu items on a 'Rewards Roster.'
B-Dubs tested the Blazin' Rewards program in select markets with positive results and more than 2 million members across the U.S. "As the program grows, so too will our roster of rewards and point earning opportunities for our loyal guests," VP of marketing Bob Ruhland said.
The new program comes after activist investor Mick McGuire of Marcato Capital successfully removed former CEO Sally Smith earlier this month. It was the final blow in a series of battles installing three of four dissident director candidates to the company's board.
Buffalo Wild Wings stock traded slightly up at midday.
What's Hot On TheStreet
Unusual to hear these words: Under Armour's (UAA) - Get Report founder Kevin Plank has never been one to sound weak in a public setting. Plank is known for his motivational speeches to employees and desire to crush all competition. So, it was odd to hear Plank say rival Nike (NKE) - Get Report "isn't playing fair" on the Today Show on Sunday -- it sounded like a CEO who after several below plan quarters is finally realizing how challenging it will be to dethrone Nike.
Hat tip to Ford: A noted supporter of recycling, auto legend Henry Ford would be proud to know his spirit of conservation is still alive and well in the company that bears his name.
And in fact, as TheStreet learned on a recent trip to Ford's (F) - Get Report Dearborn, MI. headquarters, the founder's recycling efforts have been taken to a whole other level. Within Ford's Plastics and Materials Sustainability Research Department, which is tasked with finding ways to create auto parts from things found in the Earth such as soybeans and agave plants, senior technical leader Deborah Mielewski showed off a new coin tray made from shredded cash.
It took about $400 of cash to make the coin tray, said Mielewski.
Shout out to the 1990s: It may be time to cash in those Tesla (TSLA) - Get Report stock gains and go out and buy one of these new classic cars, TheStreet reports. There are several models from 1992, including the early version of the Dodge Viper, that are starting to take off in value.
Nestle rips to a high: Shares of chocolate maker Nestle touched an all-time high Monday after activist investor Third Point, led by Dan Loeb, revealed it had built a stake in the group and pressed for asset sales and increased buybacks. The stake is worth more than $3.5 billion, making Third Point one of Nestle's top 10 shareholders. For Loeb, this is one of his boldest bets yet as he tries to shake up the staid consumer packaged goods giant.
Visit here for the latest business headlines.