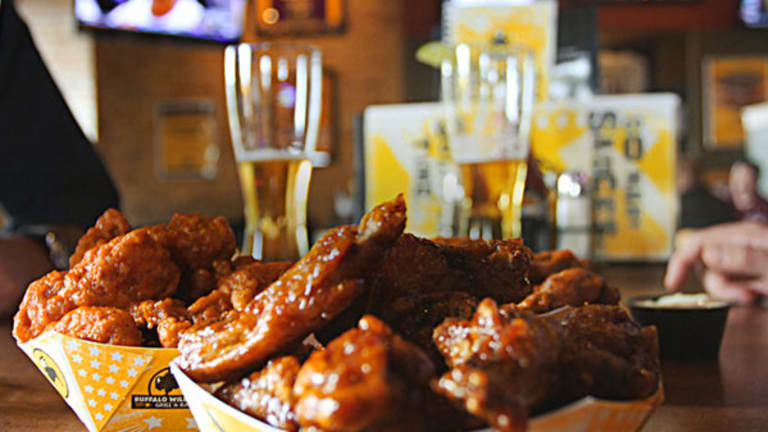 Buffalo Wild Wings Slashes Chicken Prices In Bid to Fatten Sales
Buffalo Wings moves forward with offering cheaper wings, at least for one day of the week.
Buffalo Wild Wings (BWLD) is slashing prices for its wings in a bid for plumper sales.
The company said today it will offer half-price traditional (bone-in) wings every Tuesday at more than 1,100 U.S. restaurants. Boneless wings aren't included. The Tuesday-only promotion was originally tested in 80 locations in early July, and was met with some success (not too surprising seeing as a small order of traditional wings costs a hefty $12.69).
"We've seen a significant traffic lift with the half-price offer," Buffalo Wild Wings CEO President and CEO Sally Smith told analysts on a Jul. 27 call. B-Dubs, as it's often refereed to by fans of the chain, also offered half price wings at all locations for National Chicken Wing Day on Jul. 29. Judging by the crowds during lunch at one New York City location (below), half price wings is an idea that seems to work for Buffalo Wild Wings.
Thank goodness it does.
The promotion comes on the heels of a lackluster stretch of sales for the once red-hot Buffalo Wild Wings, in part due to the rising prices for its wings that have sent customers looking for cheaper lunch and dinner options. 
Same-store store sales fell 2.1% during the second quarter at Buffalo Wild Wings company-operated restaurants, missing analyst forecasts for a 0.5% drop. The result was worse than the 1.7% decline delivered in the first quarter. At franchise-run restaurants, same-store sales declined 2.6%, compared with estimates for a 0.8% decline. In the first quarter, same-store sales at franchise operated restaurants fell 2.4%.
Buffalo Wild Wings has now reported slowing sales growth at both of its store formats for five straight quarters, according to Bloomberg data.
"Buffalo Wild Wings has aggressively raised menu prices in recent years and may need to moderate some of this inflation," wrote Credit Suisse Securities LLC analyst Jason West in a recent note.
The tepid sales results and 19% plunge in the stock price over the past year has caused activist investor Marcato Capital Management LLC to arrive at Buffalo Wild Wings' doorstep.
Marcato disclosed its 5.1% stake in a filing in mid-July. The firm is run by Richard McGuire, who formerly worked with hedge fund manager Bill Ackman, another well-known activist investor. In the firm's original filing, Marcato -- the company's fourth-largest shareholder -- suggested changing management, and altering the company's capital structure and its mix of franchised and company-owned restaurants. Marcato then criticized Buffalo Wild Wings' analyst day held in mid-August, saying execs didn't go far enough to improve shareholder value. 
McGuire didn't immediately return a request for comment on whether he was pleased by Buffalo Wild Wings' new half-priced wing giveaway.