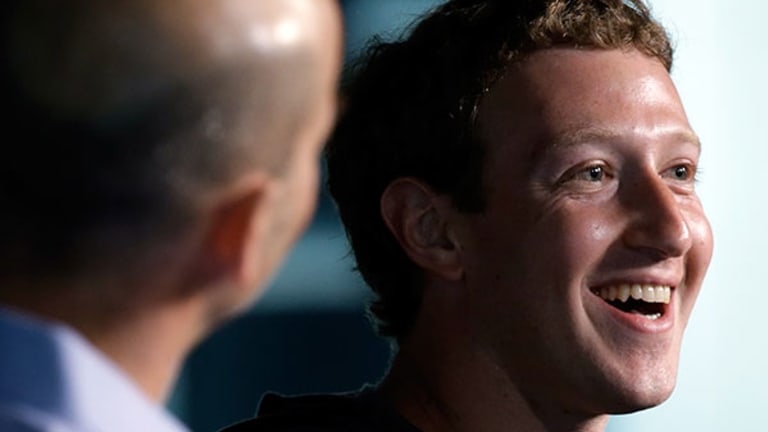 Publish date:
BTIG: 'Not Having a Buy on Facebook Has Clearly Been a Mistake in 2017'
Facebook shares are up over 20% in 2017 as its video efforts continue to pick up.
Facebook shares are up over 20% in 2017 as its video efforts continue to pick up.
Shares of Facebook (FB) - Get Report  are trading up over 20% year-to-date to about $140, leading BTIG to reverse its July 2016 downgrade of the stock to neutral from buy. The firm also issued a $175 price target on the stock. 
"Not having a buy on Facebook has clearly been a mistake in 2017 and we are simply not going to allow that mistake to continue," BTIG analyst Richard Greenfield said. 
The decision to downgrade the stock last summer with shares around $121 after having a buy rating on it for nearly three years was based on the assessment that investor expectations had gotten ahead of themselves, particularly as Facebook's video strategy wasn't gaining traction as fast as the firm had hoped. Facebook shares began to stall toward the end of 2016 in spite of positive earnings reports for the second and third quarters, finishing 2016 at $115. 
But then Facebook released a stunning 2016 fourth-quarter report on Feb. 1, giving shares a meaningful boost. The tech giant reported earnings of $1.41 per share, handily beating expectations of $1.31 per share. Revenue came in at $8.81 billion, topping Wall Street's estimates for $8.52 billion. 
Facebook is a holding in Jim Cramer's Action Alerts PLUS Charitable Trust Portfolio. Want to be alerted before Cramer buys or sells FB? Learn more now.
BTIG noted Facebook's sharp gains in its mobile strategy and the subsequent shift in ad dollars. For the fourth quarter, about 84% of Facebook's ad revenue came from mobile devices, up from 80% for the same period in 2016.
The firm went so far as to take a dig at traditional media companies for their lack of effort to gain mobile ad dollars: "Legacy media companies have made literally no progress attacking mobile advertising with linear TV ratings continuing to collapse." These older media companies are at an increasing risk of getting replaced by platforms like Facebook as more tech companies get in on the content game. 
In addition, Greenfield brought up the better than expected release of Instagram Stories, a feature on the app that was rolled out in August as a copycat version of Snapchat Stories, allowing users to post a slideshow of videos and pictures as their "status" that will disappear after 24 hours. "We initially dismissed Instagram stories as (a) copy-cat product. . . However, over the past several months, it has become increasingly clear that Instagram Stories is an overwhelming success story for Facebook," he wrote. In January 2017, Facebook reported 150 million daily active users (DAUs) for Instagram stories. 
Instagram stories has been a surprise success because it takes pressure off of users to post incredible photos that get a lot of likes from other users because the Stories feature doesn't allow likes. In addition, the feature is starting to be used for advertising. "While very early days, we have been quite impressed with the quality of the brands choosing to utilize Instagram stories' full screen, vertical video ad format," the firm claimed. 
Lastly, BTIG noted Facebook's encouraging video efforts as it shifts away from live videos, which were often boring unless they featured sports or breaking news. In the past week, Facebook has made changes to its video tab that puts the focus on higher quality video content, rather than the dull live videos. The new algorithm prioritizes video from friends and family, as well as quality content from professional content producers, rather than the often poor video content of live videos. 
Facebook also rolled out picture-in-picture (PnP) for video, allowing users to automatically continue watching a video in a small window on the side of their News Feed while continuing to scroll down the page. "PnP is a critical feature for longer-form video," the firm claimed. In addition, this update will help to keep users engaged with videos as Facebook starts to integrate mid-roll ads in videos that sometimes cause users to abandon the video rather than wait for the ad to finish. 
Going forward, BTIG wants to see Facebook investing in longer-form video pieces that would keep users engaged on the platform for longer periods of time. "Facebook needs to find ways to increase time spent across Facebook's apps and to increase CPMs - success in video would accomplish both. In success, there could be meaningful upside to estimates going forward, particularly if they are able to leverage success in mobile video over to IP-connected TV devices where watch time is substantially longer," the firm pointed out. 
In the fourth quarter earnings call, CEO Mark Zuckerberg said that Facebook may make a push into "episodic" content in the long-term, but that it was focusing on shorter, high quality clips from producers for now.