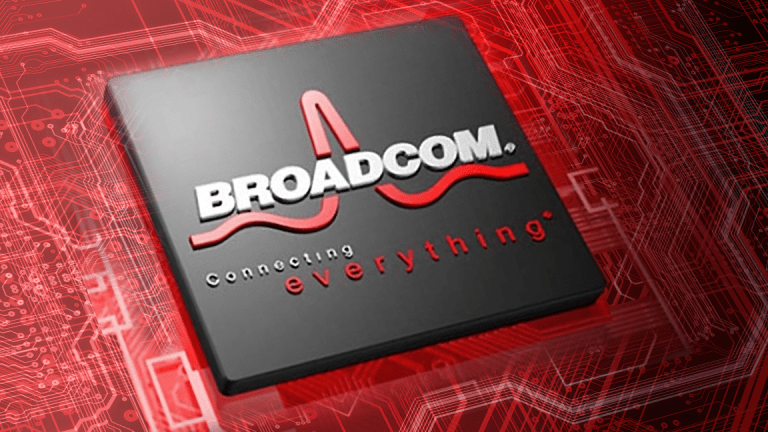 Broadcom's Earnings Are Getting a Lift from the iPhone X, AI and Great Execution
As it continues pursuing Qualcomm, the chip giant beat estimates, hiked its dividend and offered upbeat 2018 commentary.
As it continues pursuing Qualcomm, the chip giant beat estimates, hiked its dividend and offered upbeat 2018 commentary.
High-end smartphones, cloud data centers and cars arguably qualify as the chip industry's biggest near-term growth drivers. Though pressured in some other areas, Broadcom Ltd.'s (AVGO) - Get Report October quarter results got a big boost from the first two end-markets and a smaller one from the third.
And perhaps more importantly, the company signaled the good times will continue in the quarters to come.
Broadcom reported October quarter (fiscal fourth quarter) revenue of $4.84 billion (up 9% annually) and adjusted EPS of $4.59 (up 32%), topping consensus analyst estimates of $4.83 billion and $4.43. The company also guided for January quarter revenue of $5.3 billion, plus or minus $75 million, above a $4.83 billion consensus.
Shares rose as much as 4% in pre-market trading Thursday. 
The January quarter outlook does assume $250 million in revenue related to Broadcom's recently-closed purchase of storage networking hardware firm Brocade Communications, revenue that likely wasn't factored into a number of analyst estimates. Nonetheless, even if the Brocade revenue was backed out, Broadcom's outlook would be soundly above consensus.
And though it's just a month removed from unfurling a cash/stock offer for Qualcomm Inc. (QCOM) - Get Report  that's worth up to $130 billion, Broadcom announced it's hiking its quarterly dividend by 72% to $1.75 per share, which implies a 2.5% yield at present levels. The chip giant also respectively upped its long-term gross, operating and free cash flow (FCF) margin targets to 65%, 47.5% and 40% from 60%, 45% and 35%.
Shares rose 4.4% after hours to $275.40. RF chip peers Skyworks Solutions Inc. (SWKS) - Get Report and Qorvo Inc.  (QRVO) - Get Report registered smaller gains. Audio codec chip supplier Cirrus Logic Inc. (CRUS) - Get Report , which gets well over half its sales from top Broadcom client Apple Inc. (AAPL) - Get Report , also ticked higher. As did Qualcomm, though Broadcom merely reiterated its existing stance regarding the bid on its earnings call and declined to comment on it during the Q&A session.
Thanks to Apple's iPhone 8 and X ramps, Samsung's Galaxy Note 8 ramp and increases in the dollar value of the chip content Broadcom is supplying per iPhone 8/X unit relative to the iPhone 7, wireless chip revenue rose 33% annually to $1.8 billion, beating a $1.75 billion consensus. Apple's latest iPhones contain RF chips, Wi-Fi/Bluetooth combo chips, touch controllers and wireless charging chips supplied by Broadcom.
On the earnings call, Broadcom -- citing the iPhone X's delayed ramp -- forecast its wireless sales, which usually drop towards year's end due to seasonality, would grow sequentially. That implies sales will top a $1.72 billion consensus.
Also: CEO Hock Tan suggested 2018 phone launches would drive a "significant increase" in the number of FBAR filters -- Broadcom is easily the largest supplier of them -- used within phones. He attributes this to the adoption of RF subsystems that feature an additional level of filtering meant to cut down on the number of antennas needed by a phone (they've been growing rapidly lately). As it is, Broadcom's RF dollar content within high-end phones has been steadily rising as newer phone models adopt more advanced 4G radios and support more frequency bands.
Broadcom's giant Wired Infrastructure unit saw revenue grow 3% to $2.15 billion, slightly beating a $2.11 billion consensus. The segment's telecom optical component sales were (like those of rivals) hurt by a slowdown in Chinese capital spending and its slow-growing set-top and cable modem chip businesses witnessed seasonal declines. But data center demand, boosted by strong capital spending from cloud giants that are major consumers of Broadcom's Ethernet and storage offerings, was said to be stronger.
In addition, Tan declared he's "rather excited" about booming sales of custom chips (ASICs) for AI workloads to a major cloud client -- likely Alphabet Inc./Google (GOOGL) - Get Report , whose second-gen Tensor Processing Unit (TPU) is believed to have been developed with Broadcom's help -- and a pair of unnamed OEMs. He added Broadcom's AI ASIC revenue is now "not that far off" from its Ethernet switching chip revenue, which is believed to be substantial thanks to Broadcom's position as the top independent supplier of data center switching chips.
Thanks to AI, switching and routing chip growth, Tan forecasts Broadcom's total Wired Infrastructure revenue will rise over 5%. The pre-earnings consensus had been for less than 2% growth. The company recently unveiled intellectual property that can be used to develop deep learning ASICs relying on Taiwan Semiconductor next-gen 7-nanometer manufacturing process.
Ahead of the Brocade deal's closing, Enterprise Storage segment revenue totaled $645 million. Though up 15% annually, that missed a $666 million consensus -- declining sales of hard drive controller chips partly offset strong demand for storage connectivity and controller offerings fueled by Intel Corp.'s (INTC) - Get Report recent Xeon server CPU refresh.
However, Broadcom indicated hard drive demand bottomed in the current quarter, and says the Intel refresh continues to "drive very strong growth in demand" for storage connectivity offerings. It also predicts flash storage array adoption will be a major 2018 growth driver.
"Industrial and other" segment sales, which include Broadcom's automotive and IoT offerings, officially rose 66% to $257 million thanks in large part to one-time IP licensing revenue. However, Broadcom added it also saw double-digit chip growth, forecast similar growth for the January quarter and predicted the segment's 2018 sales will get a lift from growing sales of its isolation amplifiers for use in electric cars.
Not much needs to be said about Broadcom's financial execution: It remains as strong as ever, as the company's revised long-term targets drive home. Gross margin rose 250 basis points annually to 63.3%, topping a guidance midpoint of 63%. And though revenue rose 9%, cost cuts related to last year's Broadcom-Avago merger led operating expenses to drop by 3% to $775 million.
That execution, of course, is also a big reason why Broadcom is betting it can make its attempted acquisition of Qualcomm, which stands to add many tens of billions to its debt load, pay off. But whether or not Broadcom gets its way here, the company clearly has some valuable growth opportunities to keep it occupied.
Jim Cramer and the AAP team hold positions in Broadcom, Apple and Alphabet for their Action Alerts PLUS Charitable Trust Portfolio.
More of What's Trending on TheStreet:
Alibaba Just Found a Novel Way to Use Your Face