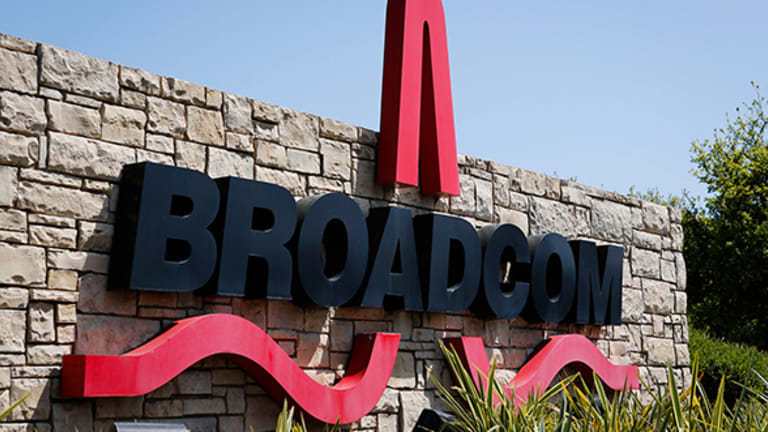 Broadcom Is Powering Ahead
Broadcom reports earnings on Thursday -- and it looks ready to beat estimates and raise its guidance.
Broadcom (AVGO) - Get Broadcom Inc. Report reports fiscal 2016 third-quarter earnings on Thursday. I think the company will beat the consensus estimate and raise guidance.
In the last year, shares of Broadcom are up 38%. Aided by the merger with Avago, Broadcom is poised to increase sales 90% in fiscal 2016 and 23% next year. Growth is coming from a broad array of industries, including wireline, wireless and the industrial market.
The company took on $14 billion in debt to complete the merger between Avago and Broadcom, but it should be able to realize some cost savings from the merger and drive double-digit earnings growth. Management said it plans to cut $750 million in operating costs over the next 18 months. Toward that end, earlier this month Broadcom was able to chop its annual interest expense by $100 million by refinancing some of its older high-rate debt. That savings should flow down to earnings in the coming quarters.
Broadcom competes in four market segments that should see solid growth this year and next. The largest segment, wireline, represents approximately half of the company's revenue. The wireline business, which is mostly fiber optic components and semiconductor interface chips for enterprise data centers and telecom equipment, is expected to be a $6.6 billion business this year. The wired business looks like it can grow by mid-single digits over the next two years.
The enterprise storage business is about 15% of revenue and is another mid-single-digit grower. Storage and wireline are solid, profitable businesses that should continue their current trajectory over the next two years.
The wireless communications business, which makes up about 26% of sales, is poised to accelerate, as a slew of more complex mobile handsets are about to hit the market. This is Broadcom's biggest growth opportunity.
Today's smartphone contains critical components called RF filters, also known as FBAR filters. FBARs are thin-film acoustic resonators that help cellular handsets filter out unwanted frequencies and allow the radio to transmit on specific frequencies. Broadcom's FBARs are commonly found in the Apple (AAPL) - Get Apple Inc. (AAPL) Report iPhone and Samsung (SSNLF) handsets.
FBAR filters and power amplifiers perform a key function in receiving, processing and transmitting signals back to the carrier's base station. Without these components, smartphones are not able to communicate with the outside world. The market for these components has been growing by over 20% for the last 10 years. As phones get more complex, the need for these components grows. For example, before 4G, phones only had to support 10 frequency bands. But with the arrival of 4G LTE, phones today have to support as many as 30 bands. That means phone makers will have to spend an ever-increasing amount of money at Broadcom. The iPhone 6s contains about $6 worth of filters and the iPhone could contain as much as $10 in RF filters and parts.
Analysts are expecting third-quarter revenue of $3.76 billion and earnings of $2.77 per share. Wireless revenue is expected to be $880 million and wired should be up by low single digits to $2.0 billion. Analysts are looking for a gross margin of 59.3%, operating income of $1.3 billion and an operating margin of 37%.
Management has given guidance for revenue of $13.1 billion this fiscal year and $16.1 billion next year. Earnings are expected to be $10.52 this year and $12.60 next. Gross margins were 61.1% in the first quarter and are expected to end the year at 59.5%. As the company cuts overhead, I would expect operating margins to expand from 38.4% in 2016 to over 42% or 43% by 2017.
Because a new smartphone upgrade cycle is about to begin, Broadcom's sales and earning should begin to expand. At the midpoint of its historical multiple (15 to 16 times), I think Broadcom shares will easily get to over $200 this year.
This article is commentary by an independent contributor. At the time of publication, the author held no positions in the stocks mentioned.