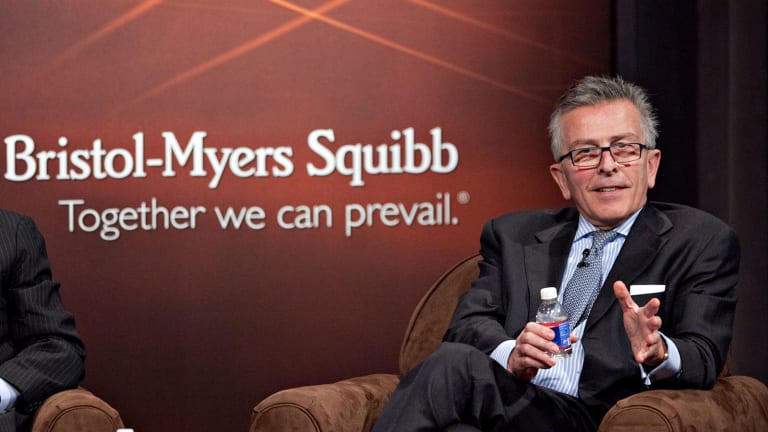 Bristol Myers Vies to Be King of Immune-Boosting Cancer Drugs with New Trial Update
The trial's success props open doors for exploring new uses for Opdivo's treatment in immunotherapy.
The trial's success props open doors for exploring new uses for Opdivo's treatment in immunotherapy.
Bristol-Myers Squibb (BMY) - Get Report released promising results for their cancer recurrence study involving keynote drug Opdivo.
The results showcased the checkpoint inhibiting drug outperforming Yervoy, also a Bristol-Myers drug, which surprised many, as top-line interim data was not expected until later in the trial. The study, titled CheckMate-238, examines cancer resurgence in 906 patients who had undergone complete resection,or removal, of Stage IIIb/c or Stage IV melanoma. 
Checkpoint inhibitors are a line of drugs that block certain proteins made by immune system cells, such as T cells and certain cancer cells. Checkpoints help keep immune responses in check and are becoming widespread in the fight against cancer. Opdivo and Yervoy are both immuno-oncology agents and have similar functions, but differ with the proteins they target. Opdivo is a programmed death-1 (PD-1) immune checkpoint inhibitor, while Yervoy binds to a protein receptor known as CTLA-4.
"[The announcement] is good news for patients and good news for Bristol-Myers, but one reason it's not a total game changer is because Bristol also has Yervoy," said Brad Loncar, an independent biotech investor who also manages his own Cancer Immunotherapy Index fund. "Yervoy is more toxic than Opdivo, so [Opdivo is] easier for patients to tolerate. Since Opdivo is more tolerable, they [Bristol] should be able to treat more patients."
"Those of us who have worked with immunotherapy for decades now have always had the belief that one of the reasons why immunotherapy should be effective is that the immune system has an exquisite specificity for recognizing subtle differences between antigens, between cells, and so forth that other types of therapy don't have, to more selectively target cancer cells without harming normal cells," said Jay Berzofsky, chief of the Vaccine Branch at the National Institute of Health's Center for Cancer Research.
Given its superior safety and tolerability profiles, Opdivo may usurp Yervoy as the standard of care in high-risk patients following surgical resections. 
"These results are important because currently only about half of these high-risk patients receive treatment," said Audrey Abernathy, executive director of public affairs at Bristol-Myers. "Yervoy was the first immuno-oncology agent approved for use in an adjuvant melanoma setting, and was the first new therapy approved by the FDA in 20 years for these patients; however, there is a need for additional options that may better meet the needs of this patient population."
Opdivo continues to rival Merck & Co.'s (MCK) - Get ReportKeytruda, another checkpoint inhibitor.
According to Berzofsky, developing better cancer vaccines, examining adoptive cell therapy, and researching other regulatory molecules are directions that researchers continue to explore. He also predicts that the market can expect synthesized checkpoints and other biosimilars that parallel PD-1 and CTLA-4 in the upcoming future.
"There are a number of molecules and regulatory cells that can inhibit the immune response, many of them independent from each other," said Berzofsky. "Blocking checkpoints may just be the tip of the iceberg. So, I think this is really just the beginning and we need to explore blocking these other regulatory mechanisms, which is what our lab has been working on."
Despite the good news, shares of Bristol-Myers were unmoved with the stock opening at $56.27 and closing at $56.35 on Wednesday, July 5.
Editor's Pick: This article was originally published on July 5, 2017.