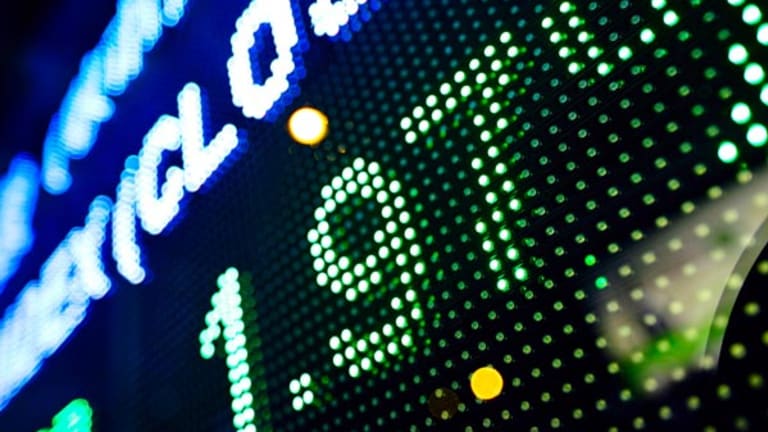 Bristol-Myers Squibb Misses Expectations: Hot Trends
Bristol-Myers Squibb reports quarterly results that missed expectations due to generic drugs hitting the market.
Bristol-Myers Squibb reports quarterly results that missed expectations due to generic drugs hitting the market.
NEW YORK (
) -- Popular searches on the Internet include
Bristol-Myers Squibb
(BMY) - Get Report
as the drugmaker reported quarterly results that missed analysts' expectations due to generic drugs hitting the market and weighing on the company's bottom line.
Sales of Bristol-Myers' blood clot preventer drug Plavix dropped 96% in the third quarter to $64 million after customers turned to cheaper, generic versions.
Bristol-Myers said it lost $711 million, or 43 cents a share in the quarter, after taking a $1.8 billion charge for an experimental treatment for hepatitis C that did not fare well in trials. The company earned $969 million, or 56 cents a share, in the same period a year ago. Excluding the charge, profit was 41 cents a share, still missing expectations of 42 cents.
Plavix lost patent protection in May. Since then, Bristol-Myers has been trying to diversify its portfolio by acquiring and developing other kinds of treatments. Plavix had sales of $7.09 billion last year.
Barnes & Noble
(BKS) - Get Report
is trending as the retailer revealed it suffered a breach of U.S. customers' credit card data after their PIN pads had been tampered with.
The company said customers who shopped at any of its U.S. locations as recently as September may have been victimized by the breach. Barnes & Noble said the devices customers use to swipe their credit and debit cards had been tampered with by the hackers to access customer information at 63 stores in nine states. Stores in California, Connecticut, Florida, Illinois, New Jersey, New York, Pennsylvania, Massachusetts and Rhode Island were affected.
Barnes & Noble is advising customers to check their statements for unauthorized transactions and to change their PIN numbers. The company disconnected all the PIN pads in its 700 stores across the country on Sept. 14 after discovering the breach. Although the company has not confirmed how many accounts have been compromised, it said it is working with banks and card issuers to identify which ones have been accessed. Federal authorities are also involved in the investigation.
Nintendo
is another popular search. The video game-maker slashed its full-year profit and sales forecasts as games on smartphones and tablets continue to weigh on demand for gaming devices.
Nintendo revised its annual sales estimates for Nintendo's 3DS, estimating they will come in 5.4% lower than previously expected at 17.5 million units. The company lowered its profit forecast for the year ending March 2013 to 6 billion yen ($75 million) from 20 billion yen due to the weakening demand. Nintendo also cut its annual sales forecast to 810 billion yen ($10.1 billion) from 820 billion yen.
Nintendo will be launching is first new game console in years when the Wii U hits U.S. stores on Nov. 18. The Wii U will have a touch-screen tablet controller and its remote, the GamePad, can be used to access social networks like
Facebook
(FB) - Get Report
.
The chatter on Main Street (a.k.a. Google, Yahoo! and other search sites) is always of interest to investors on Wall Street. Thus, each day, TheStreet compiles the stories that are trending on the Web, and highlights the news that could make stocks move.
-- Written by Brittany Umar
.
Brittany joined TheStreet.com TV in November 2006 after completing a degree in Journalism and Media Studies at Rutgers College. Previously, Brittany interned at the local ABC affiliate in New York City WABC-TV 7 where she helped research and produce On Your Side, a popular consumer advocacy segment.