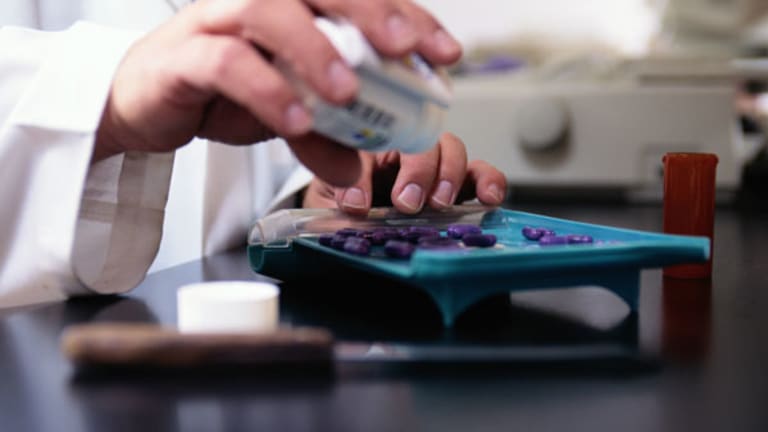 NEW YORK (
) --Since my return from the European Association for the Study of the Liver (EASL) conference two weeks ago, I have been unable to get over the strange behavior of executives at
Bristol-Myers Squibb
(BMY) - Get Bristol-Myers Squibb Company Report
. As I discussed in my
, investors should view with suspicion Bristol-Myers' complaints about
Gilead Sciences'
(GILD) - Get Gilead Sciences, Inc. (GILD) Report
refusing to collaborate on a late-stage study of the hepatitis C drugs GS-7977 and daclatasvir partnership. Then there's Bristol-Myers' odd and prolonged silence about INX-189 -- the nucleoside polymerase inhibitor, or "nuc," acquired in the $2.5 billion Inhibitex deal.
I suspect something is wrong with Bristol-Myers' INX-189, which has since been renamed by the company as BMS-094. The red flags are popping up everywhere. If I'm right about Bristol-Myers being in trouble, Gilead's lead in the race to develop all-oral therapies for hepatitis C will expand and
Idenix Pharmaceuticals'
(IDIX)
hepatitis C drugs become more attractive.
Let's examine the details:
1. New BMS-094 data should have been available by EASL.
In mid-January, Bristol-Myers completed enrollment in a Phase II trial of BMS-094 in genotype 2/3 patients, an easier-to-treat subpopulation of hepatitis C. By the time the hepatitis C world gathered in Barcelona for EASL in April, Bristol-Myers likely had four-week
and
12-week on-treatment viral response data from this study. These results will provide an important first look at BMS-094's efficacy and safety, yet Bristol-Myers said nothing about the data at EASL.
2. Bristol-Myers passed on a second chance to provide insight on BMS-094 during the company's first-quarter earnings conference call.
At least 16 weeks have now passed since the study completed enrollment. By now, Bristol-Myers should have four-week sustained virologic response (SVR4) data, an early indication of cure.
Yet on its April 26 conference call, Bristol-Myers executives once again declined to provide a meaningful clinical update on BMS-094. Instead, Chief Scientific Officer Elliot Sigal spoke in generalities about the drug.
"We
feel
that there are multiple doses that are safe for human testing from 50 to 200
mg," said Sigal , referring to BMS-094. "We will be getting more experience with 200
mg
throughout this year.
We will have safety data on a range of doses of 50 to 100
mg, which
we will at least have internally and hopefully talk about towards the end of the year."
Emphasis mine.
3. BMS-094 produces a toxic metabolite.
At a scientific conference in 2010, Inhibitex presented preclinical data on the metabolic pathway for BMS-094, then known as INX-189. The first step in this metabolic pathway yields a byproduct called 1-naphthol, a chemical that is toxic to hepatocytes, or liver cells. (My source for the background data is a 1984 paper published in
Biochemical Pharmacology
.) To be fair, the clinical importance of 1-naphthol at BMS-094's potential clinical doses remains unclear. However, two other nucs in clinical development -- Gilead's GS-7977 and Idenix' IDX-184 -- do not produce 1-naphthol. As an investor, the presence of this toxic byproduct should be a big concern until proven otherwise.
4. BMS-094 has shown potential toxicity across multiple organ systems.
Data presented in 2009 indicate that BMS-094 (again, known then as INX-189) has a relatively low CC50, a measure of cytotoxicity, across lymphoid, bone marrow, kidney, and liver cells. Bulls will, reasonably, counter by citing the drug's potency and resulting therapeutic index, an indicator of drug safety equivalent to the ratio of the drug's in vitro efficacy measured via the EC50 relative to CC50. For BMS-094, the therapeutic index is widest in lymphoid tissue and narrowest in the bone marrow, with liver in the middle. Again, this single data point isn't a smoking gun, but it does raise another red flag.
5. BMS-094 appears far less effective at lower doses than Gilead's GS-7977.
After three days of dosing at 200 mg once daily, BMS-094 reduces median viral load by roughly 3.0 log. That's less than the 3.7 log viral load reduction seen with a 400 mg once-daily dose of Gilead's GS-7977 after three days, although in the same ballpark and therefore comparable and competitive.
At a 100 mg once-daily dose, however, BMS-094's impact is far less impressive, with a 1.15 log reduction in viral load. This brings BMS-094's effect size closer to Idenix's nuc IDX-184, which gets criticized for lackluster efficacy.
I think the jury is still out on the Idenix nuc. Management claims the drug's effect size will improve over time. That's possible, since BMS-094 gains some efficacy with an additional few days of dosing.
If Bristol-Myers can't dose BMS-094 safely at 200 mg, the drug may not be competitive with Gilead's GS-7977. (Gilead's GS-7977 studies use a 400 mg once daily dose.) Importantly, none of Bristol-Myers' ongoing or publicly listed BMS-094 studies use the 200 mg once-daily dose. Not a good sign.
6. Bristol-Myers had limited safety data for BMS-094 when it purchased Inhibitex.
Investors frequently cite a partnership or acquisition as validation of the smaller company's technology. I often disagree with the validation hypothesis, and that's true in this case. It seems very unlikely that Bristol-Myers had meaningful non-public safety data for BMS-094 prior to the company's January purchase of Inhibitex for $2.5 billion. This limited visibility might not raise a red flag, but I think it makes the validation defense less compelling.
Bristol-Myers is a big company so the investment impact of potential trouble in its hepatitis C drug pipeline is unclear. Most analyst models don't yet include forecasts for significant sales from the company's experimental hepatitis C drugs. The anticoagulant Eliquis, which has an FDA approval decision date in late June, is by far Bristol-Myers' most important near-term driver.
I expect Eliquis to receive approval, and consensus earnings estimates look achievable but not necessarily low.
Nonetheless, failure of a high-profile program like BMS-094 would certainly knock the shine off Bristol-Myers' 17-times-earnings multiple, which exceeds most of the company's peer group. I think it's worth considering Bristol-Myers as a short, but I wouldn't make it a big position.
Failure or problems with Bristol-Myers' nuc would likely have a more significant impact on Gilead and, potentially, Idenix. Both companies stand to benefit should BMS-094 stumble. Idenix would have a more attractive asset in IDX-184. I think it's worth taking a small long position in Idenix at current prices.
I think Gilead has more to gain from possible Bristol-Myers problems. Gilead would expand its lead in the race to develop an all oral regimen for HCV, and would gain significant negotiating leverage in any development partnership discussions. Given the potential for multiple positive catalysts over the next year -- including likely FDA approval of the Quad HIV pill this summer -- I am inclined to be long Gilead. I would not be an aggressive buyer of the stock until or unless it dips meaningfully below $50 per share.
Disclosure: Sadeghi has no positions in any of the stocks mentioned in this article.
Follow Nathan Sadeghi-Nejad on
.
Nathan Sadeghi-Nejad has 15 years experience as a professional health-care investor, most recently as a sector head for Highside Capital. He has worked on the sell side (with independent research boutiques Sturza's Medical Research and Avalon Research) and the buyside (at Kilkenny Capital prior to Highside). Sadeghi-Nejad is a graduate of Columbia University and lives in New York. You can follow him on Twitter @natesadeghi.