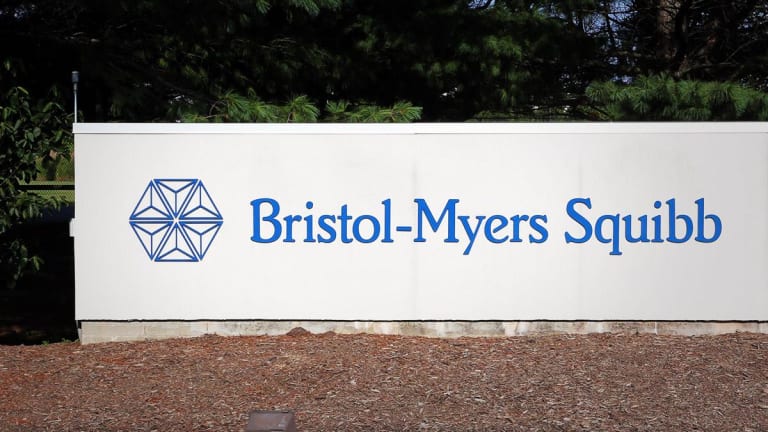 Bristol-Myers Gets FTC Request for More Information on $74 Billion Celgene Deal
Bristol-Myers Squibb says Tuesday the Federal Trade Commission has requested information related to its planned $74 billion takeover of cancer drug company Celgene.
Bristol-Myers Squibb (BMY) - Get Bristol-Myers Squibb Company Report said Tuesday that the U.S. Federal Trade Commission has requested more information related to its planned $74 billion takeover of cancer drug company Celgene Corp (CELG) - Get Celgene Corporation Report . 
In a filing to the U.S. Securities and Exchange Commission, Bristol Myers said the FTC sent requests for "additional information and documentary materials" from both companies on March 25, but noted the timing of the deal, which it expects to close in the third quarter of this year, isn't likely to be impacted by the need to provide new information.
"The parties understand that the FTC's review is focused on marketed and pipeline products for the treatment of psoriasis," Bristol Myers said in the SEC filing. "Both parties will continue to work cooperatively with the FTC to show that the Merger will not harm competition and that the FTC should conclude its investigation."
Bristol Myers shares were marked 0.55% higher in pre-market trading Tuesday, indicating an opening bell price of $47.75 each, a move that would extend the stock's decline since the Celgene deal was first announced on January 3 to around 9%.
Celgene shares, which have gained around 32% since then, were last seen 0.32% higher at $88.20 each.
The $74 billion deal, which Bristol-Myers said would give the combined companies number one positions in oncology and cardiovascular drug sales, with a top five standing in immunology and inflammation and nine currency products with over $1 billion in sales while driving earnings and revenues growth every year through 2025, is being challenged by activist investor Starboard Value LP and Wellington Management.
Bristol Myers shareholders are set to vote on the takeover on April 12.
Starboard says Celgene faces a "massive patent cliff" that will force it to replace some 60% of its revenues over the next seven years. It also thinks Celgene's drug pipeline is "extremely risky" and says the takeover proposal was too hastily put together.
Wellington Management says that while it "agrees that Bristol-Myers should be active in business development that secures differentiated science and broadens the future revenue base", it doesn't think the Celgene transaction "is an attractive path towards accomplishing this goal."
"Since announcing the Celgene transaction on January 3, our Board and management team have had numerous conversations and meetings with our stockholders across our ownership base, including Wellington," Bristol Myers said in an emailed statement to TheStreet on February 28. "We believe that we are acquiring Celgene at an attractive price, and that this transaction presents an important and unique opportunity to create sustainable value."
Bristol-Myers offered Celgene investors one Bristol-Myers share and $50 in cash for each Celgene holding, as well as a special rights issue that will pay off if the merged group meets certain business targets, when it unveiled the deal on January 3.
The deal valued Celgene at $102.43 each at the time, a 53.7% premium to the previous session's closing price. The combined group -- which will be 69% owned by Bristol-Myers -- would have a portfolio with nine drugs that generate more than $1 billion in sales, the companies said.