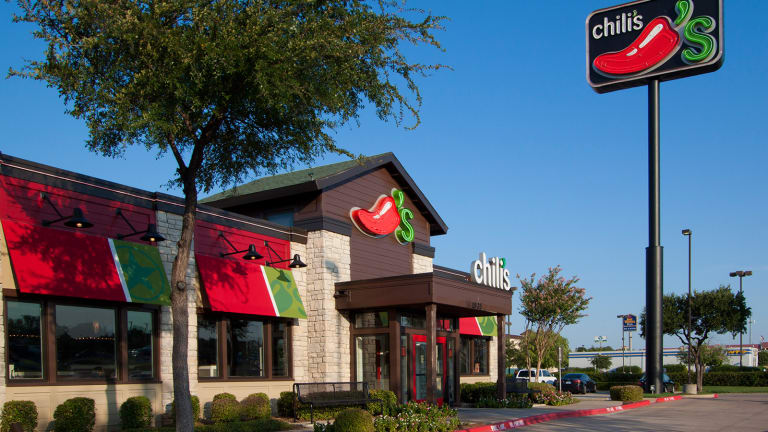 Brinker Stock Falls Despite Higher EPS and Net Income in Q2
The restaurant chain operator's second-quarter results have not convinced investors of its growth.
The restaurant chain operator's second-quarter results have not convinced investors of its growth.
Brinker (EAT) - Get Report fell $5.05, or 10.65%, to $42.39 a share Tuesday after the company released its earnings report for the second quarter. The company had higher net income and earnings per share than the same time a year ago and from the previous quarter.
Net income increased 26.5% from $25.3 million a year ago to $32 million, while its EPS rose to 83 cents, up from last year's 54 cents a share. Brinker continued its revenue growth from its first quarter as well, building off the $26.4 million it earned in income.
A quarterly dividend of 38 cents will be paid out March 28, the company said.
"Brinker delivered our fifth consecutive quarter of sequential sales improvement, posting positive sales and industry-leading traffic," Brinker CEO Wyman Roberts said.
Restaurant operating margins, a metric used to measure restaurant performance, dropped from $110.8 million a year ago to $94.1 million in Q2, while expenses relating to labor and higher rents increased as well.
Officials of the Dallas-based company increased its guidance for the rest of the year for its revenue growth to a range of 2%-2.75%, and its earnings per share guidance increased 5 cents to a range of $3.75-$3.95. Officials did not raise its guidance on Brinker's operating margins.
The company operates more than 1,600 Chili's Grill and Bar and Maggiano's Little Italy restaurants. Cash flow from its operating activities decreased substantially from the previous quarter's $49.6 million to a loss of $22.5 million. The loss stems from an influx of cash expenditures relating to tax payments on the gain of sale leaseback transactions, according to the company's SEC filing.
The stock has performed well over the past year, rising 11.5%, and it had outperformed the S&P 500 since the beginning of the year, earning 7.9% compared to the S&P 500's 5.3% gain, until its Q2 earnings were released. 
Score a Touchdown with Jim Cramer's Big Game Special
Get access to the best stock picks in Jim Cramer's investment portfolio by executing a two-minute drill on our Big Game Special on Action Alerts PLUS, Jim's VIP club for investors. Sign up now through Feb. 4 and receive 58% off of the normal subscription price. Now that's a real touchdown!