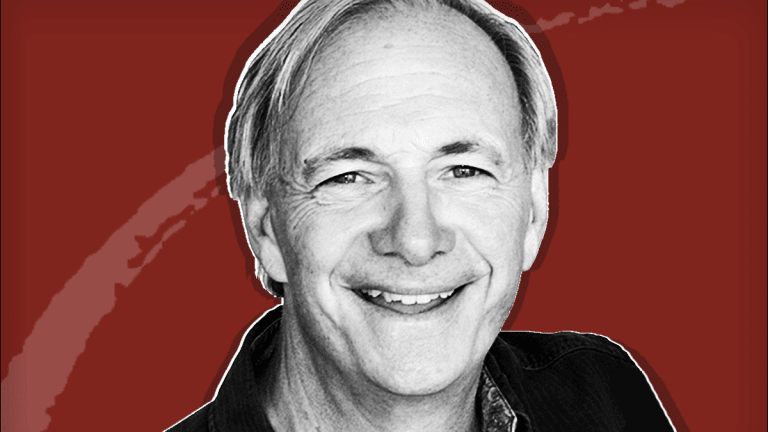 Top Hedge Fund Bridgewater Bets $1.5 Billion on Market Drop by March: Report
Ray Dalio's firm made the move using put options, the report says, adding that while the reason for the bet was unclear hedge funds often use such strategies to offset other bets.
The world's largest hedge fund has bet $1.5 billion, about 1% of its assets under management, that the stock market is going to drop in the next four months.
Bridgewater Associates, run by the investor Ray Dalio, made the bearish bet using put options, people familiar with the matter told The Wall Street Journal.
The Journal report said the exact reason for the Westport, Conn., firm's bet was unclear. But it said that hedge funds generally use such strategies to offset other bets they've made.
In a LinkedIn post reported by Bloomberg, Dalio said that Bridgewater doesn't have a net bet that the stock market will fall and that the Journal article is "wrong."
"[We] are now living in a world in which sensationalistic headlines are what many writers want above all else, even if the facts don't square with the headlines," he said.
Bridgewater had told the Journal in a statement that its positions change often and are frequently hedges for others. Reading too much into a single position "would be a mistake," the firm said.
Put options are contracts that enable the holders to sell stocks at specific prices by certain dates. Options generally enable investors to put down a relatively small amount of money to bet on the direction of, say, a stock market or other grouping of securities.
In this case, the bets are profitable if either the S&P 500 or the Euro Stoxx 50, or both, declines by some point in March, the paper said.
How much the firm might make would depend on factors including how sharply the indexes decline and when the firm cashes in its bet, the Journal reported.
Real Money's Bob Lang comments on Ray Dalio's bearish bet.
One more point: Some major investors, notably Leon Cooperman of Omega Advisors, have raised concern that the stock markets might drop if Sen. Elizabeth Warren (D-Mass.) is named the Democrats' candidate for president.
Cooperman and Warren have exchanged vituperative words about the senator's plans to lean on the country's richest to fund her plans to ensure health care for every American. 
Bridgewater told the Journal: "We have no positions that are intended to either hedge or bet on any potential political developments in the U.S."