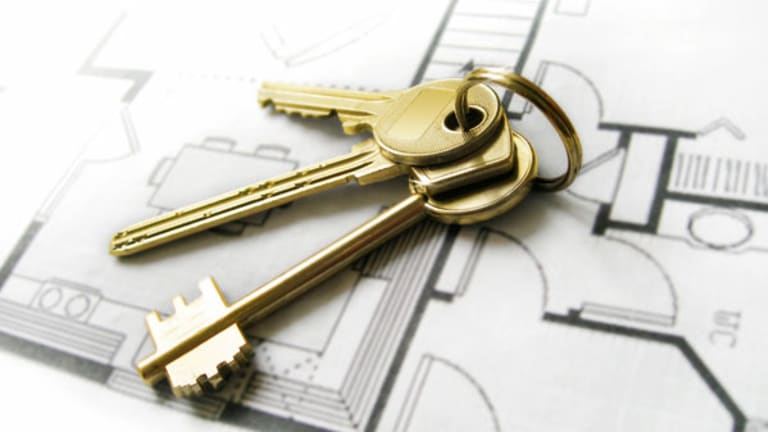 Bricks and Mortar: Wager on Penn National
A bullish growth profile and rational valuation make this gaming stock an attractive bet.
Editor's note: "Bricks and Mortar" is a new series of columns written by real estate reporter Nicholas Yulico and meant to help
TheStreet.com
readers generate real-estate-related stock ideas.
Welcome to the second installment of Bricks and Mortar.
Today's column introduces a new addition to the mock portfolio --
Penn National Gaming
(PENN) - Get Penn National Gaming, Inc. Report
, a company to own -- and provides updates on the stock picks featured in the first Bricks and Mortar installment.
Penn National (Own)
While it's getting harder to find a good deal among gaming stocks, Penn National remains a solid play with a rational valuation.
The company has no Las Vegas, Macau or Atlantic City exposure, but instead owns 16 riverboat casinos and racetrack/slots operations, mostly in middle America and the South. Penn's primary properties are a "racino" combining slots and horse racing in Charlestown, W.Va., and a riverboat casino in Lawrenceberg, Ind. Expansions are under way to make both properties even more dominant players in their respective markets.
Penn's management has a history of running its properties at high profit levels. The company is projected to report 28% EBITDA margins (earnings before interest, taxes, depreciation and amortization), above the 26% average for small-cap and mid-cap companies in 2006.
Penn posted a return on equity of 24% in the past 12 months. The firm's earnings per share are expected to grow 15% annually from 2006 to 2008.
On a relative valuation level, the shares look attractive. Penn, at $45.56, trades at 22 times estimated 2007 earnings per share, compared with the 35 times average of the mid-cap and small-cap gaming stocks.
The large-cap gaming stocks --
Las Vegas Sands
(LVS) - Get Las Vegas Sands Corp. (LVS) Report
,
Wynn
(WYNN) - Get Wynn Resorts, Limited (WYNN) Report
,
MGM
(MGM) - Get MGM Resorts International (MGM) Report
and
Harrah's
(HET)
-- trade at an average of 40 times earnings.
On an enterprise value/EBITDA basis, Penn trades at 9.6 times 2007 cash-flow estimates, compared with the 9.8 times multiple of the mid-cap and small-cap gaming stocks. In comparison, the big guys trade at 19.6 times.
"We view Penn as among the last of the high-quality gaming operators with a reasonable valuation," says Steven Gart, an investment analyst with Nickel Capital, which owns Penn shares. "We feel that given the recent movement in the gaming space, it is only a matter of time before investors start keying in on Penn's numerous operational catalysts over the next 18 months."
Penn's stock is already up 10% for the year but should still offer more upside. The company reports earnings on Thursday and results could surprise analysts.
Casino tracking data from Majestic Research and state gaming figures show that Penn's fourth-quarter revenue numbers are set to beat estimates. Majestic estimates Penn will record revenue of $572 million to $584 million, ahead of the $564 million Street consensus and management's guidance of $559 million.
Another attractive characteristic of Penn: The company's capital expenditures for development are set to end in late 2008. This will result in a huge stream of free cash flow that the company can use for share repurchases, acquisitions or more developments.
Penn teamed up with hedge fund D.E. Shaw Group on a buyout bid for Harrah's last year but lost to private equity giants Apollo Management and Texas Pacific Group.
While gaming industry sources say Harrah's buyout team is not likely to sell core assets in Las Vegas or Atlantic City this year, Penn could have a good chance of buying Harrah's Rio Casino -- a casino located a few miles from the Vegas Strip.
The other potential boon for Penn is that West Virginia has introduced legislation to allow table games at certain race tracks in the state. Penn's Charles Town track/slots facility is the dominant casino there, drawing 75% of its business from Maryland, Virginia and the Washington, D.C., area.
If table games were allowed in West Virginia, Charles Town could become an even more attractive asset for the company. The table games bill, introduced last week, has support from the state's Senate and governor but may face challenges from the House, according to a recent research note from Deutsche Bank analyst Bill Lerner. The matter could head to a vote by March.
Analysts expect tables games, so long as they're not taxed at too high of a rate, to immediately add $1 to $3 of value per share to Penn's stock.
Updates on Previous Stock Ideas
The
first installment of Bricks and Mortar two weeks ago featured four stock picks. While the
StreetTracks Dow Jones Wilshire International Real Estate ETF
(RWX) - Get SPDR Dow Jones International Real Estate ETF Report
, a fund featured as one to own, warrants no major update since that time, the other three names do.
Update: Brookfield Properties (Own)
Brookfield Properties
(BPO)
is up 9.7% since my recommendation, as commercial real estate stocks continue to perform well. The bidding war for
Equity Office Properties
(EOP)
continues to boost valuations for office REITs. As a reminder, Brookfield is not a REIT, but it walks and talks like one, with a 1.7% dividend yield.
The company reports earnings on Friday, Feb. 9. Office owners should continue their strong performance in the near-term as many Equity Office shareholders eventually recycle the proceeds from a buyout back into the office space. If Equity Office accepts the Blackstone cash bid, as opposed to
Vornado's
(VNO) - Get Vornado Realty Trust Report
cash-and-stock offer, about $8 billion of capital will flow back to dedicated real estate funds, according to a recent Deutsche Bank report. Much of this will find its way into Brookfield's stock.
Update: Ryland (Flag)
Ryland's
(RYL)
stock is up 4.3% since being flagged as overvalued relative to the rest of the homebuilders. Much of the homebuilders' strong performance in recent weeks has come from a string of earnings reports that were not as disastrous as analysts had expected.
However, Ryland's guidance for 2007 looks too optimistic in my opinion. Then again, so does that of nearly every other homebuilder. All builder guidance currently has a big asterisk next to it, since it excludes any future land impairment charges.
The thesis on Ryland remains unchanged. Eventually the company will be forced to cut its prices on homes to move product, causing larger land writedowns and write-offs than the market expects.
Update: Trump Entertainment (Flag)
The initial approval in recent weeks of a smoking ban compromise in Atlantic City is a best-case scenario for
Trump
(TRMP)
. The stock is up 2.8% since I flagged it as a company not worth owning. I still believe the Atlantic City market is facing other negative headwinds, such as the introduction of slots to Pennsylvania and New York, along with the possible introduction of legislation that would legalize slots at New Jersey racetracks.
Trump reports earnings on Wednesday, Feb. 7.