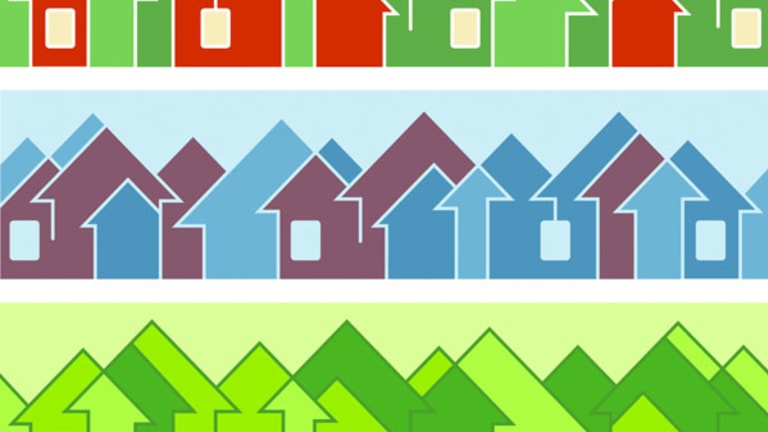 Bricks and Mortar: Home Solutions Has Problems
The company's risky and too reliant on hurricane cleanup.
Editor's note: "Bricks and Mortar" is a series of columns written by real estate reporter Nicholas Yulico meant to help TheStreet.com readers generate real estate and gaming-related stock ideas.
Deep down, management at
Home Solutions of America
(HSOA)
must be hoping for another massive hurricane season this year.
Because without the very lucrative business of cleaning up the damage, the company's margins and revenue growth will both fall substantially.
I'm adding Home Solutions to my Bricks and Mortar coverage as a "flagged" stock, because I think the company, despite what management says, is still just a hurricane play that remains a risky bet for investors.
The stock, at around $5, has already fallen 65% from its 52-week high set last summer. But I suspect more downside remains. There is a reason for the stock's 34% short interest.
Gone are the company's days of recording lucrative contracts for the quick cleanup of businesses and homes ravaged by Hurricane Katrina and two intense storms that hit Florida in 2004 and 2005.
What lies ahead is much murkier.
The company's high-margin disaster-recovery work is now being replaced by a lower-margin cleanup and restoration business related to new construction.
Some of this consists of demolition projects for builders. Much of the new work will come from government contract jobs in New Orleans, where bidding can be intense. The company's cabinet-making business will suffer from the
residential housing slowdown.
On first glance, the stock may look cheap. At $5, Home Solutions trades at a price-to-earnings ratio of 8.2. But that's based on a 2007 earnings estimate of 61 cents a share from the lone analyst covering the stock: David Yuschak at Sanders Morris Harris.
Yuschak, however, has several conflicts. His firm handled recent equity offerings for Home Solutions, and numerous employees at the investment bank own the stock, according to filings with the
Securities and Exchange Commission
.
That means investors really need to do their own homework. Here is some help.
Revenue Wild Card
After missing targets last year, Home Solutions' management has not given guidance for 2007.
Yuschak expects the company to record 72% revenue growth this year, but I think that 30% growth is a more reasonable assumption.
Home Solutions admits its past results are not a good predictor of the future. Recent years saw booming business from government agencies and others parties looking for quick cleanup of damages from the major hurricanes.
In 2006, revenue jumped 87%. About 40% of that growth was organic, with the rest coming from acquisitions, the company's chief financial officer, Jeffrey Mattich, recently explained in an interview.
Home Solutions has two lines of business. Its recovery/restoration division, which represented nearly 70% of revenue last year, mostly performs cleanup services for floods, fires and hurricanes.
The remaining revenue comes from the company's interior services business, which provides cabinets and countertops primarily to two sets of customers: homebuilder
Centex
(CTX)
, and
Home Depot
(HD) - Get Free Report
shoppers in Florida, Georgia, Alabama and South Carolina.
A good starting point for modeling future revenue in this division would appear to be the company's backlog of recovery/restoration contract work, which totaled $108 million in mid-March. Since then, another $29 million of new contracts have been announced. While both numbers provide some visibility for future revenue, they give no indication of timing.
Mattich says that some of the backlog might not be booked as revenue until next year. That's because work restoration/reconstruction jobs can take anywhere from one month to 18 months.
Bulls expect the company's restoration business will eventually pick up a substantial amount rebuilding work in New Orleans. However, the city has been slow to unlock funding for restoration projects, and the competitive bidding process knocks down prices for jobs.
The interior business has several issues. Home Solutions provides cabinets for Centex's new homes in Southwest Florida -- which may be the worst housing market in the country.
Centex and other builders have said they are eying ways to squeeze suppliers, since home sales are tumbling. Home Solutions has no formal contract with Centex.
Home Depot, meanwhile, has been hit by declining same-store sales.
Margins Mashed
Home Solutions grants that its gross margins will fall this year because it is no longer relying on the hurricane disaster-recovery business.
Mattich, the company's CFO, tells me that gross margins will be in the range of 40% to 42% this year, down from nearly 48% in 2006. I assume the lower end, but believe margins could be even worse.
However, if there is a major hurricane, "all bets are off," Mattich says. "Those are basically your emergency room rates that generate the higher margins."
This is one of the funny aspects about Home Solutions. The company likes to downplay its reliance on hurricanes, but the issue is always looming.
Using the above assumptions, my earnings model projects Home Solutions will record earnings of 39 cents a share this year.
Using my estimate, the stock is trading at 12.8 times this year's earnings, which is too pricey for such a risky stock.
Meanwhile, the company' strategy of partially growing through acquisitions has resulted in heavy earnings dilution. Each time a business is bought, a few million shares or warrants are shelled out. The company's share count is expected to grow about 20% this year.
Altogether, Home Solutions is a stock to avoid. The company still has to prove it is more than just a hurricane play that makes boatloads of money when disasters hit. As the recent horrible performance of the homebuilders shows, it's easy to make money in a boom period, but a lot harder to achieve sustainable earnings when the times get tougher.
Portfolio Update
Three of my holdings were in the news Thursday, and given the developments I stand by my opinions of each stock.
Hilton Hotels
(HLT) - Get Free Report
, which I
picked as a buy in March, agreed to sold 10 of its hotels in Europe to funds managed by Morgan Stanley Real Estate for $770 million.
The sale proves my thesis that Hilton is a great buy because the stock is cheaper than the private-market value of the real estate.
Using trailing earnings before interest, taxes, depreciation and amortization, the sale price equates to a multiple of 15.2 times. However, Hilton's stock trades at a multiple of 12.3 times trailing EBITDA.
Importantly, Hilton will retain high-margin management contracts for five of the hotels, with contracts likely at three others.
Elsewhere,
Penn National Gaming
(PENN) - Get Free Report
reported that first-quarter earnings rose 2% to $42.9 million, or 49 cents a share, in the quarter, beating the 47-cent estimate that analysts expected, according to Thomson Financial. Shares of Penn, which I
called a buy in February, hit a 52-week intraday high of $49.98 Thursday following the report.
Gains at the casino operator's two largest properties drove results. On a property cash flow basis, margins at the Charles Town racetrack and casino in West Virginia rose to 31% in the quarter, up from 29% a year earlier. The first wave of expansion at this property opened in recent weeks.
West Virginia's governor recently signed legislation allowing table games at racetracks in the state. Residents vote on the bill in June. If passed, the new offerings will add to Charles Town's dominant position in the region.
Penn raised its 2007 earnings forecast to $1.89 a share from its prior view of $1.86. Analysts expect earnings per share of $1.91 for the year.
Late Wednesday, a flagged stock,
Ryland
(RYL)
, announced results that
matched its preannouncement. Orders remained weak, especially in areas like Southern California, Florida and Phoenix. If housing prices continue to come under pressure, more impairment charges and margin deterioration are likely. In the West -- mainly California, Nevada and Arizona -- the company recorded losses, even excluding the land impairment charges there during the quarter.
On a positive note, the company did reduce its speculative home inventory by 20% from the fourth quarter to the first quarter.