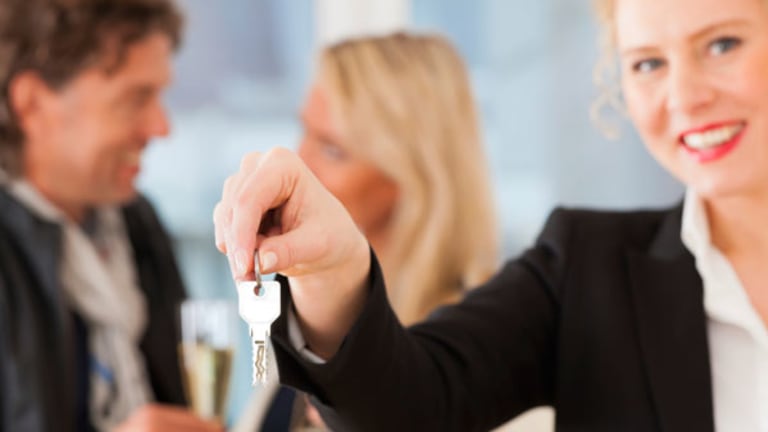 Bricks and Mortar: Check Into Hilton Hotels
It offers an inexpensive way to play the strong high-end market.
It offers an inexpensive way to play the strong high-end market.
Editor's note: "Bricks and Mortar" is a series of columns written by real estate reporter Nicholas Yulico meant to help
TheStreet.com
readers generate real-estate-related stock ideas.
Last week proved trying for many investors, with the
S&P 500
falling 4.4% on fears of an economic slowdown in China and the U.S. The increased volatility led to an indiscriminate selloff in many sectors, including the real estate and gaming stocks on which Bricks and Mortar focuses.
The existing selections held up relatively well, and my flagging of
Ryland
(RYL)
as overvalued proved timely, with the homebuilder's stock now down 15% since
late January. I provide an update on Ryland below.
To navigate the coming months, wise investors will focus on a big-picture investment theme. One good strategy is betting on the high-end plays of the economy, which continue to do very well, as opposed to the middle and bottom parts of the economy, which show signs of hurt. That's why today I'm adding
Hilton Hotels
(HLT) - Get Report
to the mock portfolio as a company for the long haul.
The recent plunge in the broader markets has sent Hilton's stock down to below $35 -- a level it has not seen since late January, right before the company reported strong fourth-quarter earnings.
In that report Hilton raised its guidance, saying RevPAR will grow 9% to 11% this year, up from previous guidance of 7% to 9%. (RevPAR, or revenue per available room, is a key hotel operating metric.) Hilton shares subsequently soared to $37.50 in February, before the recent slide back down. The stock closed at $34.69 Friday.
Besides the solid room-revenue growth at its premium hotels across the globe, Hilton has several other positives going for it right now.
The company is in the midst of selling 17 hotel properties in its portfolio at a time when properties are fetching record prices. Sales are expected to be completed by mid-2007, and gross proceeds should land between $500 million and $1 billion, according to an estimate from Jefferies & Co. On Friday, Hilton sold its Scandic hotel brand to a private equity firm for $1.1 billion. Much of this money will be used to pay down debt. This will allow Hilton to buy back a healthy amount of shares in the latter part of this year, providing a nice catalyst for the stock.
To fuel growth in coming years, Hilton is focusing on expanding its brand internationally. Despite owning quality assets centered in New York City, San Francisco, Chicago and Hawaii, the company has been moving to a more "asset-light" model that offers management fees. For example, Hilton recently announced it will develop mid-scale and extended-stay hotels across India and China.
The company has seven hotels under development in India right now. Over the next seven years, Hilton will build and operate another 75 properties in India for which it will receive management fees. The properties are being developed in a joint venture, which reduces risk.
In light of China's role in this week's selloff, some might view global diversification as a big risk. But remember this: India, with its 1.1 billion people, right now has about 100,000 hotel rooms, which is roughly the same number of hotel rooms as Orlando, Fla.
The other positive on Hilton is that the company is an attractive buyout candidate. At 8%, Hilton's net operating income yield is among the highest of any real estate stock (making the stock a good value). For reference, apartment stocks -- one of the priciest real estate sectors -- offer about a 4% NOI yield on average. To find an NOI yield on a real estate stock, divide the company's net operating income by its enterprise value. EBITDA, or earnings before interest, taxes, depreciation, and amortization, is a good proxy for NOI.
Hilton also has a high percentage of income from management fees, which is less cyclical. The company also has the lowest time-share exposure (less than 10% of profits) of the three big asset-light hotel operators, which also include
Marriott
(MAR) - Get Report
and
Starwood
(HOT)
.
This all makes the case why the slide in Hilton's shares provides an attractive entry point. Consensus Wall Street estimates project Hilton can grow earnings by 15% annually over the next five years. The international pipeline provides good visibility for those earnings. At current levels (12 times 2007 EBITDA), the stock is a great buy.
Hilton will surely experience some issues if the global economy weakens sharply. But relative to other real estate stocks, Hilton is doing so many good things that buying it now for the long term is a solid idea.
Updates: Ryland, Penn, Brookfield
The latest homebuilder news has brought more negatives into the sector's mix. Over the past two weeks,
Toll Brothers
(TOL) - Get Report
said the housing market
deteriorated in February,
Hovnanian
(HOV) - Get Report
announced more
large writedowns and January
new-home sales data from the government were very disappointing.
All this has helped fuel a selloff in homebuilder stocks. My opinion on Ryland is based on relative overvaluation. At the time of my
original column, Ryland traded at the highest price-to-book metric in the industry (1.62 times) because investors felt the company would not be subject to as many land impairments.
After the selloff, Ryland now trades at 1.36 times book value, which is still high -- tied with
Lennar
(LEN) - Get Report
but lower than
KB Home's
(KBH) - Get Report
1.51 level (the highest among big builders).
When the volatility settles down in the broader stock market, I expect builders will continue their slide, with Ryland remaining among the losers.
I'm still bullish on
Penn National
(PENN) - Get Report
, which remains an attractively valued casino operator for reasons I laid out in a
previous column.
I also continue to like
Brookfield Properties
(BPO)
and the
StreetTracks Dow Jones Wilshire International Real Estate ETF
(RWX) - Get Report
, but I remain bearish on
Trump Entertainment
(TRMP)
.
For more about why I like and dislike these names, see my
first Bricks and Mortar column, published in late January.