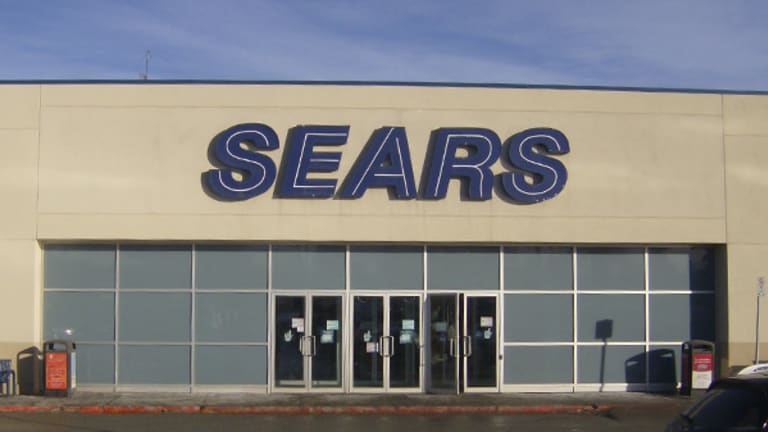 Brian Sozzi Has 22 Reasons Why the End Is Near for Sears
A lack of vision and effort is driving Sears into the ground.
NEW YORK (Real Money) -- Today will bring a series of dreadful figures from much-maligned Sears Holdings (SHLD) , but unfortunately they are only going to tell part of why the storied retailer is headed for extinction before the year 2020.
There is no love lost between myself and Sears Holdings. But, honestly, covering Sears has become a personal obsession. Lately, I've had more casual conversations with store associates. More store walks. Constant re-reading of annual reports. Emails continue to flood my inbox from laid-off Kmart workers.
Jim Cramer's charitable trust Action Alerts PLUS owns TGT. Read his thoughts on the company's recent earningshere.
I believe many of Sears' problems are in its C-suite. And that includes CEO Edward Lampert. These execs, in my view, can't hold a candle to those at Target (TGT) , Wal-Mart (WMT) , Amazon (AMZN) and Macy's (M) who are transforming modern-day retailing. And the lack of vision, the lack of effort by these check-collectors is what's driving Sears, and Kmart, right into the ground.
The death of Sears will ultimately transpire because of the meaningful changes in retail that it's not partaking in -- for one, because its execs don't care to partake in them, and two, the company's financial state doesn't afford it the ability to invest.
Here are 22 reasons, broken down by major Sears competitor, why five years of bad news is ahead for the zombie retailer.
Macy's
The company is now remodeling stores into the department stores of the future. New remodels are flush with bright, bold-looking fixtures and leading assortments from top vendors.
Macy's is increasingly partnering with specialty retailers to bring unique experiences into its stores. For instance, the company opened a Build-A-Bear shop inside of Macy's Herald Square this holiday season.
Macy's has shown it wants to be an acquirer of unique brands such as Bluemercury. The recent cosmetics acquisition gives Macy's the ability to sell more cosmetics in its stores, online and via external locations. Honorable mention here to J.C. Penney : the company's Sephora partnership remains on fire, and is being expanded to more stores.
Macy's continues to localize its inventory, which positions it well to capture demand.
Macy's will be expanding its same-day delivery service this year.
Macy's will be a player in the off-price channel soon. A big negative for Sears.
Wal-Mart
The company is surrounding its supercenters with smaller-format stores, thieving sales from traditional grocery stores, pharmacies and Kmart.
Wal-Mart is actively expanding the amount of space in its stores dedicated to selling fresh food.  Have you ever seen fresh food (not frozen stuff in outdated-looking coolers) at Kmart or Sears?
Wal-Mart's new "Savings Catcher" app, which provides money back in real time to low-income people, is a game changer. 
Wal-Mart's higher wage and training initiative is something Sears is unable to compete with now -- or ever.
The company continues to expand the number of items for sale online.
Wal-Mart is investing in more competitive prices across the store.
Target
Target is redoing the look and service aspect of its electronics department. Sears was once known for its electronics department, but it has become a depressing place to shop amid inventory cutbacks.
Similar to Wal-Mart, Target is upping the number of organic food items available for sale. These companies are catering to how humans want to eat today.
Target is coming back online, aided by a strong mobile app and improved homepage.
The toy department is being remodeled; expect more shops that draw in the consumer's eye.
Target's apparel section is becoming interesting again; see the Lilly Pulitzer launch on April 19.
Best Buy (BBY)
New shops from top vendors have customer service and selection Sears in no way offers.
Best Buy is becoming a player in the connected home (as is Home Depot ). Sears is badly positioned in connected home.
Best Buy continues to expand home appliance offerings, once a go-to category for Sears (as does Home Depot and Lowe's ).
Apple's new Apple Watch will feature prominently at Best Buy. Not sure if it appears in Sears. I view the product as game-changing.
Best Buy now price-matches.
Sears either doesn't do any of these things, or doesn't do them well operationally. And for those reasons -- dust off the CFA textbooks -- the unraveling of Sears will be both confusing to analyze and sad to see.
This article is commentary by an independent contributor. At the time of publication, the author held no position in the stocks mentioned.