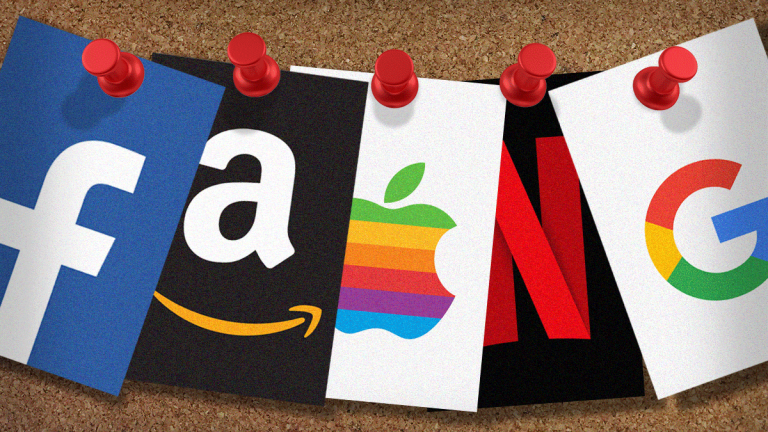 Breaking Up Google, Apple, Amazon and Facebook Is Not the Solution
Elizabeth Warren's call for a break-up of tech is a courageous move but unlikely to go anywhere. Technology is the better solution for competition, and perhaps a cultural shift on Wall Street.
When it comes to Big Tech, there's blood in the water. 
The U.S. Department of Justice in February formed a special task force to investigate potential anticompetitive behavior in "technology markets." Last week, multiple outlets reported that the Department has opened an investigation into Alphabet's (GOOGL) - Get Alphabet Inc. Class A Report Google division, and there are rumors the Department and the Federal Trade Commission have come to an agreement to divide up the labor of investigating Google and its peers, Amazon (AMZN) - Get Amazon.com, Inc. Report , Facebook (FB) - Get Facebook, Inc. Class A Report  and Apple (AAPL) - Get Apple Inc. (AAPL) Report . The U.S. House of Representatives's Judiciary Committee on Monday said it is beginning a "top to bottom" review of the tech industry, with a special focus on issues such as whether tech has amassed too much political power. 
And, of course, the development most on everyone's minds is Senator Elizabeth Warren's call in March to "Break up Big Tech." 
While the various legislative and departmental initiatives will be sure to unfold over many years, Warren's appeal is unlikely to go anywhere. It is a courageous call on her part to stand up to great power, and Warren is right that more competition is needed in technology. Her proposal, however, is not the answer, for three reasons. 
The first is that the law is not on her side. The Microsoft (MSFT) - Get Microsoft Corporation (MSFT) Report anti-trust case twenty years ago showed that judges are reluctant to break up companies even when there are definite signs of market abuse. The second reason Warren's plan rings hollow is that technology is a better solution to create competition. Things such as open-source software have made a difference in breaking through technology monopolies. 
And the third reason is that there are perverse incentives on Wall Street that will always reward winner-take-all scenarios such as that of Amazon, even if they mean massive financial losses for years. An attempt to break up companies or unwind mergers won't cure that impulse on Wall Street that pushes companies to "go big or go home."
On the legal front, there's nothing wrong inherently with integrating products, as was the case with Microsoft's integration of its Web browser with its operating system.
Warren, in her March post on Medium.com, argued that the largest tech companies need to be viewed as marketplaces that shouldn't compete with their own customers. In the case of Microsoft, the company had already been under a "consent decree" when it was sued by the Department and a collection of states.
That decree in fact allowed Microsoft to perform integration of its products. Where it ran afoul of the agreement, prompting the lawsuit, was evidence the company had strong-armed business partners, with things such as threats of withholding the Windows operating system unless PC makers gave its browser pride of place. 
In the end, the courts rejected government prosecutors' plea for a break-up of Microsoft and instead pushed Microsoft to accept "remedies" -- rules of conduct that would limit its bad behavior. 
What in fact happened was that technology passed Microsoft by. The company failed to see the rise of open-source software that rendered Windows far less relevant. The auctioning of U.S. microwave spectrum to phone companies led to a surge of mobile computing that further reduced the Windows PC to irrelevance, a tectonic shift that then-CEO Steve Balmer of Microsoft failed to appreciate. 
Technology always provides the best alternatives in a marketplace because it directly provides avenues for competition. In fact, the Internet's creation, via a public-private partnership between DARPA and contractors, was one of the most creative competitive acts in the history of capitalism. It's that kind of infrastructure that no one company could provide that made possible Amazon and Google and Netflix (NFLX) - Get Netflix, Inc. (NFLX) Report and lots of other alternatives. "Infrastructure" is the cure, in other words. 
What should the government be building? It should be building capabilities for decentralized transactions based on the blockchain technology, which would enable many counterparties and curb the winner-take-all strategies of big tech. If every human being were the owner of the copyright on their personal information, rather than Facebook dominating the main database of hundreds of millions of personal records, Facebook would have to bid for every citizen's information to be able to sell it. New "aggregators" would arise to challenge Facebook.
And then there's Wall Street. With the advent of the internet, it became possible to imagine companies that would dominate all of a marketplace, or at least a sizable portion, because of the rapid ability to reach consumers via the connected quality of computer networking. That has led to perverse incentives, such as encouraging years of losses at Amazon. Why there was barely a peep out of shareholders when Facebook agreed to spend nearly $20 billion to buy WhatsApp remains a profound mystery. 
These are the kinds of winner-take-all gambits that Wall Street loves, just as it encourages Netflix to rack up billions in losses on content deals, and a company like Uber (UBER) - Get Uber Technologies, Inc. Report to lose billions to incentive drivers and riders to dump taxi cabs. 
No amount of break-up activity is going to stem that appetite on Wall Street to support money-losing companies on their way to dominance. Careful and specific regulatory action, such as from the FTC and the Justice Department, can stem the damage. Greater rules about fair labor compensation, such as for those who toil in Amazon warehouses, can help. And building technology infrastructure such as blockchain will go a long way toward developing competition.
Beyond that, it will take a cultural shift among public investors, perhaps over generations, to curb the Wall Street appetite for growth at any cost that keeps on creating Big Tech. 
Tiernan Ray neither owns nor trades any shares of any companies discussed in this article.