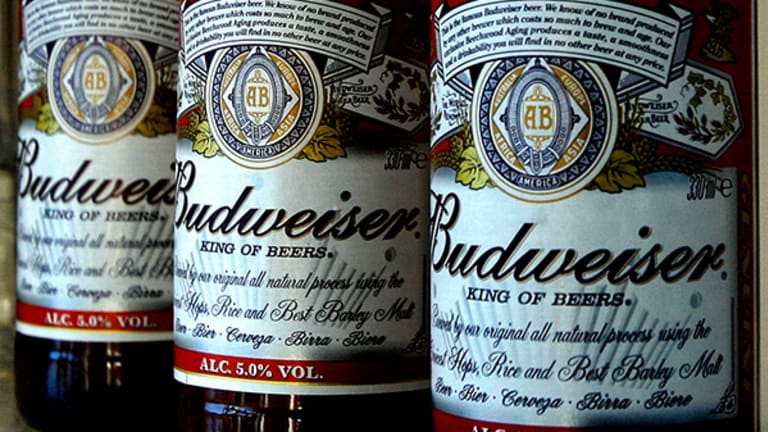 Publish date:
Brazil Woes Force Budweiser Maker AB InBev to Slash Outlook
Pressure on consumers' income and unfavorable currency hedges drag down the Brazilian operations.
Pressure on consumers' income and unfavorable currency hedges drag down the Brazilian operations.
Shares in Anheuser-Busch InBev (BUD) - Get Report   dropped on Friday after the Budweiser maker downgraded its full-year revenue outlook amid Brazilian woes and higher costs
The Leuven, Belgium-based company, which completed the purchase of U.K. rival SABMiller two weeks ago, said it now expects growth for net revenue per hectoliter this year to be "in line with inflation," downgrading its outlook from growth "ahead of inflation." The company attributed the cutback to soft results in Brazil. It expects an  improvement in revenue per unit in the U.S., growth in Mexico, and ahead-of-industry sales in China.
The downgrade is on a standalone basis and does not incorporate SABMiller figures.
"Most of our markets delivered solid volume, revenue and EBITDA results in 3Q16," the company said. "However, these results were negatively affected by a very weak quarter in Brazil, driven by the challenging consumer environment, a tough 3Q15 volume comparable, and the impact of unfavorable foreign exchange transactional hedges on cost of sales."
AB InBev shares were recently down 4.5% at €107.10 ($116.80).
For the quarter ended Sept. 30, AB InBev reported earnings per share of $0.83 on net profit of $1.36 billion, compared with consensus forecasts, as compiled by FactSet, for $0.89 and $1.36 billion, respectively. In the same period a year earlier, the company booked EPS of $1.02 on net profit of just over $1.67 billion.
Third-quarter Ebitda dropped 2.0% year-on-year despite a 2.8% increase in revenue, with the cost of sales up 3.9% due to negative foreign currency exchange transactional hedges in Brazil.
Total volume dropped 0.9%, with a 4.1% drop in beer volume in Brazil partly offset by growth in Mexico. By brand, the company's three global brands all enjoyed growth, with revenue for Corona up 14.8%, Stella Artois up 12.2%, and Budweiser up 4.8%.
Beer volume in Brazil was down 4.1% due to ongoing pressure on consumer disposable income and a tough year-on-year comparison. Revenue also fell "marginally" in the U.S., while it jumped 12.0% in Mexico and rose 6.3% in China, where they focused on selling premium products.
AB InBev emphasized its rationale for acquiring Miller Genuine Draft maker SABMiller. As a consequence of the $100 billion purchase, AB InBev is targeting $1.4 billion in pretax savings from the combination.
"The two geographic footprints are largely complementary and, more importantly, provide AB InBev with a stronger presence in key emerging regions with attractive growth prospects, such as Africa and Latin America, complementing the company's existing strong presence in developed markets," AB InBev said.