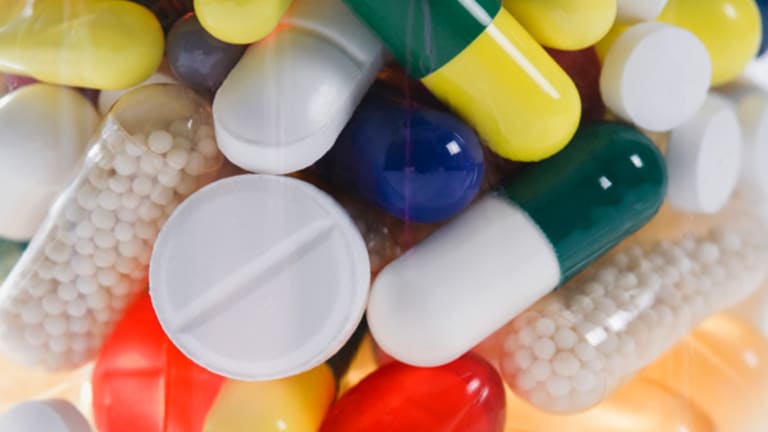 Brainstorm CEO Offers Investors a Frank Outlook for ALS Therapy
Given the usual hype surrounding small-cap biotechs, Brainstorm CEO Tony Fiorino is refreshingly candid about the company's chances of developing a stem-cell treatment to counter ALS symptoms.
NEW YORK (TheStreet) -- Halfway through my two-hour phone conversation with Tony Fiorino last week, I asked the health care hedge fund investor-turned-CEO of Brainstorm Cell Therapeutics (BCLI) - Get Brainstorm Cell Therapeutics Inc. Report why he chose to leave Wall Street to run a tiny and risky stem-cell therapy company.
Brainstorm's challenges are particularly daunting. No one has yet figured out how to transform stem cells into effective disease treatments. For its first attempt, Brainstorm is tackling amyotrophic lateral sclerosis (ALS), the degenerative and fatal nerve disease which has stymied drug developers for years.
Fiorino's response was refreshingly honest given the hype investors typically hear from CEOs of micro-cap biotech companies.
"I don't know if our therapy works, and I won't tell anyone that our approach works," said Fiorino. "But I took this job because I do believe we're seeing some activity. It's worth pursuing so that we can find the answer to the ultimate question of whether or not our therapy helps ALS patients."
Brainstorm faces tough odds developing a successful stem-cell therapy for ALS, but the risks are greatly accounted for already in the company's $55 million market cap, which is below comparable stem-cell therapy companies. Notably, Neuralstem (CUR) - Get Neuralstem, Inc. Report has a market cap of more than $250 million, even though its stem-cell therapy for ALS is no further along or more validated than Brainstorm's product.
Under-appreciated by investors today is Fiorino's reputation as one of the most honest and diligent investors in the health care sector. His decision to join Brainstorm as CEO is reason enough to take a closer look at the company. Full disclosure: I've known Fiorino for more than 10 years. He's earned my admiration and respect for his finely turned biotech bullshit detector and the zeal at which he digs expertly into scientific research.
Fiorino is a smart guy, so if he says Brainstorm's stem-cell therapy is showing hints of clinical activity in ALS, it's worth investigating further, even if that signal turns out, ultimately, to be false.
A Closer Look
Brainstorm's lead ALS therapy, NurOwn, starts with the harvesting of bone marrow from each ALS patient. Mesenchymal stem cells are isolated from the bone marrow sample and sent to a lab, where a proprietary Brainstorm process first expands their numbers and then transforms them into specialized cells secreting nerve growth factors.
After the function and potency of the NurOwn cells are confirmed, the "drug" is delivered back into the ALS patient via injections into muscle and the spine. Once injected, the NurOwn stem cells bathe the damaged neurons of ALS patients with secretions of nerve growth factors. Brainstorm has a home run on its hands if NurOwn can be shown to slow or halt the progressive destruction of neurons, and if that disease-modifying effect translates into improved muscle function for ALS patients.
The laboratory culturing of mesenchymal stem cells into specialized cells documented to produce nerve growth factors sets NurOwn apart from other riskier attempts at stem cell therapy, says Fiorino. It's also one of the reasons he chose to join Brainstorm as CEO.
"As an investor who scrutinized a lot of stem cell stocks, I was never comfortable with the high level of hand waving about mechanism of action. The management of these companies could not explain to me how their stem cell therapies worked or how they would impact the disease they were trying to treat. To me, this was always a recipe for failure," he says.
In contrast, Brainstorm has imaging scans and laboratory data showing the mesenchymal stem cells taken from the bone marrow of ALS patients transform into early-stage neuronal cells secreting specific nerve growth factors.
While these data provide Brainstorm with some comfort about NurOwn's mechanism of action, Fiorino, taking his typical realist approach, concedes the company does not know if the levels of nerve growth factors pumped out by its therapy are sufficient to keep ALS-damaged neurons alive longer. Brainstorm doesn't know how long its NurOwn cells remain viable in the muscles and spinal cords of ALS patients, nor does it even know if these nerve growth factors are capable of impacting the disease.
"This is why we need to conduct the clinical trials," says Fiorino.
Testing Status
Brainstorm is conducting a phase II study in the U.S., enrolling 48 ALS patients who will be randomized 3:1 to receive a single NurOwn treatment in the muscle and spine, or a placebo treatment. The study is being conducted at two hospitals in Massachusetts, UMass Medical Center and Mass General, and the Minnesota-based Mayo Clinic.
The study's primary endpoint is the safety and tolerability of NurOwn, but investigators will also assess ALS patients for efficacy using measures of ALS disease activity and muscle function.
The first patient was enrolled into the phase II study last June and Brainstorm expects results to be ready in the first half of 2016. The study takes a long time to run because there are only a handful of labs in the U.S. trained to transform stem cells into the NurOwn therapy.
Fiorino says the phase II study is not large enough to demonstrate a statistically significant efficacy benefit favoring NurOwn. Instead, he hopes the study will show NurOwn can be administered safety and that ALS and muscle function tests trend favorably in the therapy's direction.
"This is not a pivotal study and will not support approval, but hopefully, the results will be compelling enough to allow us to move ahead into the next, larger study where we can treat ALS patients with multiple doses of NurOwn," said Fiorino.
Brainstorm isn't conducting the U.S. phase II study on laboratory data and blind faith alone. A handful of ALS patients in Israel have already been treated with NurOwn in small studies. A snapshot of data from these studies can be seen in the Brainstorm slide below:
The y-axis measures ALSFR-R, a commonly used assessment of treatment response and muscle function in ALS patients. The visits on the x-axis are measured in months. The downward slopes of all the lines illustrates the relentless progression of ALS. Neurons in ALS patients continue to die over time, so an effective treatment only has to slow the death of neurons. Graphically, this would be represented by a flattening of the slope of the curves.
In these studies, all open label and none designed with a control arms, patients are followed for the first three months without treatment. At month four, each patient is transplanted with their own personalized NurOwn therapy and then assessed every month.
Across this admittedly small number of patients, the slopes of the ALSFR-R curves flatten somewhat in the months after NurOwn treatment, Fiorino explains. Updated results from these studies will be announced later this year.
These data plus others looking at lung function on the NurOwn-treated patients, provided enough of a signal to convince Fiorino to leave Wall Street and take on the task of running Brainstorm.
Frank With Investors
Instead of staring at a Bloomberg terminal and managing a portfolio of health care stocks, Fiorino now spends his days directing Brainstorm's drug development work in ALS and trying to diversify the company's pipeline with another disease indication. He's also spent a lot of time lately raising money and strengthening Brainstorm's balance sheet, including a reverse stock split and an uplisting of the company's stock from the OTC to the Nasdaq. (Fiorino is seeking funding from the ALS Association, recently flush with millions of dollars in donations from the Ice Bucket Challenge.)
And in a twist, Fiorino is now the CEO going into one-on-one meetings with investors pitching his stock, instead of being pitched to. His old health care hedge fund friends can be a tough crowd to convince.
"I don't expect [health care] hedge funds to place 1 million-share buy orders for Brainstorm just because they know me and my track record on the buy side," says Fiorino. "But I tell them what we know and what we don't, and promise that we're going to do the right thing. We're going to run the right studies. I hope they're successful but if the data are bad, I won't try to spin them."
Adam Feuerstein writes regularly for TheStreet. In keeping with company editorial policy, he doesn't own or short individual stocks, although he owns stock in TheStreet. He also doesn't invest in hedge funds or other private investment partnerships. Feuerstein appreciates your feedback;
to send him an email.