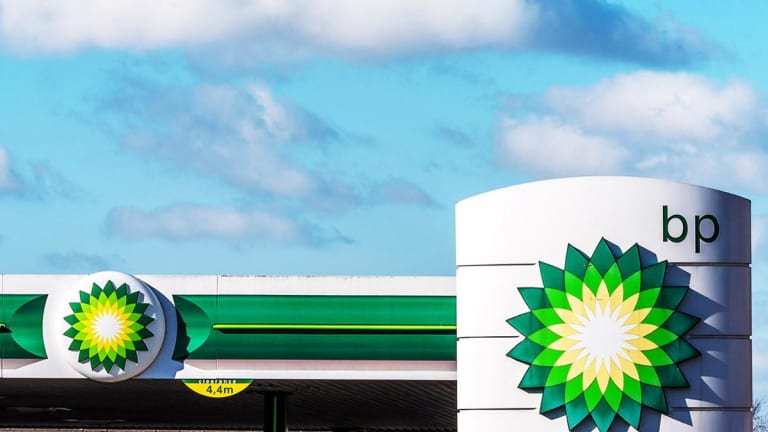 BP Is Poised to Break Out to New Yearly Highs
BP Plc. is still trading at a discount on a forward P/E basis. Higher oil prices will add to BP's profits. Get ready for the stock to trend higher in the months ahead.
As oil prices firm up and consumers start to feel the pinch, investors need to plan ahead. By starting or accumulating a position in a vertically integrated firm like BP plc (BP) , investors will benefit when oil prices rise. The backup strategy to this is that BP shares, which closed Monday at $45.23, pays a dividend yielding 5.6%. Year to date, the stock is up about 17%.
WTI crude prices topped $60 while Brent crude is now at $70 a barrel. And while BP earns a profit at prices well below this level, its profit margin increases the higher oil prices go. Sure, investors could buy Exxon Mobil Corporation (XOM) or Chevron Corporation (CVX) , which are up 21% and 16%, respectively, this year. But BP stock trades at a discount on a forward P/E basis at 10.8 times. Markets likely assigned a discount on the stock in anticipation of business disruptions due to Brexit.
Brexit a Non-Issue
With the way things are developing in Britain, however, Brexit could get delayed indefinitely. Even if it does not, BP CEO Bob Dudley said it would "absolutely" stay in the UK regardless of the outcome. In fact, BP is committed to keeping its staff levels consistent in the region. This is positive news because BP's business will not face many disruptions. Yet, markets are discounting the stock and will continue to do so even if WTI crude prices continue going up from here.
Q4 Results and 2019 Outlook
BP reported underlying replacement cost profits of $3.5 billion, up from $2.1 billion last year. Cash flow rose to $7.1 billion, up from $6.2 billion. EPS rose to $0.17, up from $0.106.
BP forecast 2019 upstream production increasing year-over-year. Organic capital expenditure will increase from $15.1 billion in 2017 to $15 billion to $17 billion. The higher spend signals BP's confidence that cash flow from operations will remain consistent, if not increase, this year.
BP plans to divest upstream North Sea and Alaska sites while a major project ramp up and BHP's (BHP) U.S. onshore assets will offset results. The divestitures will take place in the second half of this year. The downstream margin will fall significantly this year.
On the cost side, DD&A (Depreciation, depletion, and amortization) will be $15.5 billion while the Gulf of Mexico oil spill payments will be around $2 billion.
BP will report its first-quarter results next month on May 7.
"In addition to higher oil prices aiding the sector, we believe BP shares will see further upside thanks to management's visible trajectory toward a stated 900,000-barrel-per-day production target by 2021, a target reiterated during the companies fourth-quarter earnings conference call," said the team for Jim Cramer's Action Alerts Plus Portfolio, which owns BP.
Three-Year Goals
In the 2019-2021 period, BP expects asset sales to total over $10 billion. Debt/equity is already at a manageable 0.6 times but the cash raise will lower it. By comparison, Exxon's debt/equity is 0.2 times. Returns of over 10% in ROACE (return on average capital employed) are achievable if oil prices hold $55 a barrel. BP clearly will raise its outlook if crude prices continue to trade $60 or higher.
Valuation
Just two analysts cover BP stock on Wall Street, according to Tipranks. The target price from them is $52, suggesting the stock has an upside of 16.7%. For more advanced investors, the Dividend Discount: Stable Growth model is a simple technique for quickly estimating fair value by projecting dividends and discounting them back to the present value. Assuming a permanent growth rate of between 3.5% - 4.5%, BP stock has a fair value of ~$50. This would give investors a potential gain of 10% in a one-year period.
Bottom Line
I chose BP stock over its rivals because the vertically integrated firm is well managed and is disciplined in its capital expenditures. The company stayed on course with its strategy to generate cash. It is still carrying out exploration activities but keeping on budget. It is selling assets again to get leaner and to run at a more favorable debt/equity level. If oil prices move higher, that is just a bonus for investors. This would lead to BP's discount to fair value shrinking even faster, rewarding investors sooner.
The author owns shares in BP plc.